You Won't Lost Track of Selling Online with Refreshed Facebook Features
By Yavini Lucille · 26th March, 2022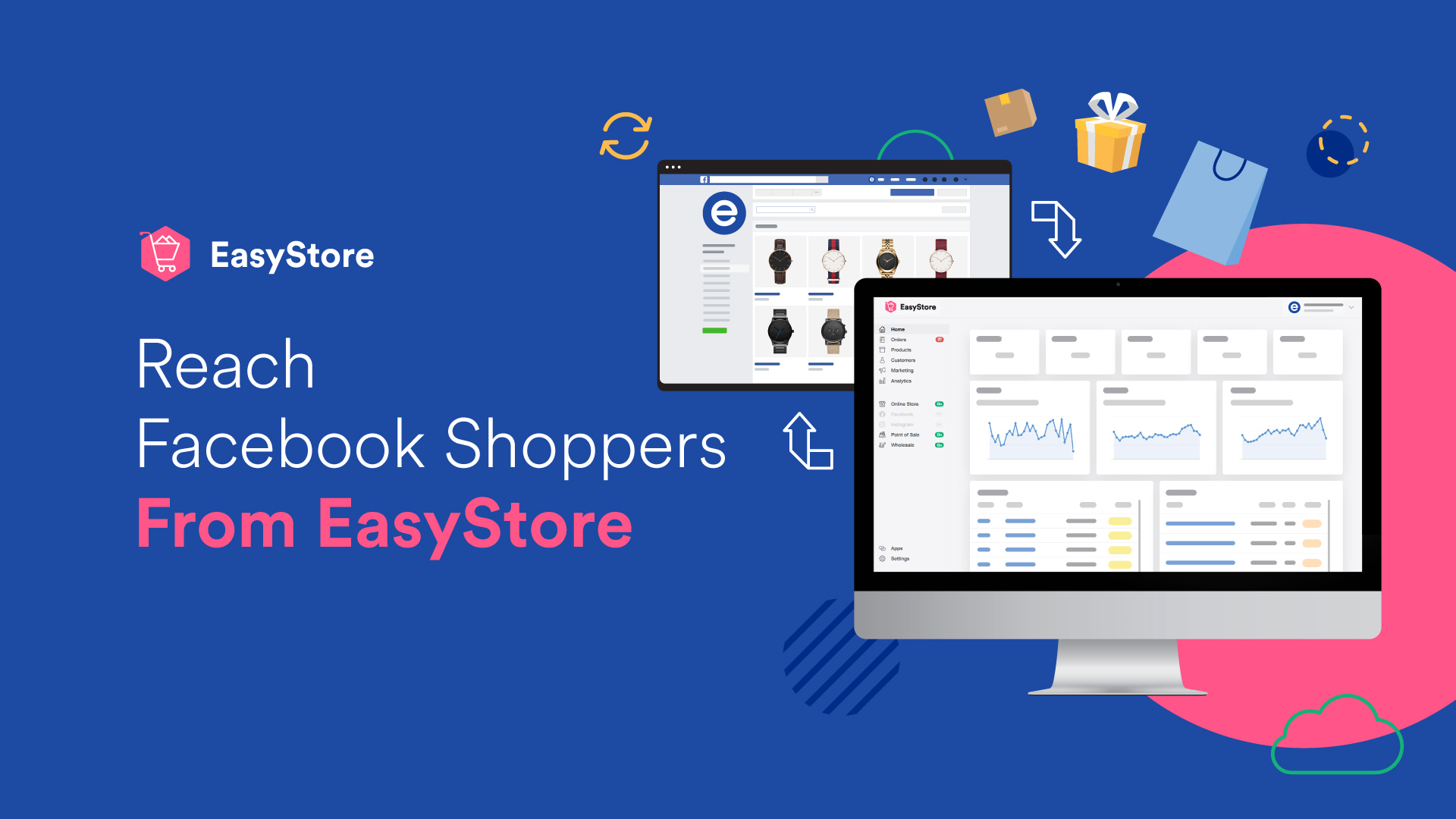 Being the largest social media platform in the world, Facebook has become the first choice for businesses that want to go online with the intent to succeed. I mean, who wouldn't leverage the chance of reaching a potential 2 billion active users that could turn into your customers?
Facebook-EasyStore integration offers a place for your customers to shop from you directly. That's what Facebook Page Shop is all about. The Facebook Page Shop allows you to feature your products on your own Facebook page and let your followers, visitors to purchase directly from you.
With that said, there's nothing to lose when you leverage all of the tools that Facebook has got for you, and most of them are FREE! Besides, you can take your eCommerce business to the next level with the power of Facebook to drive organic traffic to your business by using this integrated feature on EasyStore - Facebook.
In this update:
1. How Facebook Channel Works in EasyStore

a. Begin using Facebook Page Shop in EasyStore

b. Select your Facebook page in admin panel

c. Enable Facebook features based on your needs

2. What Can You Do with Facebook Channel in EasyStore?

a. Page Shop
How Facebook Channel Works in EasyStore
In the previous blog post, we introduced the various apps that you can integrate with Facebook to ease your work in EasyStore.
Now, we have restructured Facebook Marketing and grouped the Facebook features in a new section in the admin panel. Reduce the work of repeating app installations, and connect to the Facebook page shop to get all the required features in one place.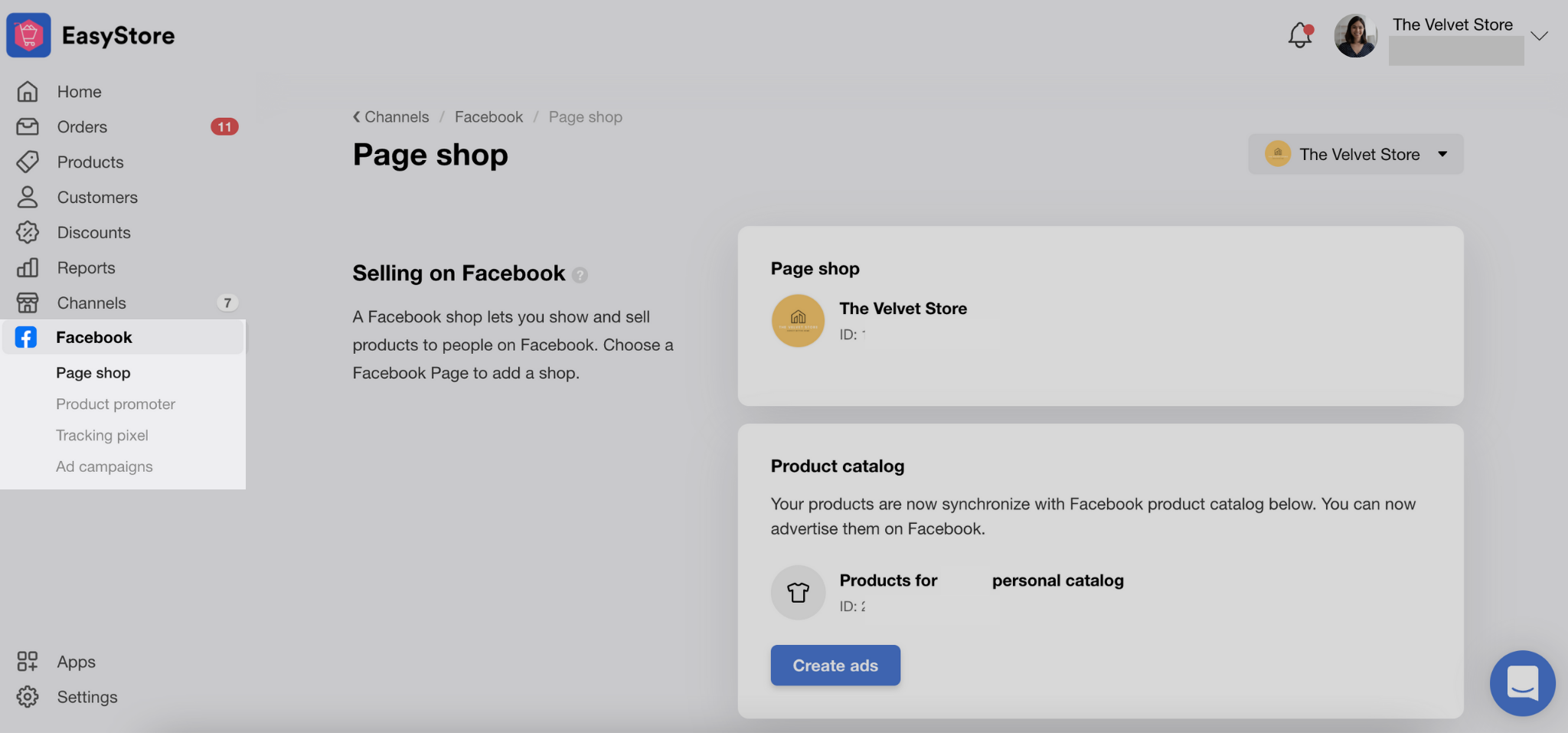 Update on 25 March 2022.
1. Begin using Facebook Page Shop in EasyStore
You will be required to connect your Facebook account by clicking on the 'Connect with Facebook' option to have all Facebook features at your fingertips.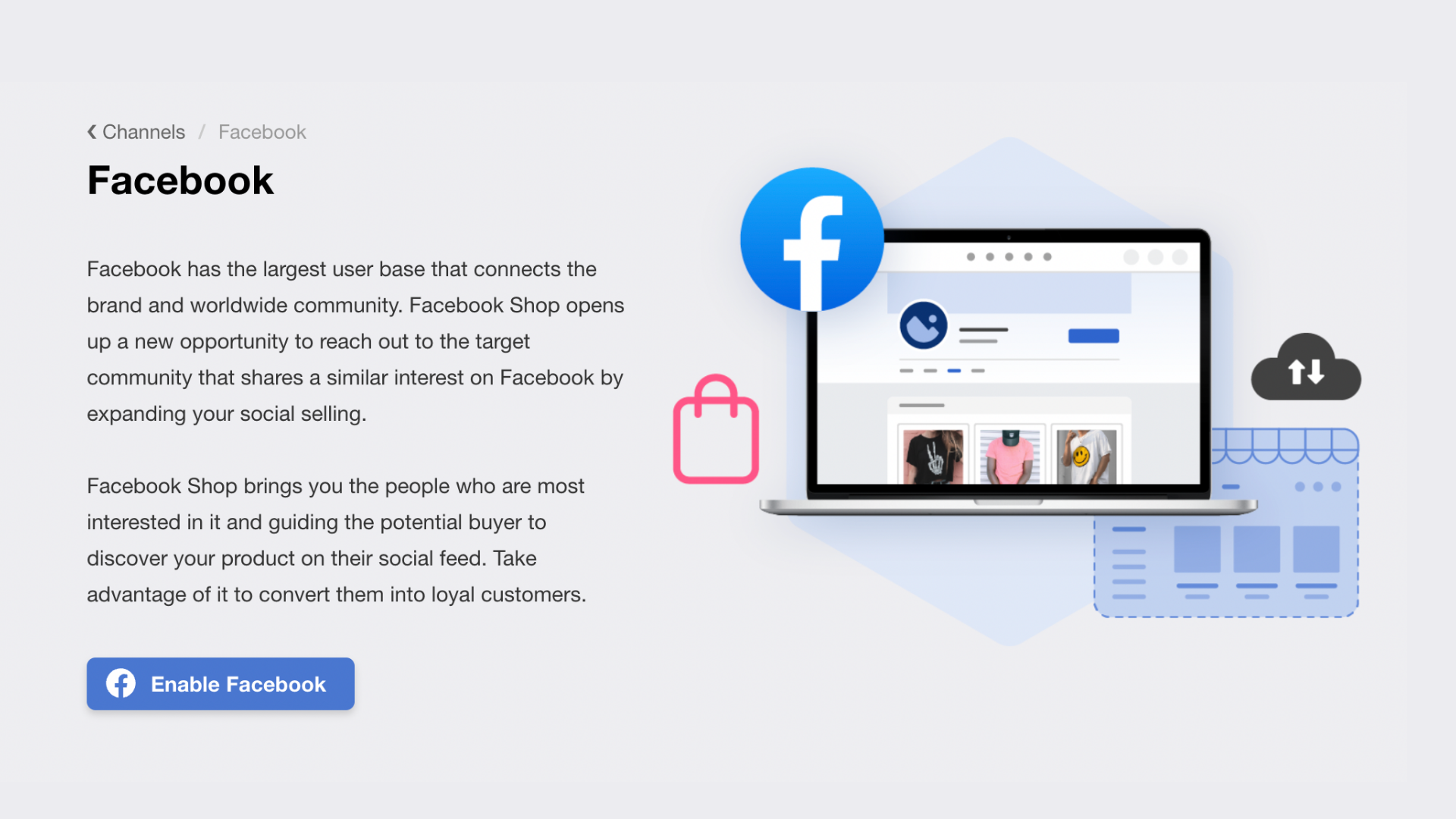 2. Select your Facebook Page at the admin panel
A) You will be taken to a new tab to understand the steps to follow, as shown in the image below. After reading, press Continue to proceed next step.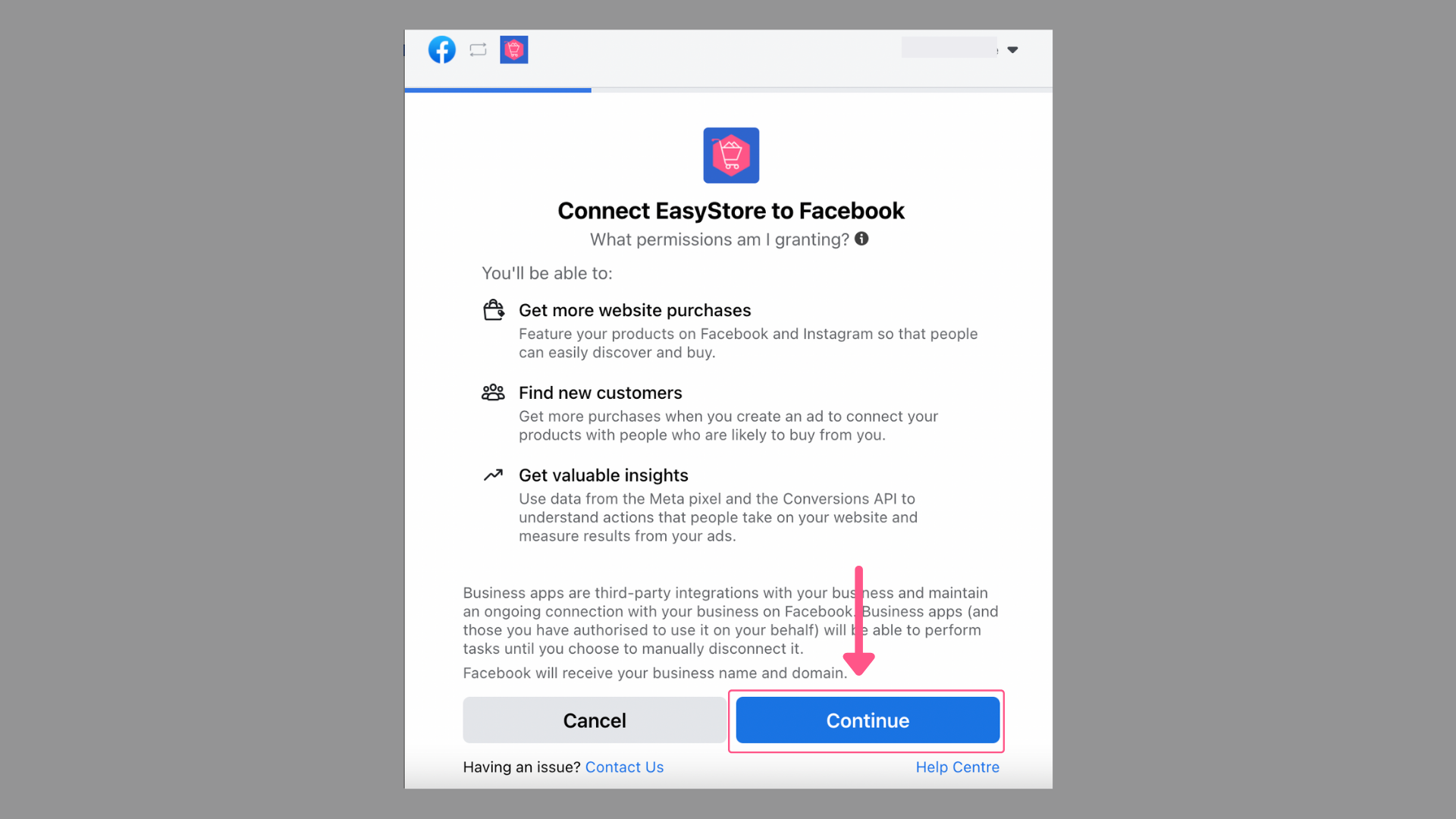 B) Choose your Facebook Page to connect with EasyStore.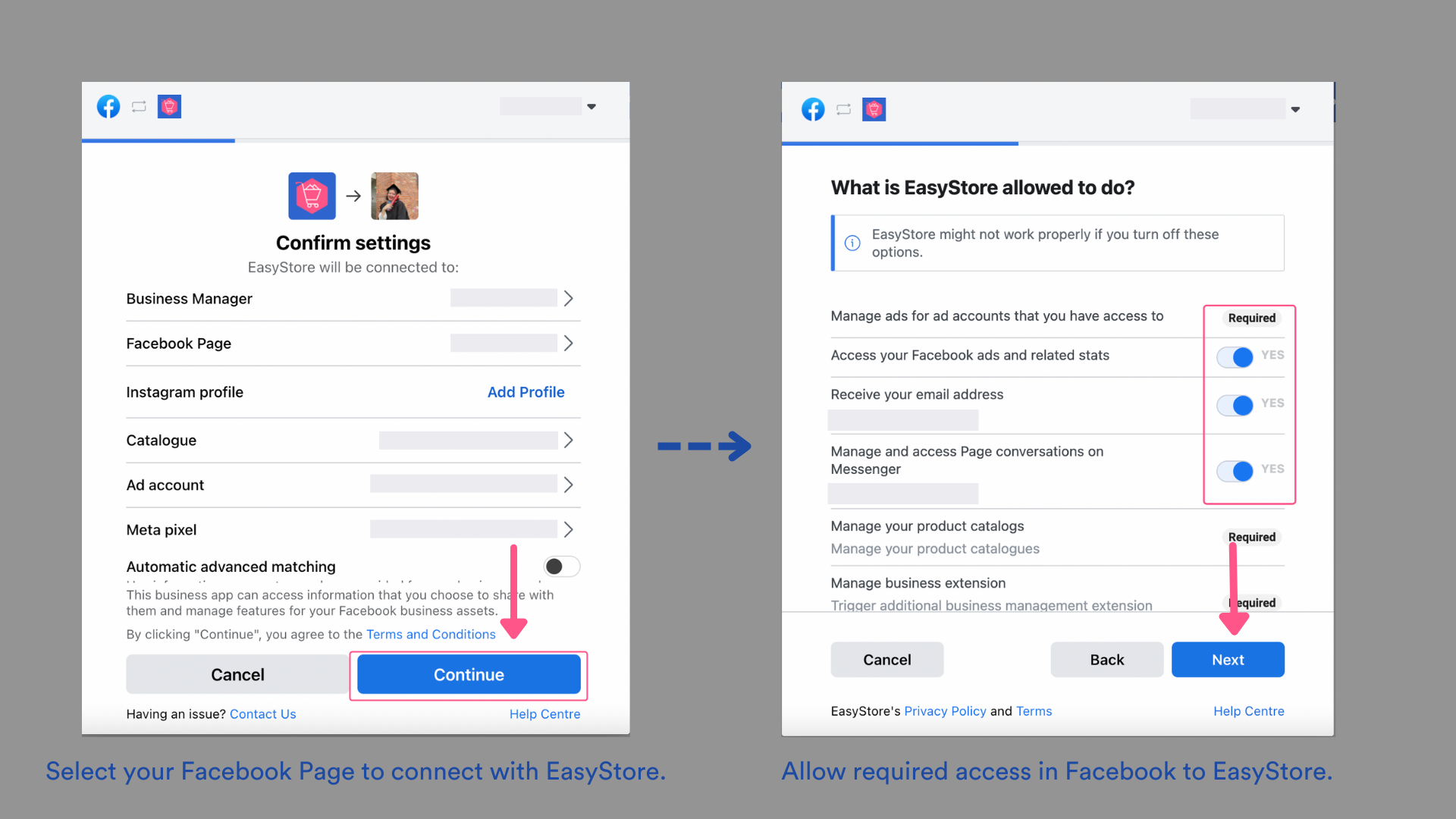 C) After connecting an Ad account to your Pixel in the next step, just tap the Done button and your Facebook page is now connected with EasyStore!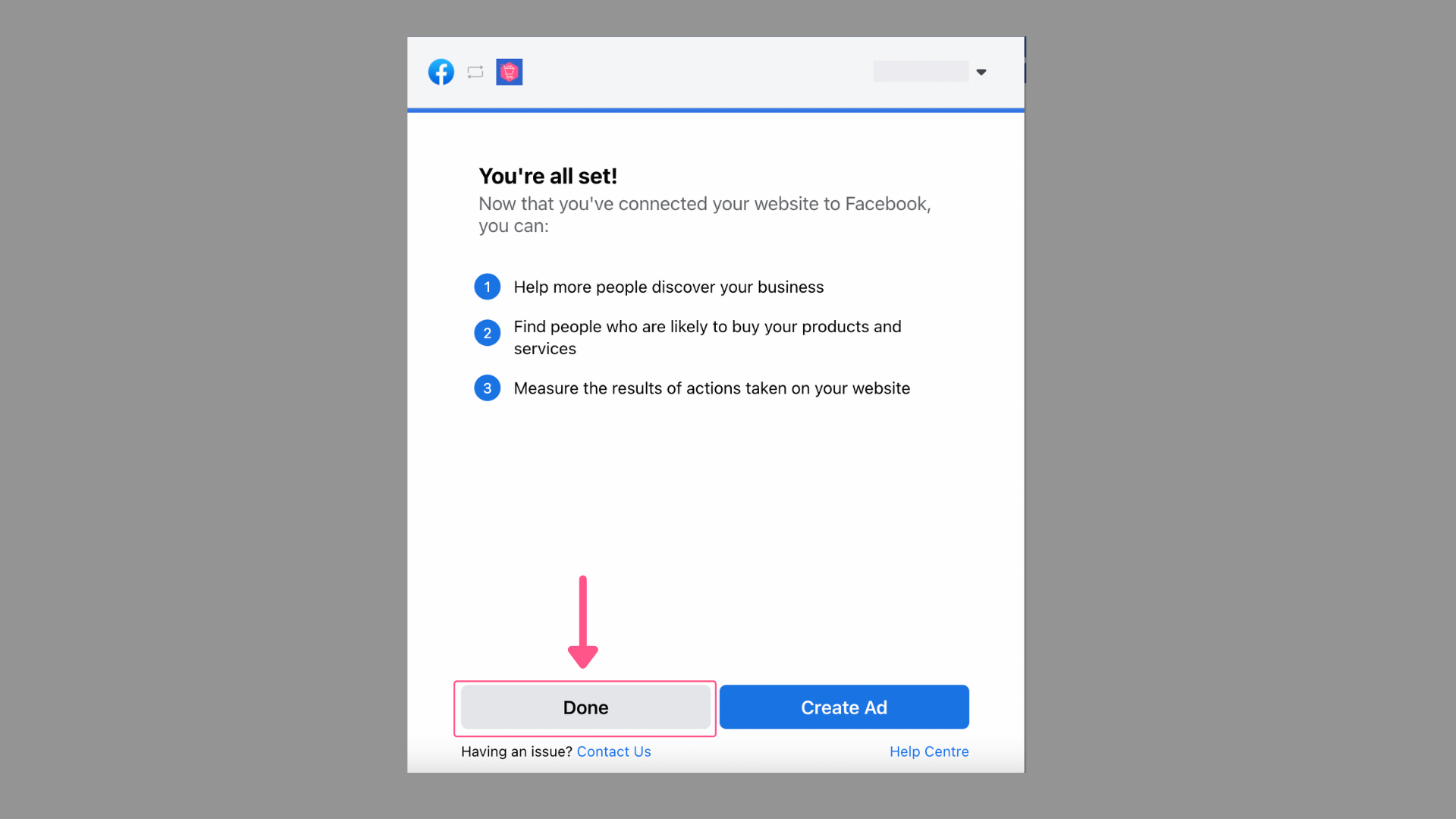 3. Enable Facebook features based on your needs
Now, you can explore and use the built-in Facebook features that fit your demands to sell in other channels.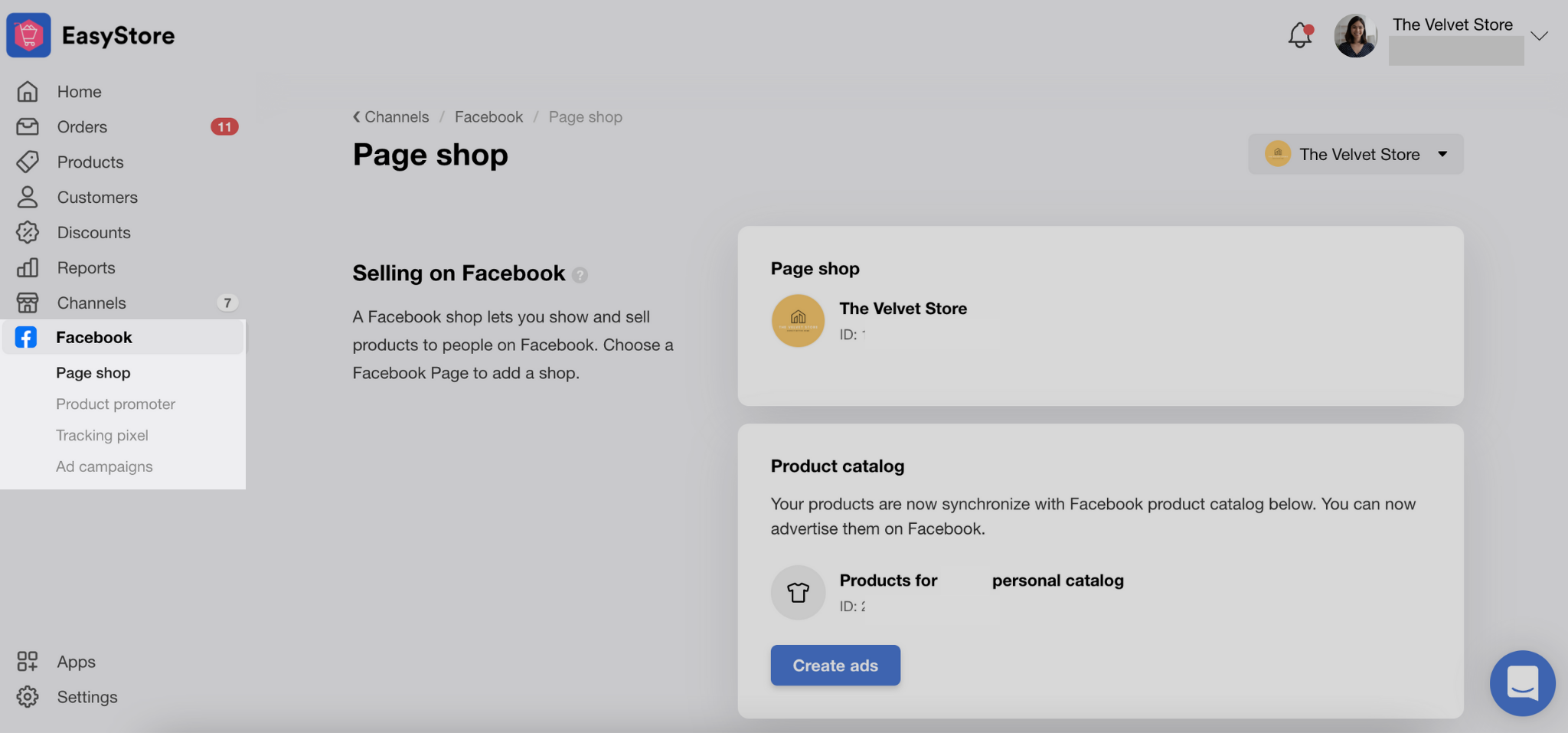 Explore more about connecting Facebook Shop in our help article.
What Can You Do with Facebook Channel in EasyStore?
1. Page Shop
The first step in integrating both platforms is to connect your existing Facebook Page Shop with EasyStore.
This function helps you to sync the products from EasyStore with your Facebook Page. It also allows your Facebook visitors to have a mobile experience while surfing and shopping.
By clicking into any product in your Facebook Page Shop, the button, 'Check Out on Website,' will redirect customers to your well-prepared website and allowing them to make purchases on your website.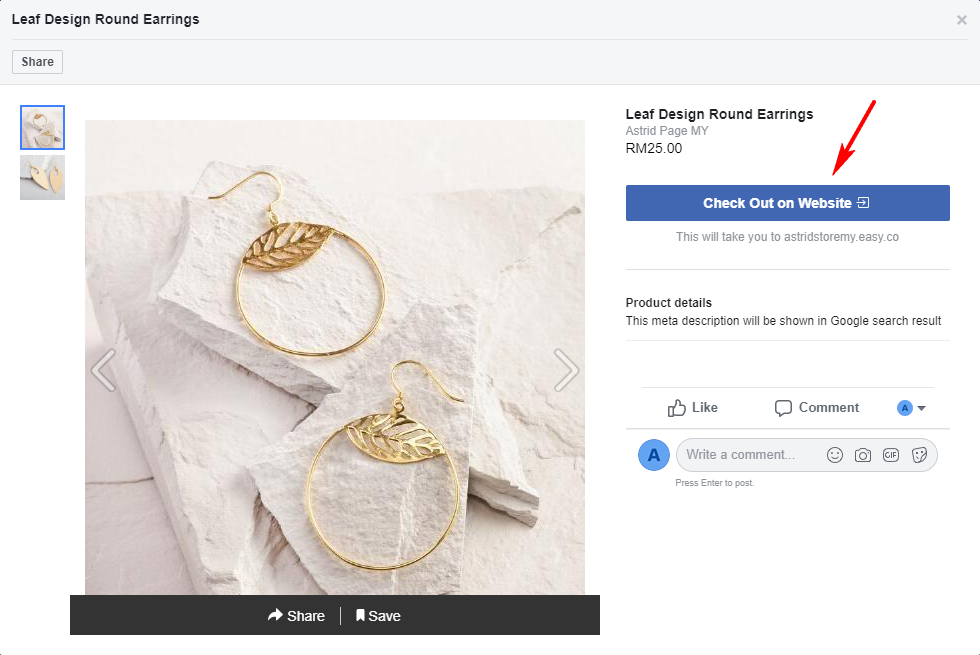 2. Product promoter
The caption in your product photo is another key to make your visitors get clear and accurate information about your product. You no longer need to worry about adding captions anymore.
We help you prepare a format of the caption that is straightforward and informative, which reduces the task in producing captions repeatedly. Of course, you're free to edit the content anytime, anywhere.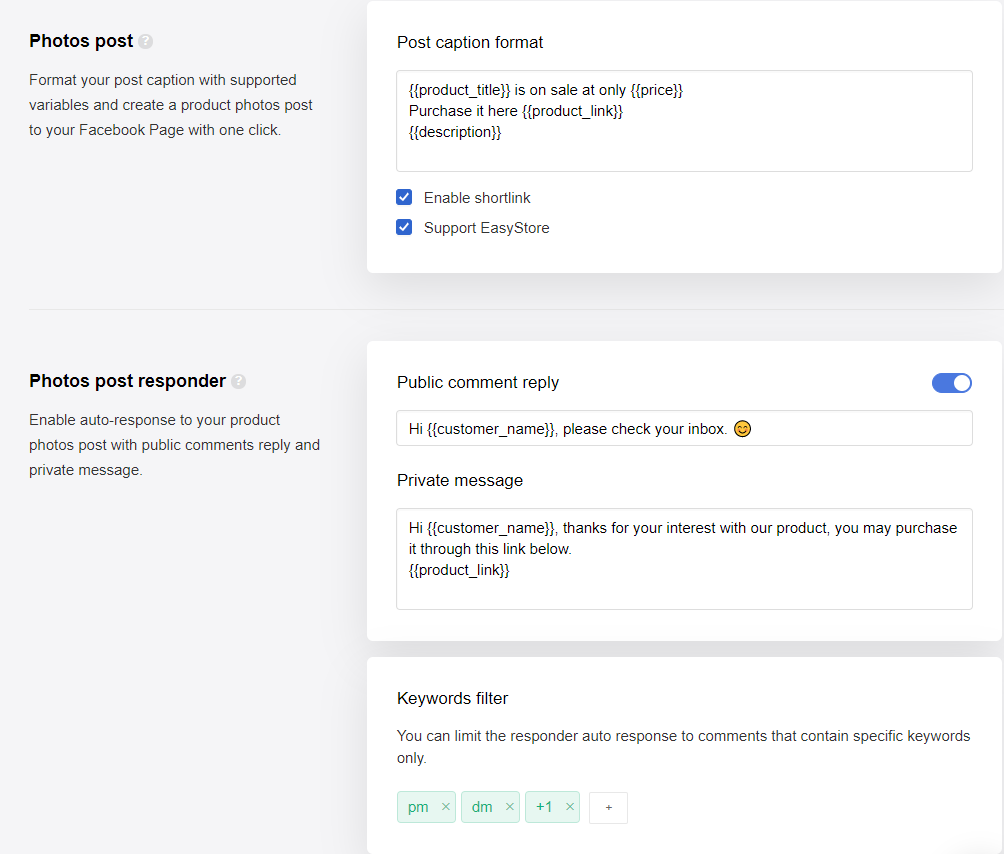 When you sync both platforms, you will receive comments like 'PM,' 'Interested,' 'How much is this?' and more inquires under your product post on Facebook. Don't freak out because of the numerous comments you'd be getting. We have Photos Post Responder to lend you a hand in replying to all the comments automatically.
Enable the 'Photo Post Responder' function in your admin panel and edit the auto-replies that you wish to leave in the public comment as well as the private message.
But first, you're required to set the keywords so that the auto-responder detects and replies to the comments. Indeed no one will be happy when you keep him or her waiting for an answer.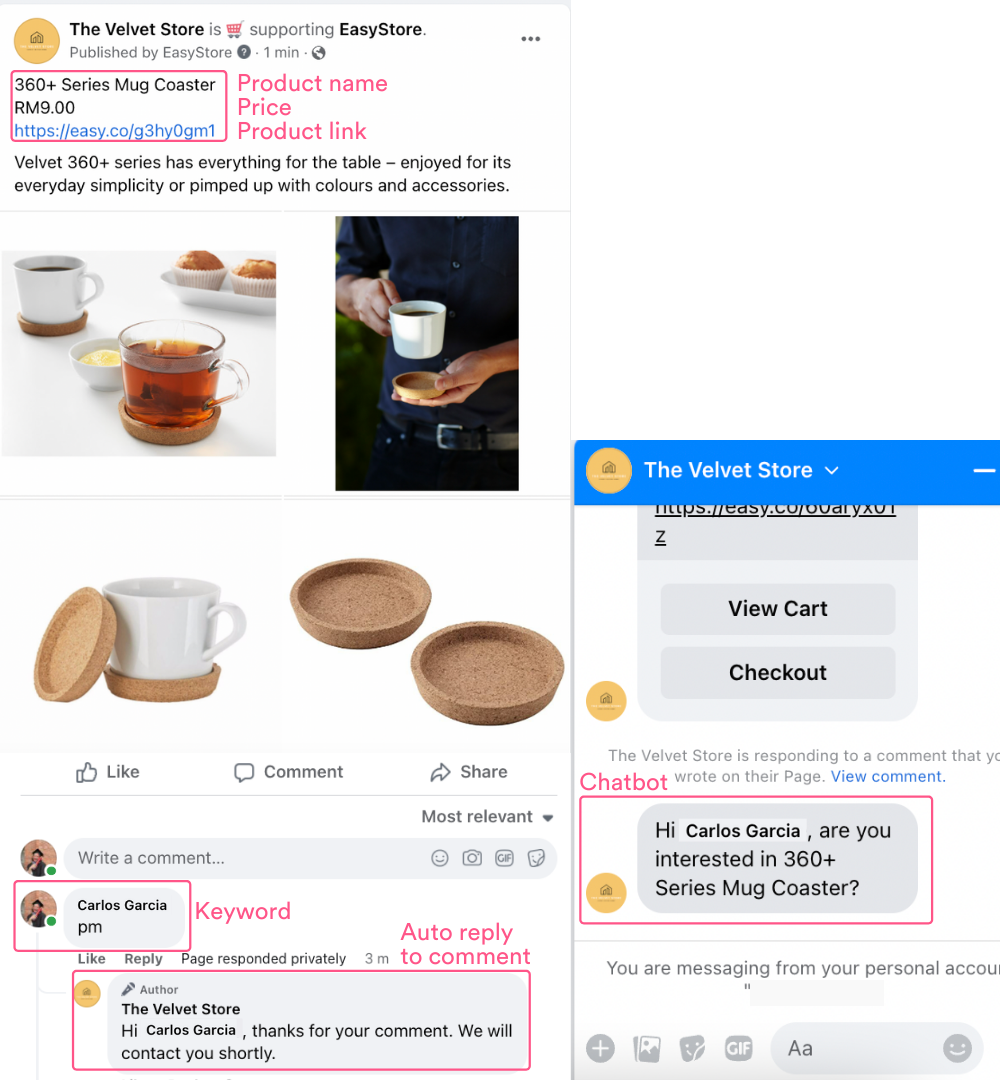 The customers will receive auto-reply above when the Photos post responder feature is enabled.
3. Tracking pixel
Advertising is one of the ways to assist you in promoting your brand heavily on the Internet. But, there is a population of more than 7 billion people in the world, how are you going to decide your target audience?
The Facebook pixel plays the role of understanding the action people take on your website. For the purchase event, the information will be different based on the action that you chose, as shown in the image below.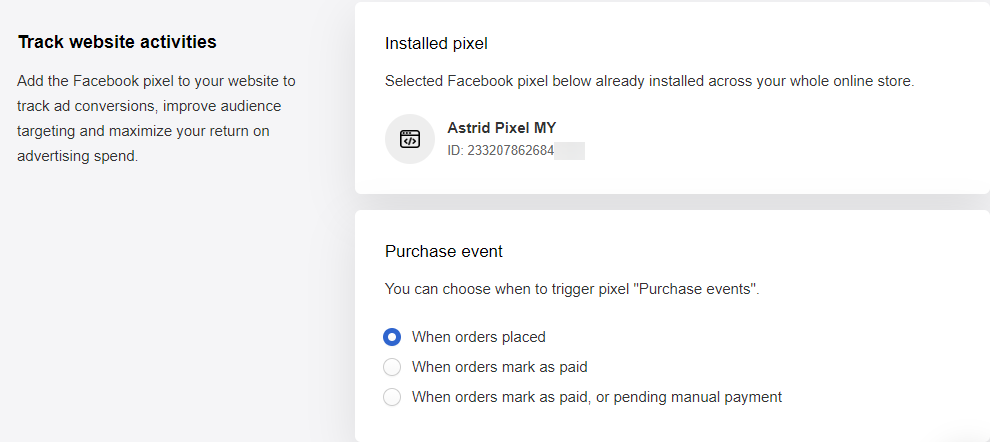 4. Ad campaign (New)
*Updated on 25 March 2022.
With Facebook ads being a must-have for almost all businesses, it's no surprise most businesses use them. Now that you've setup Facebook pixel with EasyStore, you're ready to create and run Facebook ads within EasyStore!
Similarly to Facebook Business Suite, we allow for different ad types: Get more page likes, get more website purchases, get more catalog sales and more options.You can choose and create your first campaign instantly within EasyStore. If you want to increase sales on your website, you can select Get more website purchase to start an ad.
Be sure to come up with all details for your ad, including the caption, images and videos.
The next step is to enter your daily budget. All the details are shown clearly in the Payment summary before you proceed.
During ad setup, you will be able to choose and refine a new audience or retargeting list you created in the Audience section.
That's it! Quick and simple to create your ad within EasyStore.
What's Next?
There's no doubt that Facebook Shop has found a way of integrating with our daily life. And now, with Facebook features available in EasyStore, your store can as well be integrated with the most popular social platform to sell online in multiple channels. It's just the thing you need to consider to take your eCommerce business to the next level in 2022.
Start selling with EasyStore
Sell and manage your business all in one place