How to Effectively Build Trust with Online Customers?
By Vincent Leong · 5th August, 2022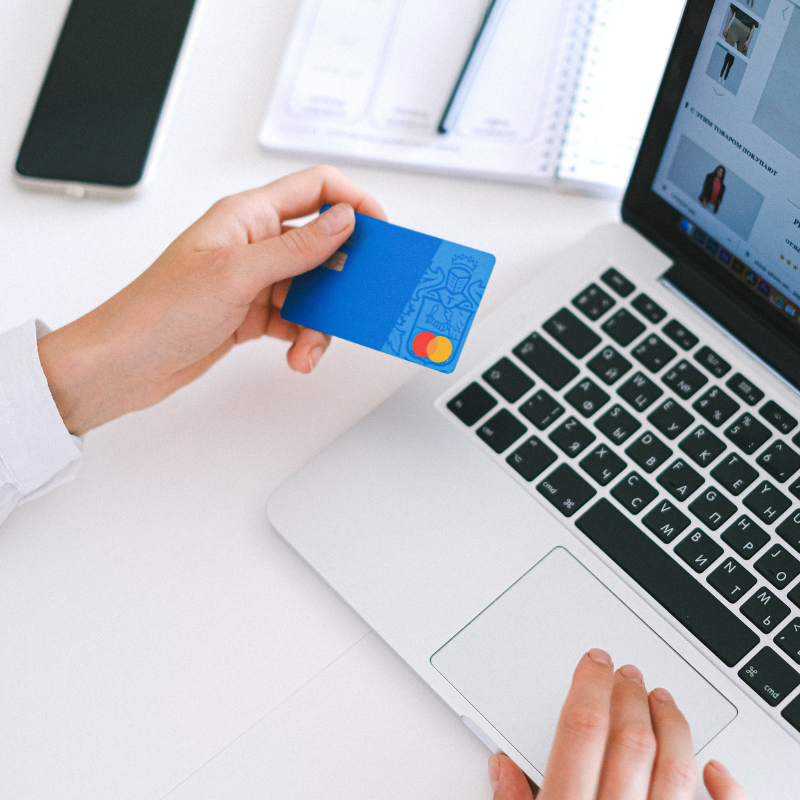 Covid-19 has accelerated not only the growth of online shopping, but also increased the possibility of fraudulent activities such as online shopping scam.
"There were over RM5.2bil lost to commercial crime from 2020 til today", reported by TheStar - where sellers disappear after receiving the money or mismatch between the product they received.
This urged the public to always be cautions when making any transaction online, which I believe most Malaysian should have developed habit to shop online safely and securely.
Consumers are getting smarter
With a quick search on Google, anyone can know how to not be scammed while shopping online, and these are the results:
Do they have an official site
Is the site information reliable?
Are the contact details real?
Do they have sufficient reviews?
Is the site secure?
Are the payment methods legit?
And this is where building a trustworthy online store is important for any business!
Get an online store that makes you look professional and trustworthy!
If you are struggling to convert your customers, there's a trust issue - anyone can easily create a Facebook page or an Instagram account with fake data, that is similar to yours. No doubt, many people don't trust a business without a good website (online store).
This is because your customers know nothing about you!
No matter how many ads budget you spent on Facebook or Instagram that are well-received with tons of PMs. But how many will actually complete the entire shopping process? Remember, customers can drop out if they feel suspicious at any stage.
In this blog, we will unveil how a professional online store can help to legitimize your company in ways no other channels could.
So, what exactly makes customers trust an online store?
There are two components to building an online store that can be trusted: reputation and security.
As compared with retail shopping, online shopping creates more uncertainty for several reasons:
Can't ensure if the products have the same expected outcome.
Not sure if the product is delivering accordingly
Concern about payment details get stolen
Therefore, you should always start with building a reputable and secure brand.com, that provide shoppers with clarity and promises about your business to ensure that they receive orders on time and instill the confidence to receive exactly what they expect.
1. Be transparent and honest to customers
How often you get customers to ask for more product details, PM for price and shipping concerns? Not only it takes time to reply to them one by one, it also prevented potential customers from buying due to lack of information or late reply. Anyone hates to be uncertain, especially the one who is paying.
And nowhere is better than having your own online store to display accurate and detailed product information. For example, size, materials and care instruction of your products - don't exaggerate the features.

Source: jobbienutbutter
Freedom to insert great quality of pictures and videos on your online store is a plus point on top to that. This demonstrate the product quality and let shopper to visualize, ensuring that customer will be receiving the exact product as what the images or videos suggested.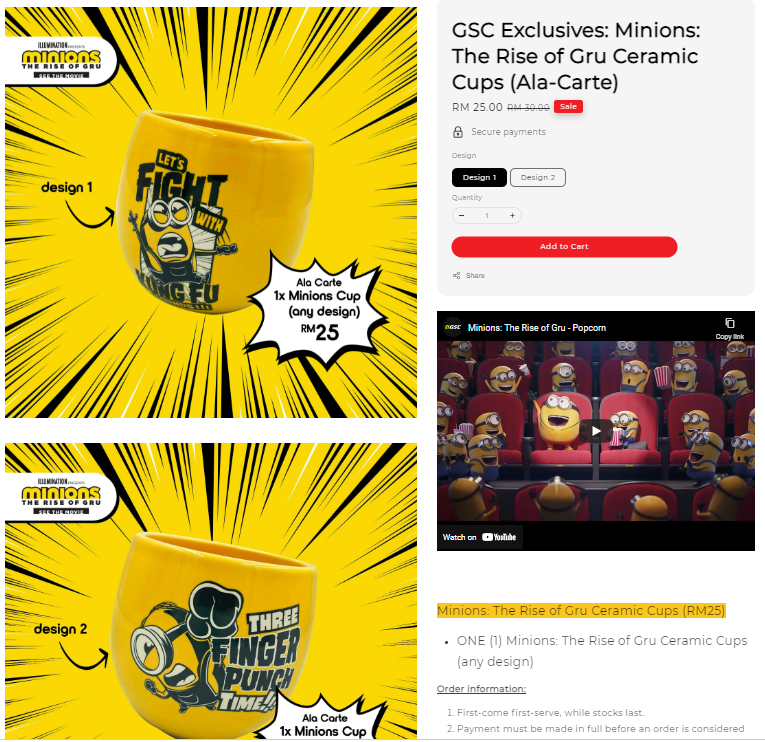 Source: Keepsake by GSC
It's also Important to let others understand about your business.
Besides getting to know more about your products, shoppers might also curious about your company policy like privacy, return and refund, shipping rates, your company background and etc. This is not about you or your company, it's about why a customer should emotionally invest in your brand and are you the best solution to them.
In addition, you can edit your store policy with ease and access to many shipping providers with EasyStore. Having an integrated shipping provider helps to send tracking code to your customers automatically once the order is fulfilled - reducing the uncertainty
2. Be ready and available to customer enquiries
The customer service works as a major bearing on customer trust and loyalty. Doesn't matter how transparent your business is, some customers will always have doubts and wish to communicate with a real person. They may want to know further about the policies, shipping or product information.
This makes it crucial to be available and easy for shoppers to reach out. This includes store contact form, email, social media profiles and a chat button that get them to reach out even faster.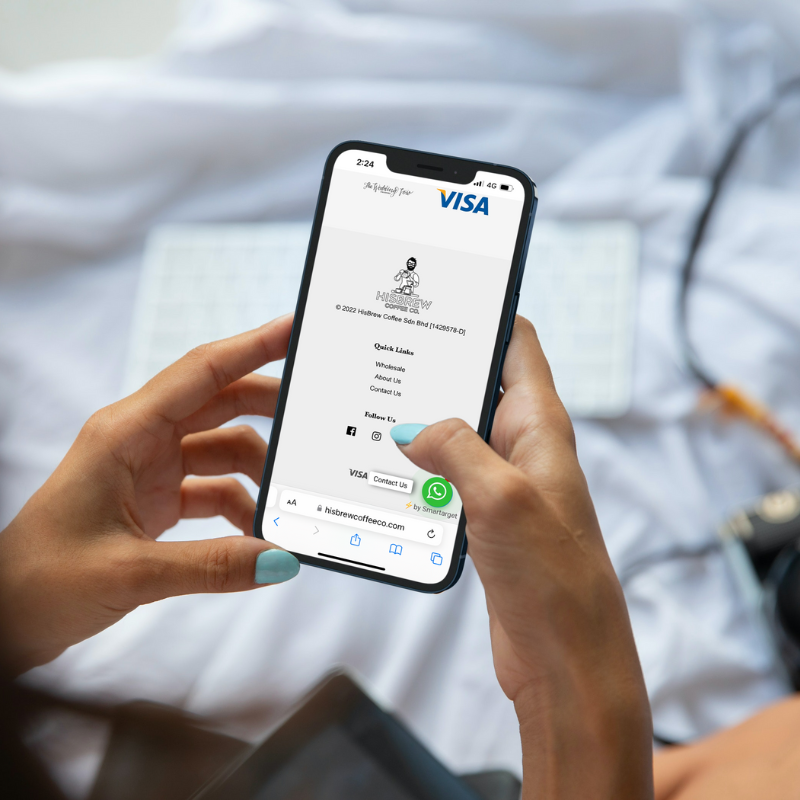 Source: Hisbrew Coffee
It's important to get their inquiry to be resolved as soon. Therefore, a live chat is becoming a standard of customer support excellence. It's also preferred by many shoppers and sellers as its quick and easily accessible than email.
In EasyStore, you can create a live chat button that links to any communication of your choice, Facebook messenger, WhatsApp, you name it.
3. Display positive testimonials and reviews
On the other hand, online reviews are also a great sales weapon besides confidence. Today's shoppers can easily compare products and prices online and study the review to see what actual customers think to standout in such a competitive environment.
Indeed, nothing better than your customer testimonials for the reason that they aren't salesy, acting as a real life unbiased voice to tell others how well you did. Therefore, testimonials are also one of the important indications before making a purchase.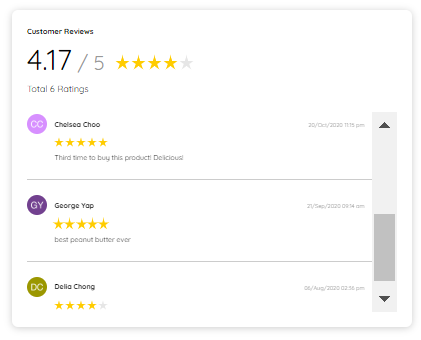 So, what exactly you can do to grow your testimonial?
With an online store, you can encourage your customer to leave a product review directly on your online store or under the review section of the product they purchased. By showing how you care for your brand, always follow up with customers to understand their post purchase experience via WhatsApp or sending regular email reminders - details can be collected on every successful purchase.
With OnVoard Review plugin on EasyStore, you can fully automate reviews collection process by sending review request email automatically after customer purchased.
4. Ensure customers a secure shopping experience
Security is shoppers priority, the above strategies demonstrating the reputation of your brand. But you'll also have to ensure that your site itself is trustable. Then only make sense for customers to provide their payment information.
First thing to ensure would be the padlock icon in the address bar. When being clicked, a dropdown box will display the security information about the site.
To get the padlock icon, you'll need to get an SSL certificate. At EasyStore, we let you create a secure online store for free that includes free SSL certificate too! This not only helps to protect shoppers' information, but the padlock icon will also improves confidence for your shoppers.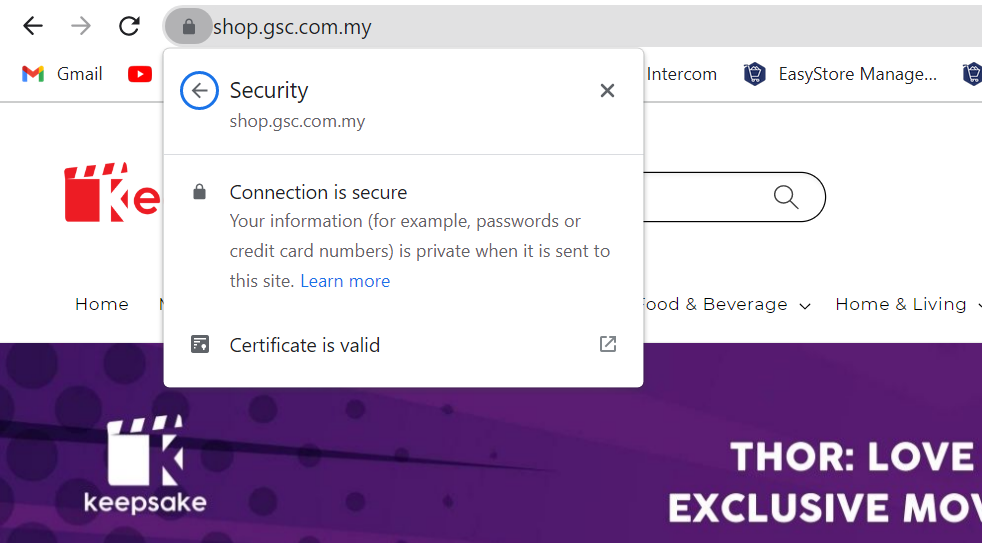 Speaking of online security, the question of online payment security is never off the table.
So, what you can do about it?
Offering well-known payment gateway not only helps sellers to take payment from credit cards, debit cards and other seamless payment options, but securely. If you are selling internationally, offer different payment method that are well excepted worldwide, PayPal for instance.
Another way to make your customers feels comfortable is to provide them multiple payment options. Most people have their preferred payment method and if you sell locally, you need to ensure that you are offering the payment method that is well accepted in your country, for example GrabPay or FPX in Malaysia and Payex in Singapore. Payment gateway like iPay88 provides a full range of payment methods preferred by Malaysia, yet it does great coverage worldwide too.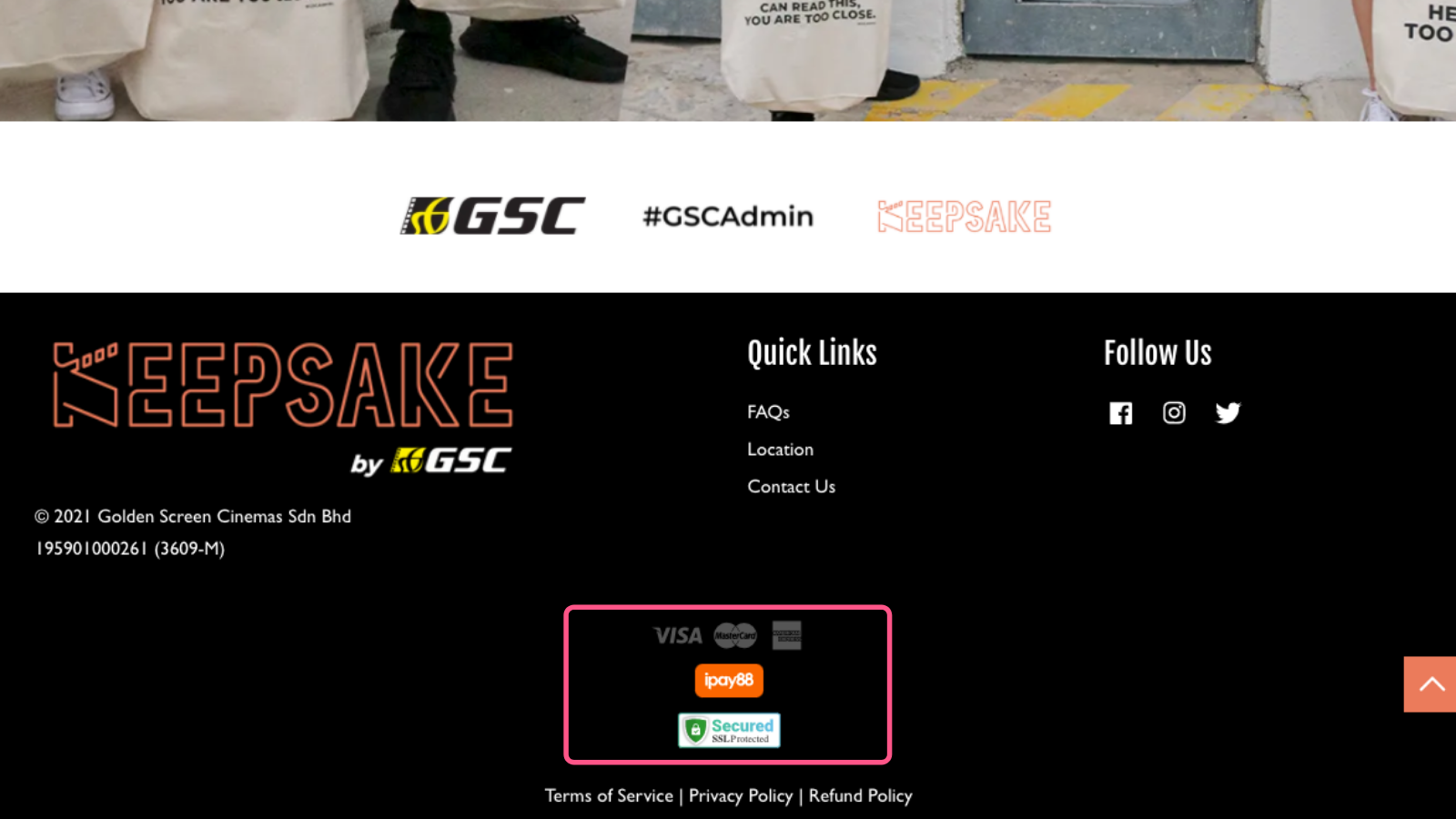 Now you have everything in place then what next?
Let's create a professional online store that leave your shoppers with great 1st impression!
Great impression matter, as it considers as your face of your company. So, you wouldn't want to have a poorly designed, slow loading, and bad browsing experience online store right?
So, what you can do?
Improve website design and checkout flow!
Always remember that shoppers will only evaluate your online store in an average of 7 seconds. Therefore, the user experience of your website is the key to that keep them shopping.
With design, it's about the details and nothing should be overlooked. If you are not technical savvy and with a huge budget to spend, hire a design agency.
But creating your own website is much easier and less expensive than you expect! You can always build a professional online store easy, fast and free.
In EasyStore, you can leave the designs and checkout flow to us. Sign up a free account to utilize over 40 professional templates and start building your store in no time with drag and drop feature.
Most people are still having skeptical about building a professional online store required to be tech-savvy, high starting cost, and a team of engineers - No! This is not right!
Creating a professional online store has never been easier, and It's free - Create yours with EasyStore today!
To conclude
Getting your shoppers to trust you online is everything it needs for an ecommerce business success and it's not surprising at all that boosting your business credibility can lead to customer stickiness and boost sales.
Without a doubt, a business without a good online store will not be able to convey trust, but building a trustworthy online store is definitely helping to boost shoppers' confidence towards your business.
Connect with our team
Let's begin your unified commerce journey. Complete the form to chat, book a meeting, or connect with our team.