How to Create an Online Store | Easy, Fast and Free
By Vincent Leong · 6th August, 2022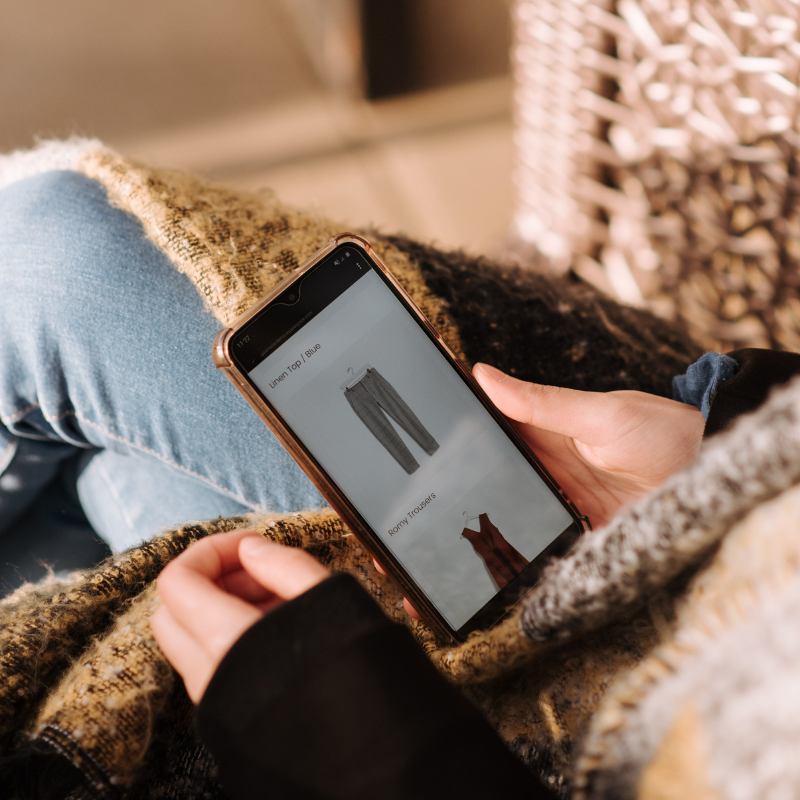 Being on ecommerce is not about the trend, it's necessary to do so.
Ecommerce is still on the rise, and it's expected to increase to 18.3 million user by 2025 from 15.6 million this year based on statista.com.
Back then when ecommerce was introduced, building an online store is expensive and complicated where you need the tech pros to do it for you. Today, it seems that anyone can create their own online store without any programming knowledge and without a single cent - Just like how you create a Facebook profile.
Is building an online store free, really?
There's various approach to build an online store. But how exactly building an online store will cost? This highly depends on your situation, needs, budget and time. The cost could be anywhere from $5000 - 30,000 if you hire a web designer for a fully customized online store.
Or you can also engage with online store building platform. With EasyStore, you can get your online store up and selling fast without paying a single cent via EasyStore.
In this guide, I will show you how exactly easy and fast it is to create an online store for free. (Within 10 minutes). And also, how you can get your first 100 customers once you launch your online store. (Step-by-step)
Steps to create your online store
Create an account
Upload your products
Design your store
Create a payment method
Create a shipping method
Create policy and about us
launch your store
Get your first 100 customers
Remark: If you are lost in the middle of the setup, always look for the answer on help guide, discuss with our community, or follow our workshops.
Ready? Let's get started
Create an account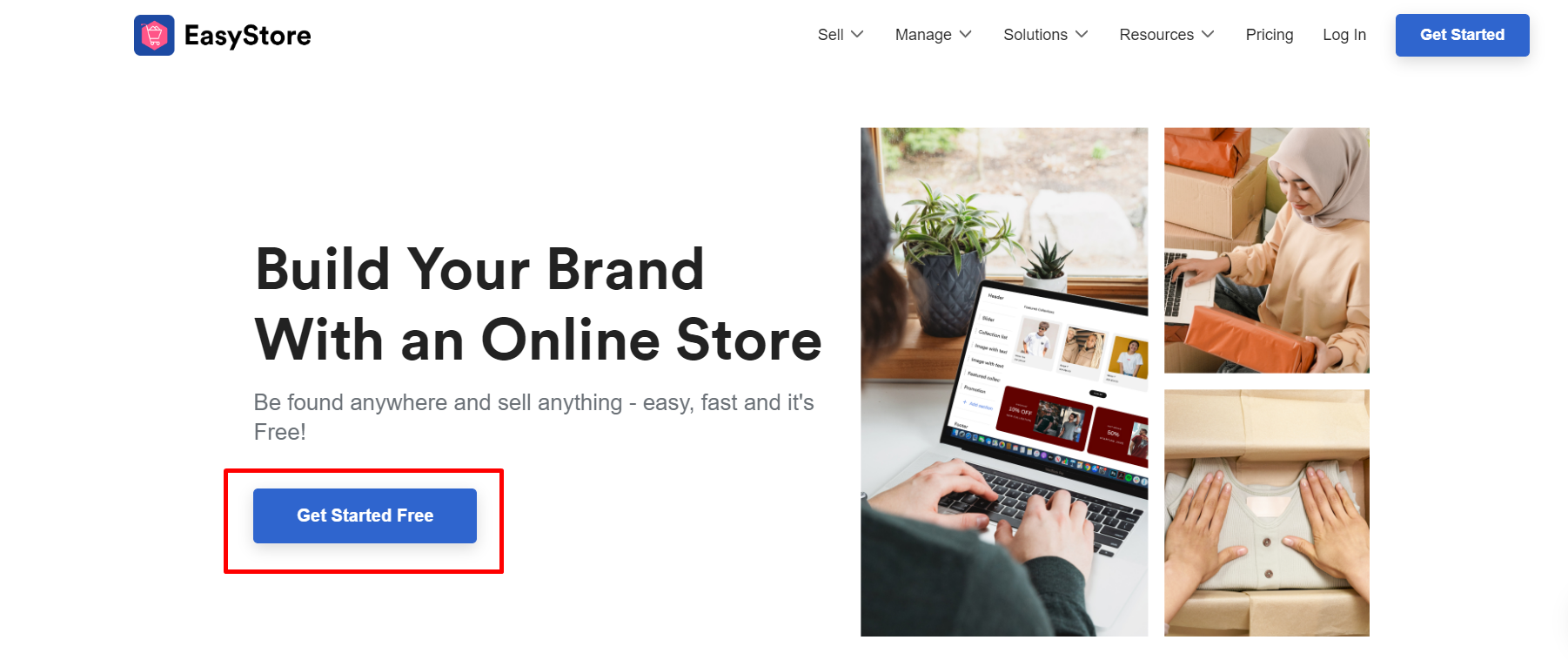 EasyStore is an online store building platforms come in both free and paid model - so you don't have to worry as your business scale.
Apart from scalability, we even provide the necessary features to support business who is looking for online opportunity. For example, customers database management, business reporting, SEO friendly store, security and mobile optimized.
Free store should give you enough functionality to get your first 100 customers quickly online. Sign up an online store for free with EasyStore today!
When you created an account with EasyStore, you'll be required to fill in your business name, which will turn into your store URL (e.g storename.easy.co), which is free to use unless you wish to change to a custom domain later on. (You will be directed to EasyStore admin panel once you are done)
Upload your product
In EasyStore we aim to provide a user friendly admin panel that is easy enough for anyone without technical background. As you may have already notice on that everything is listed on the left-hand panel for easy navigation. So, click on "Product" to begin.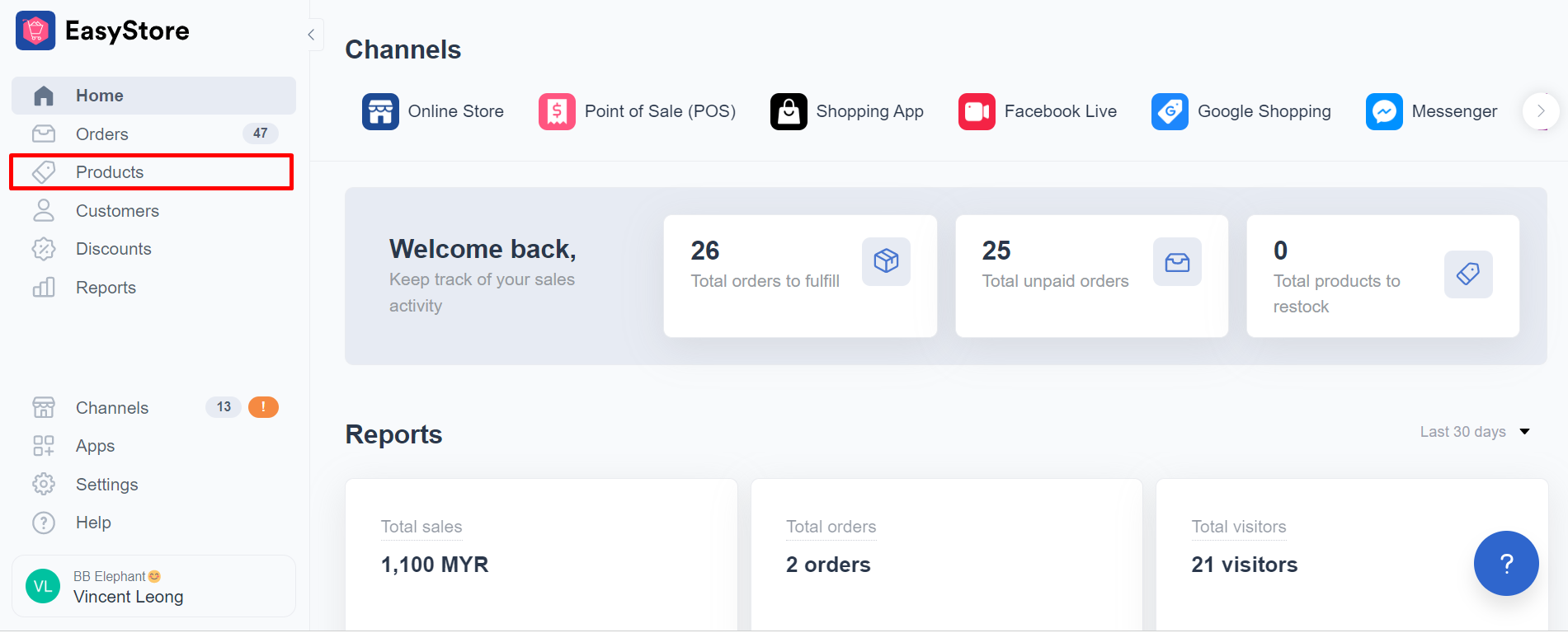 Now you may add your product information following each section, including your selling price, a killer description, attention grabbing images or you can even include video into it!
*Stuck with a killer description? Perhaps you can follow these tips for your product description:
Who the product is for?
What is the product characteristic? (Size, material, color, etc)
How this product can be used?
Is there any special care or tip to use this product?
Source: Jobbienutbutter
Once you are done with the product information, be sure to scroll down to a section call search engine optimization where you can edit your URL handle and meta description for better ranking on search engines like Google - Keep it simple, unique and meaning for others to search your product on search engine.
Organize your product into product collection. If you have a long list of products, or a special space to keep your promotional items, you can create collection to group them together.
Make your store stand out with professional theme template
Selecting a theme is easy, just head to channels (on the right-hand panel) > online store > look for theme store (scroll down) and get access to over 40+ free professional theme templates that will make your online store look good and professional, without touching any code!
EasyStore themes control how your online store presents to your shoppers when they visit. Besides you can also control how it's presented by customizing it with your own creativity, layout, images, or videos.
here's a checklist of what's needed to begin:
A logo. It's necessary to have a brand that represent your business, and a logo serves just that. And there are plenty of free software if you just Google or hire a designer to do it for you. Get a logo with transparent background so that it is easier to pair with any background.
Images. Always impress your shoppers with the best presentation. Imagine you are visiting an online store that is badly designed and what will be your thought? Doubting their credibility, right?
Same goes to your online store too. Images are one of the influencing factors to create good impression. So, you can shoot clear images on your smart phone or use stock images (there are plenty of free stock images).
Start to design your online store
You can rearrange the section of each theme to come out with different store layout that works for your business with our drag-and-drop features.
What are the considers when creating your website layout:
Mobile first. Chances of having shoppers browsing your store with their mobile phone is higher than web browsing. Hence, always optimize your design on mobile with image size that is fit.
Design a shopping journey. You should always consider a straightforward path for your shoppers to act, cause not everyone has the patient to slowly browse through a long list of catalogues. Group your products into collection and create website top navigation will smoothen their shopping process.
Make it easy for first time customers. Help them quickly understand what your business is all about with a well-written "about us" page that highlight what your business is doing and how the products will help. You can also add a few words of your brand value on the "slider" column as your first section of your online store.
For real life inspiration, you may checkout how others are doing.
Setup shipping method
Shipping is very crucial for any online business because it's the final steps that determines whether your customers want to shop from you again. Therefore, online sellers always have to ensure the product is delivered with satisfaction.
How can the order reach to my customers safely?
There are different approach on how you can deliver to your customers. E.g. Self delivery, 3rd party logistic company, warehouse distributor or offer in-store pickup.
Every product has their own unique ways of delivery. Taking cake delivery for example, it requires to be delivered with care and timely. Therefore, you might need to source for logistic that offer same day delivery to prevent your product from delivery damage - Lalamove (car) for instance.
In EasyStore, we provide a wide range of integration that offer seamless delivery like door-to-door delivery, real-time auto shipping rate calculation and so on - so you don't have to worry about the logistic.
*About 3rd party logistic integration: Not only you get auto rate calculation, you can fulfill orders and also print Airway Bill on EasyStore in 1 click.
What is the cost to ship to my customers? This is highly dependent on what kind of logistic company you are engaged with. But for your reference, you can always check out their rates on their website. Logistic company like EasyParcel, Ninja Van, Lalamove, DHL, J&T offers auto rate calculation, so you don't need to set them manually.
If you wish to deliver on your own or create own shipping, you can always create your own shipping manually. (Flat rate, by weight, by item quantity and free shipping)
Which area should I expand to? First you need to consider the taxes and export policies for oversea delivery or the condition of your products after long hour delivery. If taking cake as an example, it is not recommended to deliver outside the state unless you have your own chiller truck or distribution channels in other states where you can deliver in bulk.
Therefore, the ability to create shipping zone can help to solve shoppers from states or country that is not within your delivery coverage to place order.
Create a payment method
What's the ultimate goal of selling online? Getting paid!
We are almost done, so here's all about how you can receive payment via your online store.
There are several ways on how you can get paid:
Manual payment method
Payment gateway
Cash on delivery
On EasyStore, what you earn is what you get as we don't take any transaction charges from you unlike other platforms. Therefore, as you browse through our payment setting, you'll find a list of payment labeled "manual" for transfer method like bank transfer, wallet transfer or cash deposit.
Besides, you can also opt for payment gateway to take payment from credit cards, debit cards and other seamless payment methods.
We have integrated with 40 payment gateways, you just need to apply an account with your preferred payment gateway and easily connect the payment services to your account. You may also refer to the difference of manual payment method and payment gateway.
What to take note in choosing a payment gateway?
Check their charges. Undeniable, price is always the factor to decide on any product. In brief, payment gateway charges would be the setup up fee, subscription fee, and transaction fee. Some may have higher transaction fee, but zero setup and subscription fee and vice versa. So you need to get to know the transaction fee of each payment gateway before making a conclusion.
Type of payment methods. It's tough to judge solely based on the price itself because the type of payment methods that an online store offers can influence the conversion rate.
As you may see from the table, Malaysians are more in favor for online banking (FPX).
However, this report will not be applicable to other country because Online banking is only available to Malaysian. If you are selling to abroad, make sure you offer the payment method that is favorable and multicurrency supported - Master/visa or PayPal.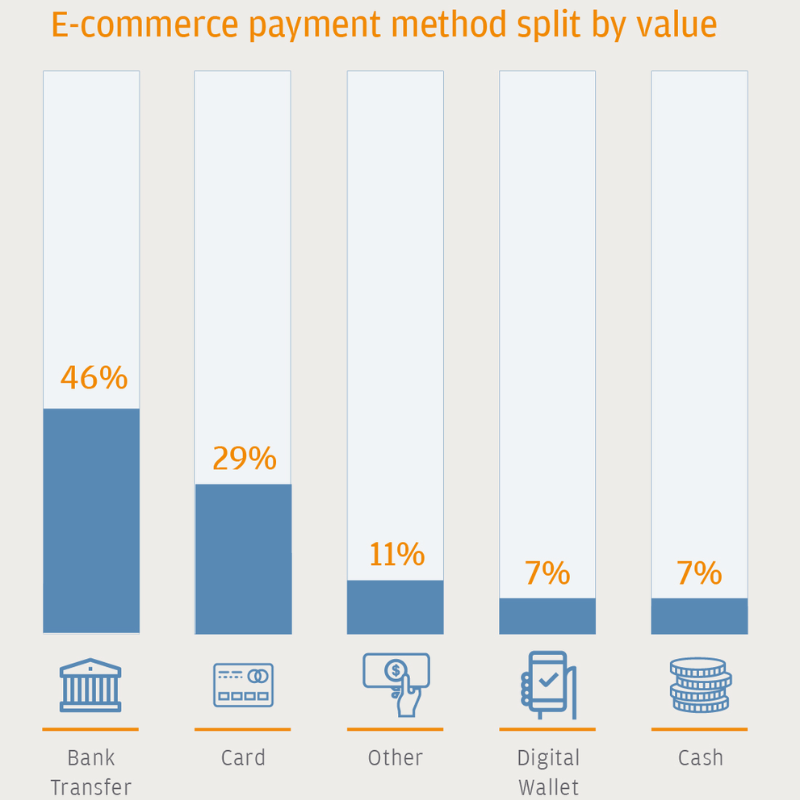 Source: J.P. Morgan
With the rise of instalment financing, "buy now pay later" was established to allow shoppers to delay their payment and divide it into smaller amount. This rising star could also influence on how you can grow your sales with a payment method.
Role play as a customer!
Now you are finally set! But before distributing your store in front of the public, ensure everything is perfect. This is because the first impression is important. If your store is unable to perform up to their expectation, they might not be returning.
Here's a checklist where you can follow to go through the purchase and checkout flow. Role play as a customer by placing an order with real transaction helps to ensure the entire journey (processing, payment, shipping, and taxes) are in place.
How to get your first 100 customers? (10 proven ways)
You have just created your online store, and now what?
Customers will not just show up on your online store without your effort. So head out to find your first customers by marketing your brand, products or services.
What are the 10 ways to get your first 100 customers and building a brand at the same time?
1. Spread The News to Your Friends and Family
2. Engage in Social Media Activities
3. Create Partnerships for Better Exposure
4. Make Your Business Searchable Online with SEO
5. Run Paid Advertisement
6. Affiliate Marketing
7. Proudly Display Your Customer Testimonials
8. Become an Expert
9. Run a Promotion
10. Create a Beautiful and Easy-to-navigate Website
To conclude
With an online store, selling anything to anywhere today is possible!
So, don't wait for the perfect moment to begin your ecommerce journey. Just go ahead and start your online business today! It's free anyway~
Start selling with EasyStore
Sell and manage your business all in one place