How COVID-19 Has Changed the Malaysian Business Landscape (Astro AWANI)
By Kholil Jofri · 28th July, 2022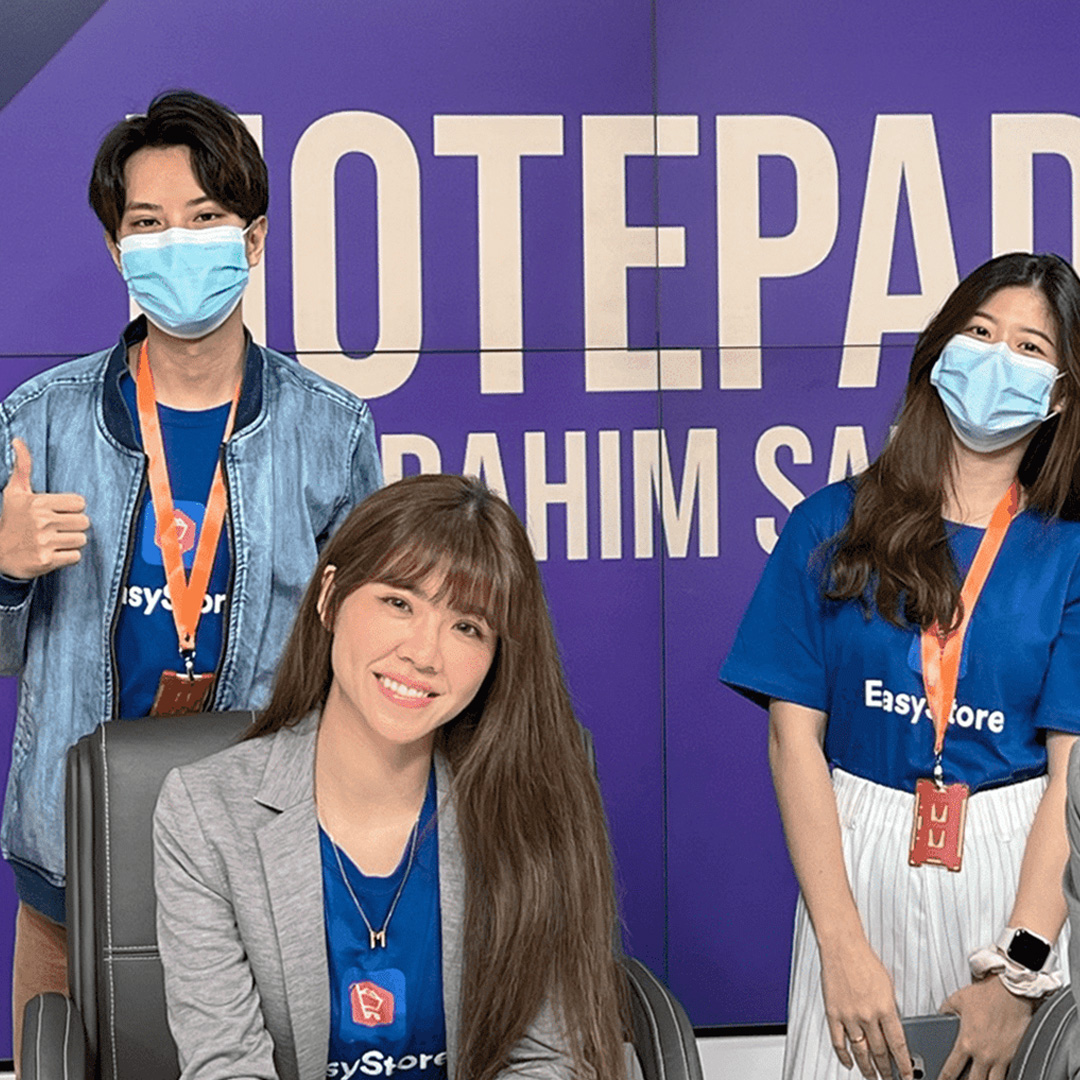 We Shared How Business Can Adapt to Current Trends
COVID-19 has affected Malaysians' business and we can see a new behavioral shift in the shopping habits of consumers.
According to Refsa.org, the retail sector saw its worst performance (-16.3% in 2020) since the Asian Financial Crisis in 1998 (-20.0%), and reduced shopping traffic in malls.
In contrast, the ecommerce industry was among the few sectors that were able to capitalize on the pandemic. What used to be an alternative form of shopping suddenly became an essential service thanks to the pandemic. According to GlobalData's analysis, fear of virus infections through cash-handling and social interaction at physical stores propelled Malaysia's ecommerce growth (24.7% growth in 2020).
In the interview with Ibrahim Sani's Notepad (produced by Astro AWANI), Melissa Poh, EasyStore General Manager, comments on how COVID-19 has changed the Malaysian business landscape, what will be the trends going forward, and how EasyStore helps businesses to adapt and grow their business.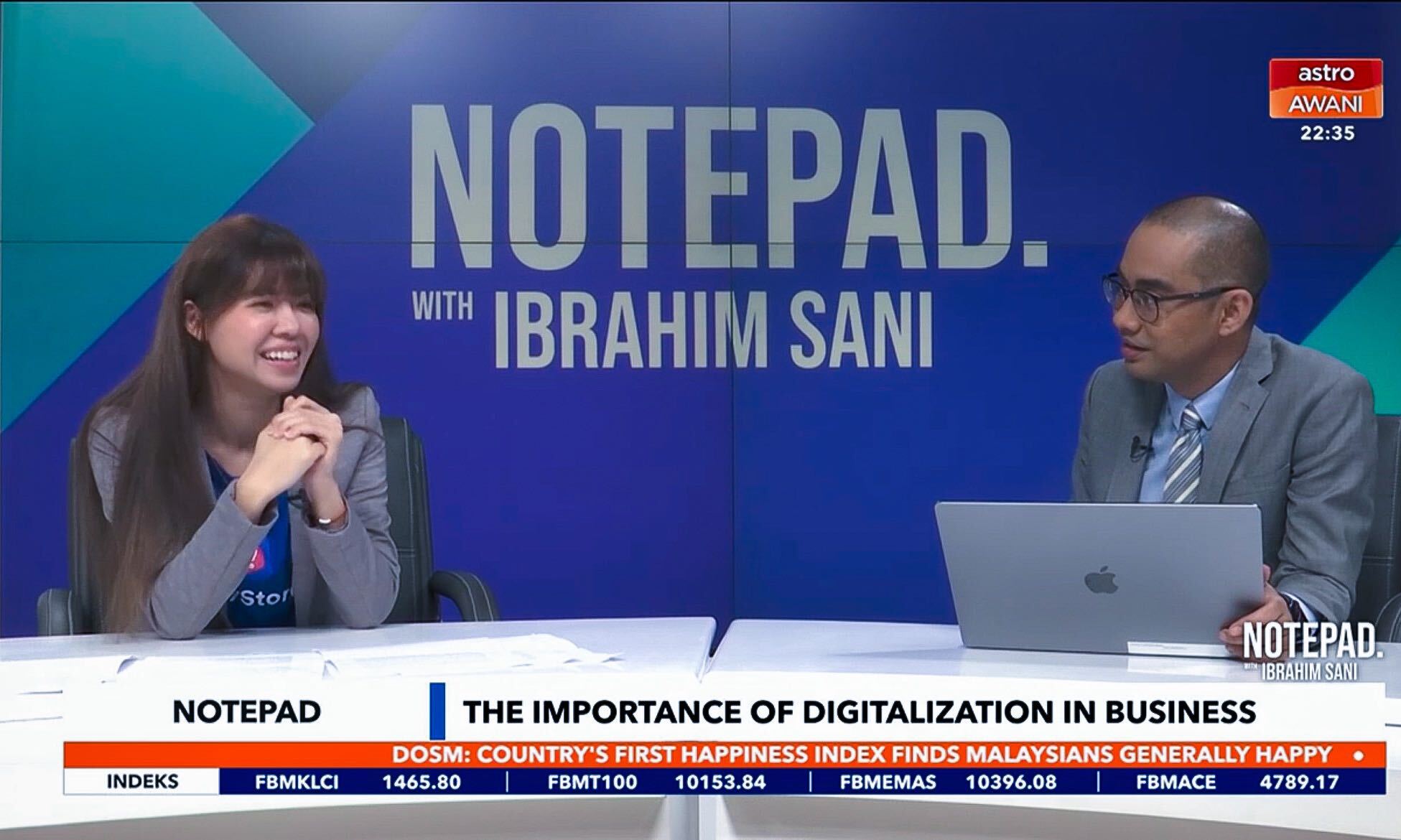 Businesses are Afraid to Go Online
As a person who is involved in an ecommerce business, Melissa saw the importance and potential for businesses to digitalize their business and go online. With her own father running a traditional business, where the targeted customers are only people around his shop, she was determined to bring her father's business online first. When the first time she pitched to her father, she was rejected.
With the rising news about scams on the internet, her father was actually afraid to go online and embrace ecommerce because whenever he heard about the Internet, to him, everything is related to scamming incidents.
She then secretly put details such as her father's business information, contact numbers, and some photos on the Internet without telling him. After that, her father slowly got phone calls from strangers interested in his business and eventually became his customers. And then he felt like, oh, this is something.
After going online, within three months' time, the business was getting more customers and its revenue increase up to 50%. Their customers come not only from the surrounding area but from all over Malaysia,
Who can imagine a small pawn shop can go online and attract customers from all over Malaysia. This inspired Melissa to help more businesses to go online, digitalize and grow their business through EasyStore.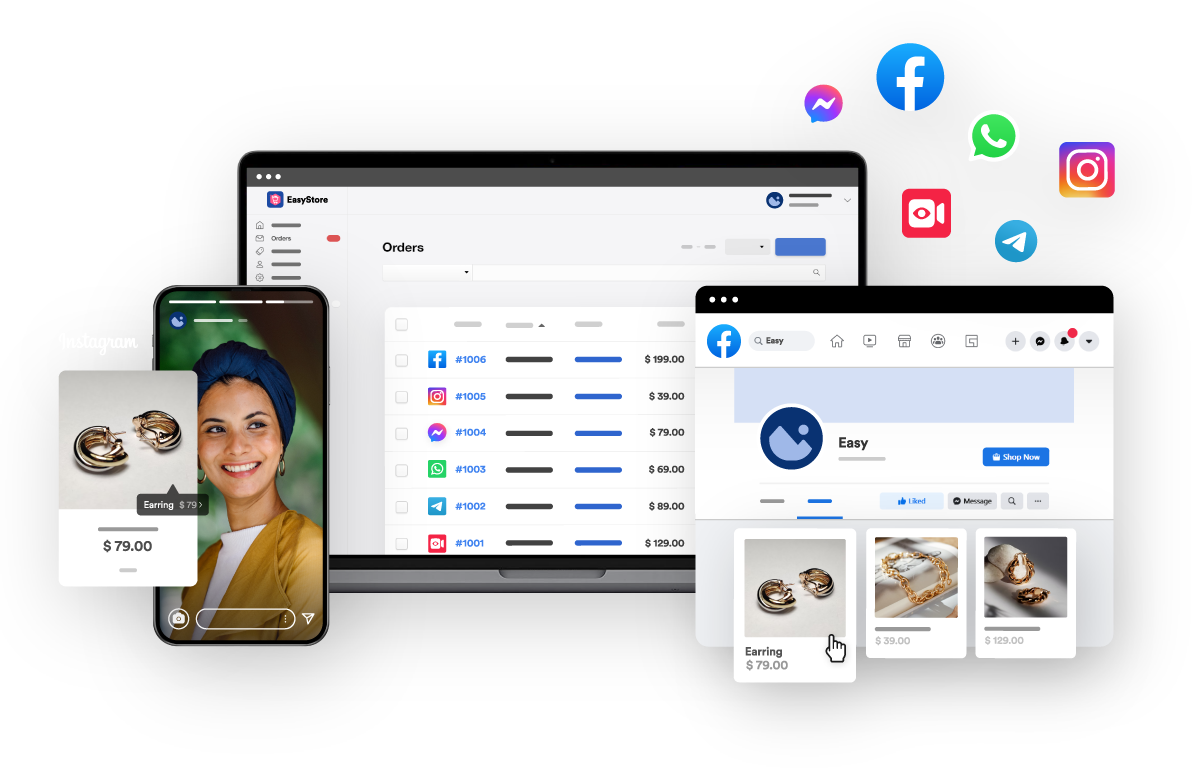 How EasyStore Helps Digitalise Businesses
EasyStore is a multiple sales channel platform that helps businesses to sell on Facebook, WhatsApp, Tiktok Shop, and Shopee and manage everything in one place. They can synchronize and manage their products, inventory, orders, and customer details for all of their sales channels in just one place, on EasyStore. This will help them to manage their business efficiently, and reach more customers which will eventually help to grow their business.
1. Multiple sales channels
Most businesses tend to sell only in one place such as Facebook or Shopee and focus only on that one platform. With EasyStore, we encourage businesses to sell on more sales channels to reach customers where they make their purchases. They could miss out on customers on Shopee if they are just selling on Facebook.
2. Centralized dashboard
By selling on multiple sales channels, businesses need to spend a lot of time and effort managing orders, products, inventory, and customer details for each sales channel. With EasyStore, they can manage everything in just one place on a centralized dashboard in EasyStore. They do not need to put extra effort and spend more time when selling to multiple sales channels.
3. Analytics reporting
Imagine having all data & analytics from all sales channels in a single dashboard. This will makes decision-making easier. Businesses can know how are their sales performance for each sales channel and their customer behavior when shopping with them. With this, they can retarget their customer with customized marketing campaigns. As for that, this will help them to optimize their marketing efforts to increase sales and generate more revenue for their business.
4. Value-added service
EasyStore is not only providing a platform for businesses, we are working with other industry players together where we can complement each other's strengths and expertise to help businesses. For example, we partnered with CIMB, Shopee, and Facebook to provide free ecommerce and business training for businesses out there. With this effort, we hope that we are not just a platform provider but we create opportunities for businesses to learn and grow their business.
EasyStore Helps to Merge Both Online and Offline Business
When talking about offline businesses, some of them are running weekend bazaars or garage sales and for some, they have their fixed physical store. Nowadays, businesses realized they cannot just rely on selling online only. These businesses are looking to expand their business offline and the question to them is, how can they sync the data, selling online and offline?
When business have their pop-up bazaar during the weekend, they don't have an automated system to record all their sales. They will use a notebook and manually record it, while also counting manually to keep track of their inventory.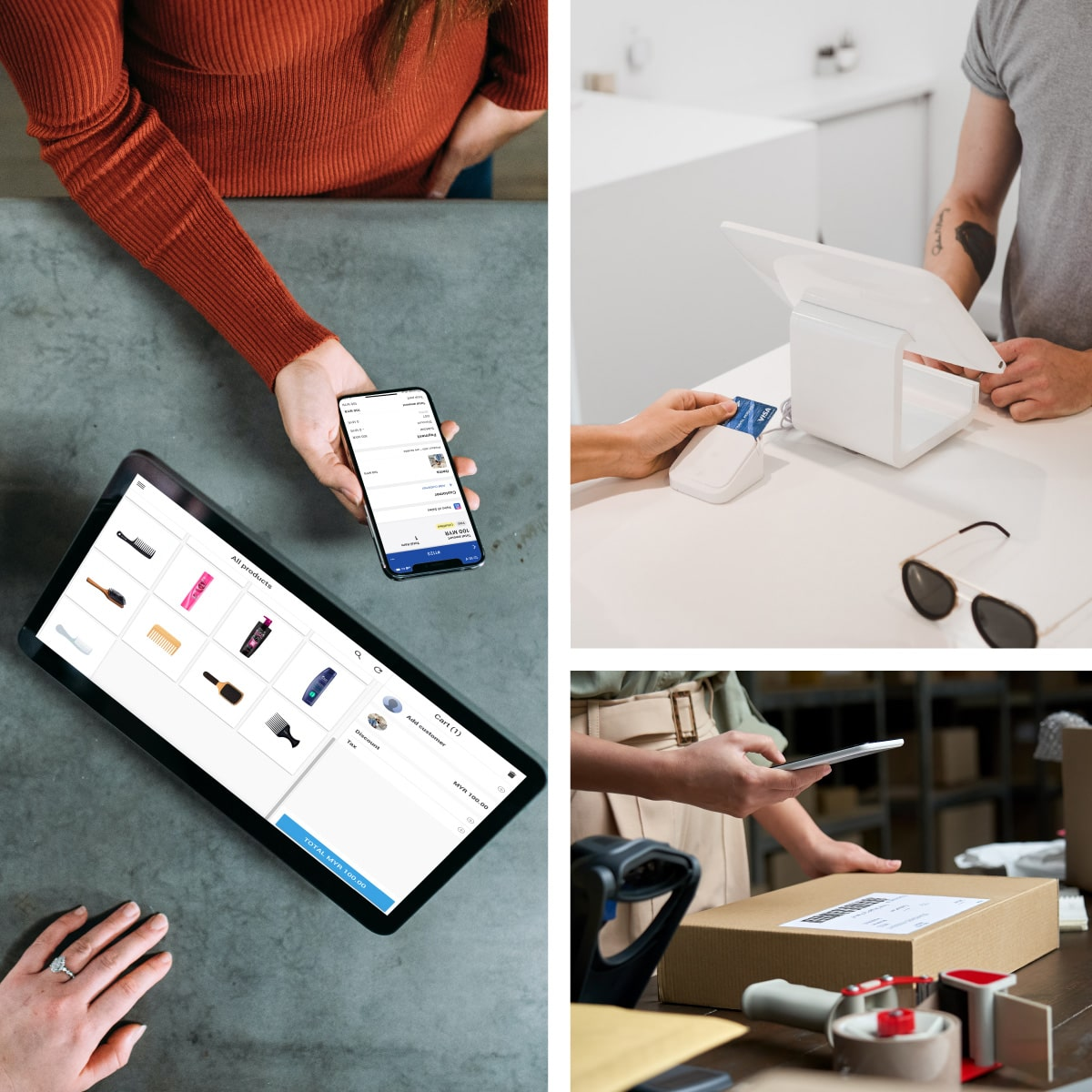 As for this, EasyStore wants to help these businesses by providing them with a point-of-sale (POS) system. When they're having a pop-up store, they can directly turn their mobile device into a POS system to record and keep track of their sales and inventory. Inventory, SKU, orders, and customer details will be updated automatically and synchronized across both offline and online sales channels.
They can also collect customers' information and it will be automatically recorded into the system. With this data, they can send promotions and offers and do a targeted marketing campaign online to encourage them to come back and buy more through online or offline sales channels.
This is how EasyStore helps businesses to make sure business can sync together their operation and marketing efforts online and offline.
What Will the Future Look Like for ecommerce in Malaysia
There are a lot of businesses that are not digitalizing their business and going online. Some businesses, especially those small and rural businesses, think that digitalizing is impossible and would require a lot of resources to make it happen. EasyStore has been working really hard to reach and educate them that it is really important to digitalize their business and go online.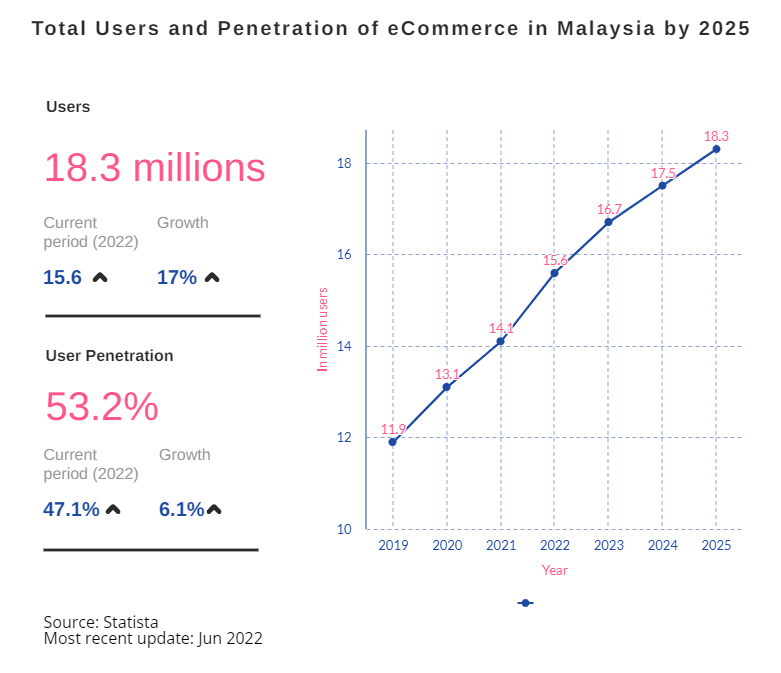 Based on statista.com, the number of users in the ecommerce market in Malaysia is expected to increase to 18.3 million users by 2025 from 15.6 million this year. With the increasing users of ecommerce in Malaysia, it is a great opportunity that business owners don't want to miss.
Aside from that, the buying behavior of consumers has changed because of the pandemic. For example, during the Pandemic, consumers were forced to shop online because they cannot go out to shop at shopping malls or retail stores. Now, it is post-pandemic, the consumers have the option to purchase from anywhere they like, whether it is online or offline. Some of them would look through the catalog online and purchase at the retail shop. That is why businesses cannot depend on selling only at stores or online.
EasyStore aim to help more business to grow and expand their business not only online but also offline. When a business starts selling on multiple sales channels, it actually opens up more opportunities for its business to be found by customers. For example, previously they only sell on Shopee, and now they start expanding business to Facebook, Google Shopping, and Instagram. This will help the business to reach more people and increase the opportunity to sell more. Not only adding sales channels online, they should also start selling in the bazaar and pop-up stores. With EasyStore, they will have a seamless experience managing both offline and online sales at the same time.
Summary
EasyStore provides solutions to help more businesses to adapt with the current trends and grow their businesses. Businesses cannot depend only on selling online, as, during this post-pandemic, many consumers started to shop offline, through retail stores, bazaars, and pop-up booths. With the point-of-sale (POS) system that EasyStore provides, it will enable businesses to merge their online and offline operation seamlessly. Ibrahim Sani speaks with Melissa Poh, EasyStore General Manager.
Start selling with EasyStore
Sell and manage your business all in one place