EasyStore Latest Updates: March 2022
By Yavini Lucille · 8th April, 2022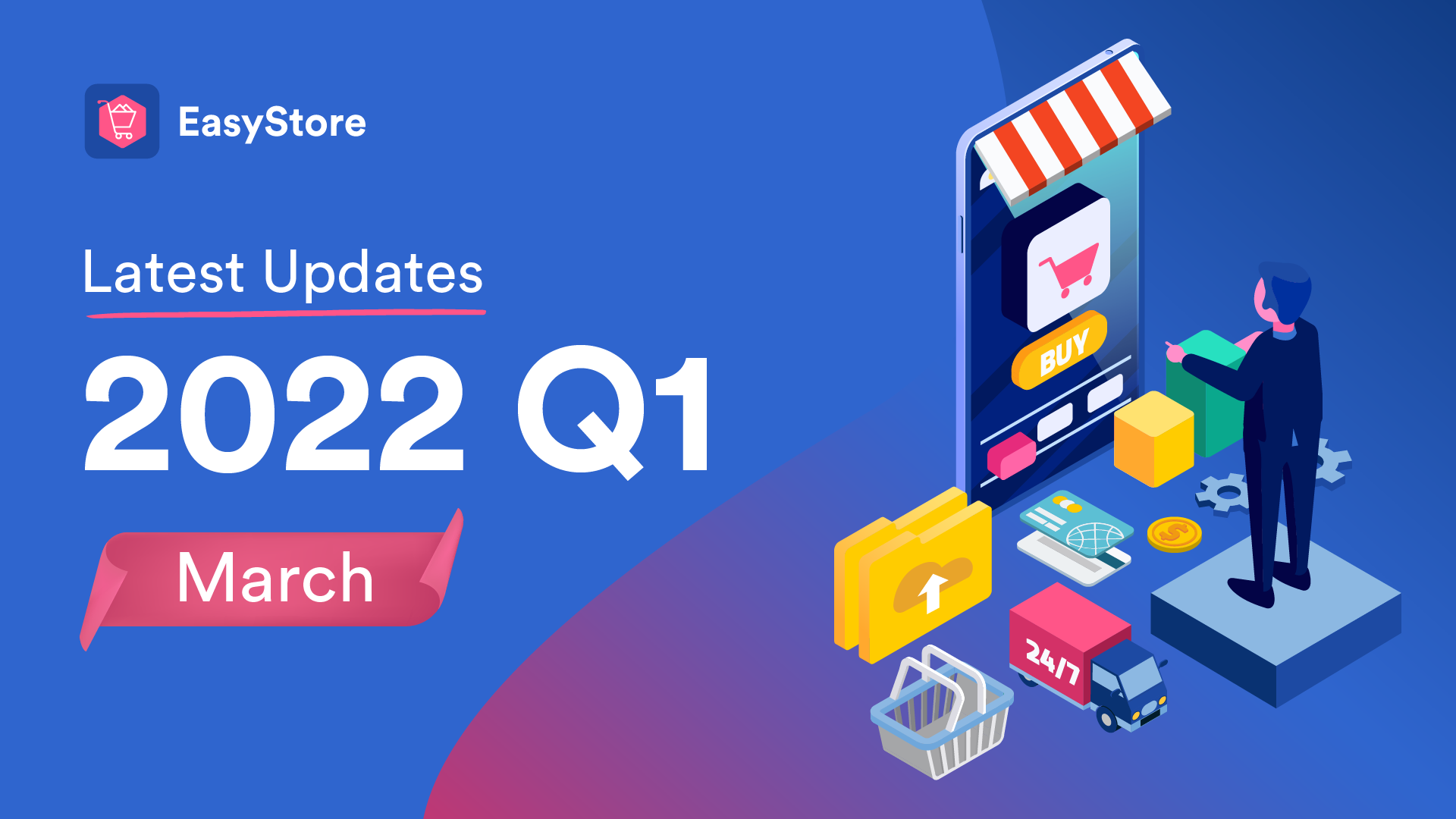 The first quarter of 2022 passed with a blink of an eye. With a new set of features, we arrived at the end of first quarter of 2022. From payment, shipping, website theme design, to popular sales channel, we're working to simplify your complex working process that work best for you.
We'll take a look at what we did in March 2022 to grow your business without further ado. Let's go!
New Features
1. [Payment] New payment methods
Shoutout to all Malaysian sellers! Your long-waited payment gateway — toyyibPay is now available in EasyStore!
With toyyibPay, your customers are provided with multiple payment options through FPX Online Banking and Credit Card in a secure way.
Another great news for you, you can now get the lowest transaction charges at RM0.90 with toyyibPay in EasyStore only! Get your offer now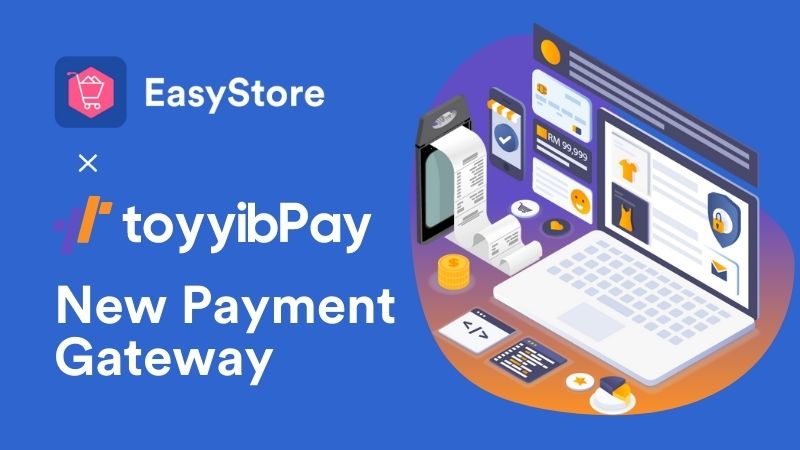 Did you know that BNPL (Buy Now Pay Later) is a popular payment platform used by 55.8% of consumers in 2021?
It's never too late to catch up BNPL trend! For Malaysia merchants, it is now possible to accept payments in BNPL with MobyPay.
With MobyPay, you customers can choose to pay in 3 or 6 splits of their total payment. Best of all, there is no interest, no extra charges and no surprises when your customers pay on time. Wish to know more? Explore more
2. [Admin] Buy Now Pay Later payments on subscriptions
We are excited to introduce you to a new payment system in subscribing EasyStore plans — Buy now Pay Later payments.
It is available for Malaysia merchants and allows you to spliting the payments in 3 monthly installments through Atome. And it's available for all EasyStore plans and yes, it's interest-free! Learn more about Buy now Pay later
*Terms and conditions applied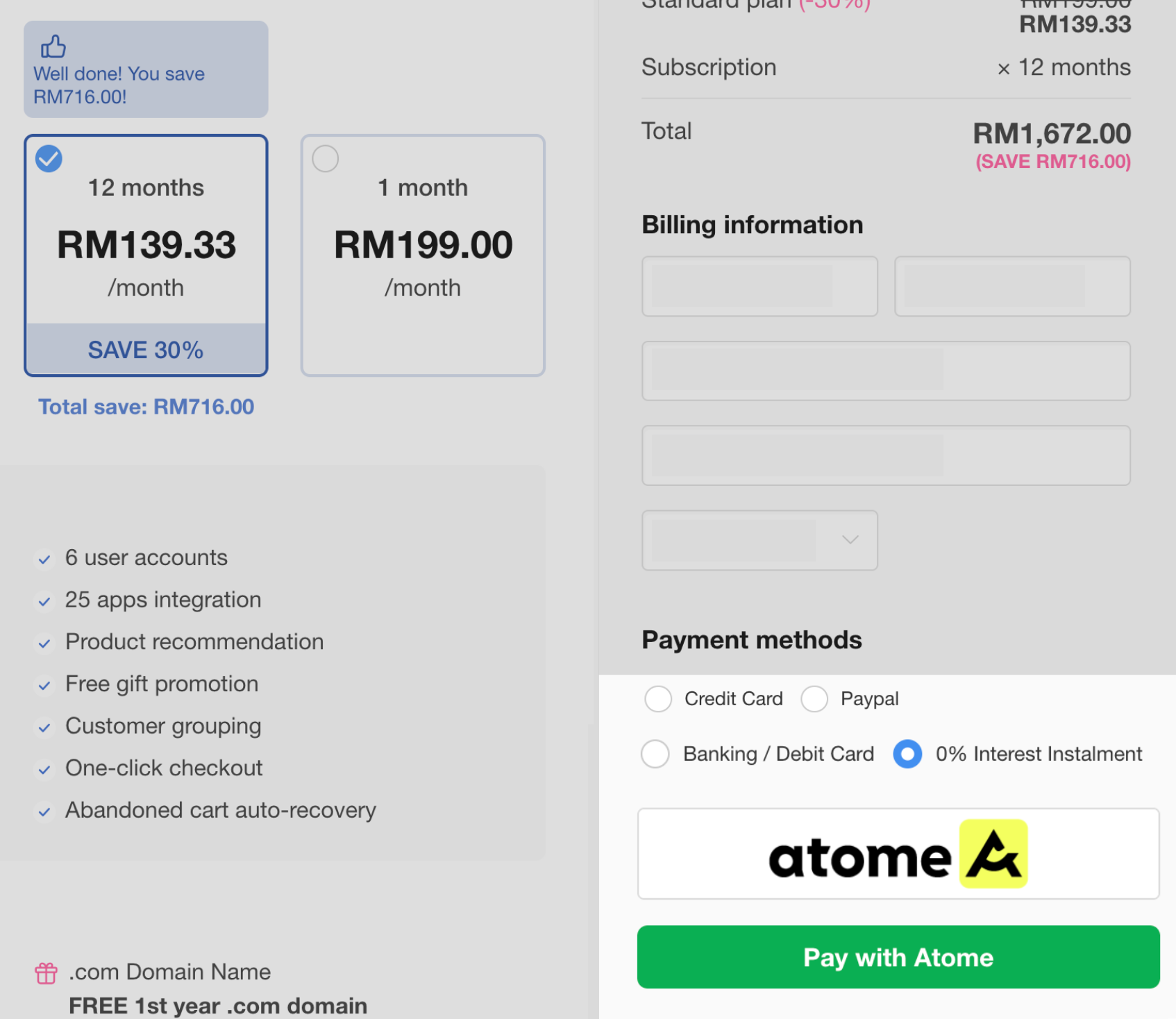 Introducing your long-awaited shipping profile feature! Set separate shipping rates for different products, locations or both so that you will not be overcharged.
It's great for products which require "special care", such as: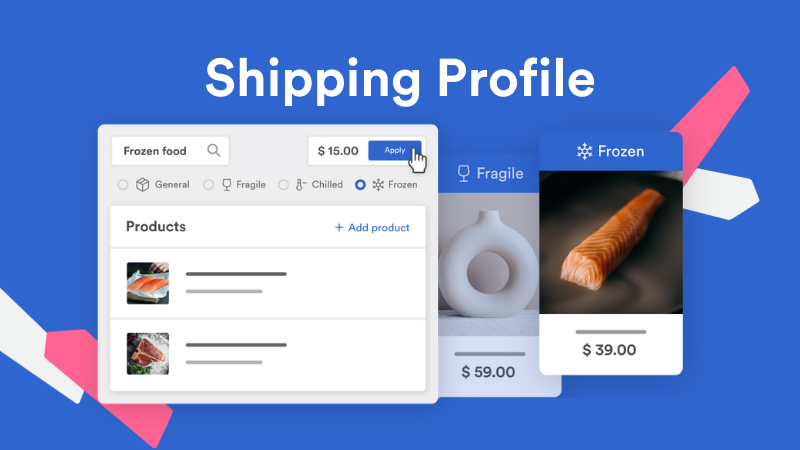 Almost all businesses make use of Facebook ads, so it's no surprise most use Facebook ads. Now that you've set up Facebook pixel with EasyStore, you're ready to create and run Facebook ads!
EasyStore helps you create Facebook ads quickly and easily. You can set up captions, enter daily budgets, and choose audiences right away.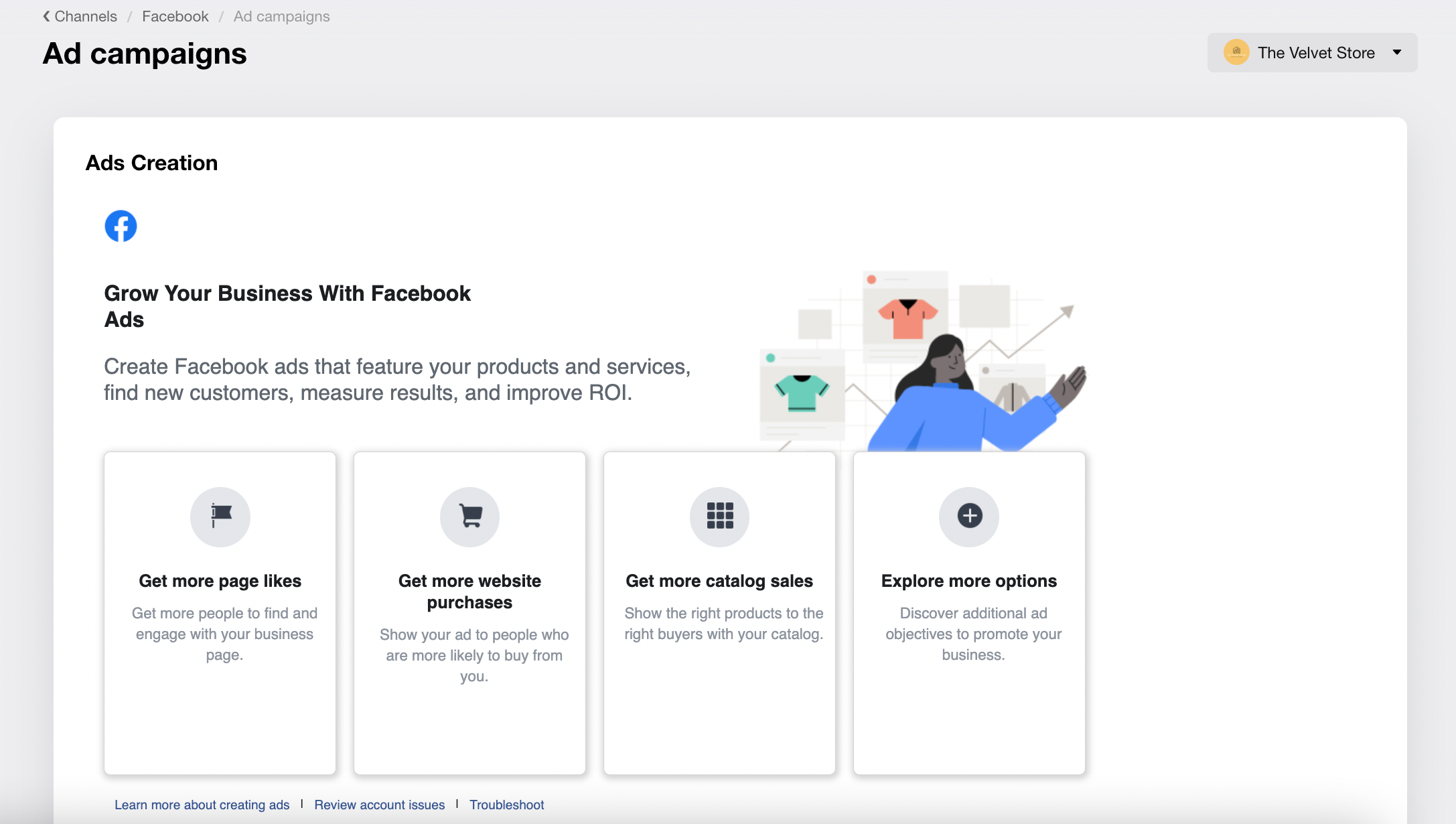 Shout out to all mobile-first site merchants! We've come out the website designs that are clean, minimal, and easy to interact with on a small screen.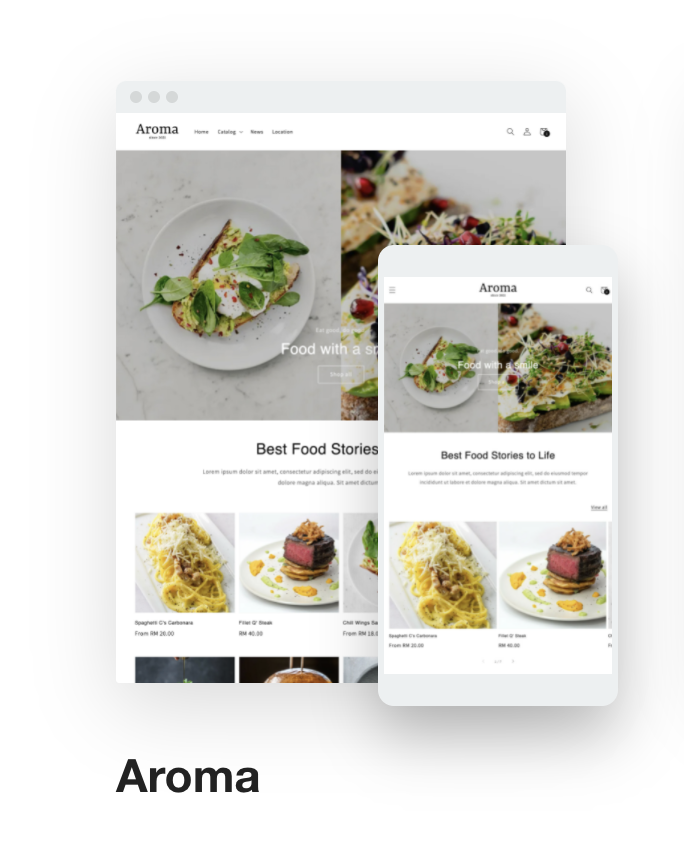 While mobile first was already expanding into services, the COVID-19 pandemic caused many businesses to turn towards eCommerce. As a result of this increasing demand, we have released new templates for mobile-first websites. They are fully customizable and available at no charge, just like all our other themes.
What you do with new website themes:
Use Drag and Drop to customise your homepage and select multiple sections gif

All your products, collections, and cart pages can be customized together

Enable to add more custom fonts, including Google font (Tips: Go to Online store > Theme > Customize > Settings > Typography)
Get a feel for our Aroma theme, Marshmallow theme and FreshBit theme demo stores.
There is no reason not to get excited! You can now sell products on TikTok, the social media everyone is so into. So take your products right where your customers hang out most.
You can sync your products to TikTok with just one click, as well as sync back orders to EasyStore, creating a seamless selling experience. Or you can start selling directly on TikTok profile with TikTok Shopping.
Find out more about selling on TikTok.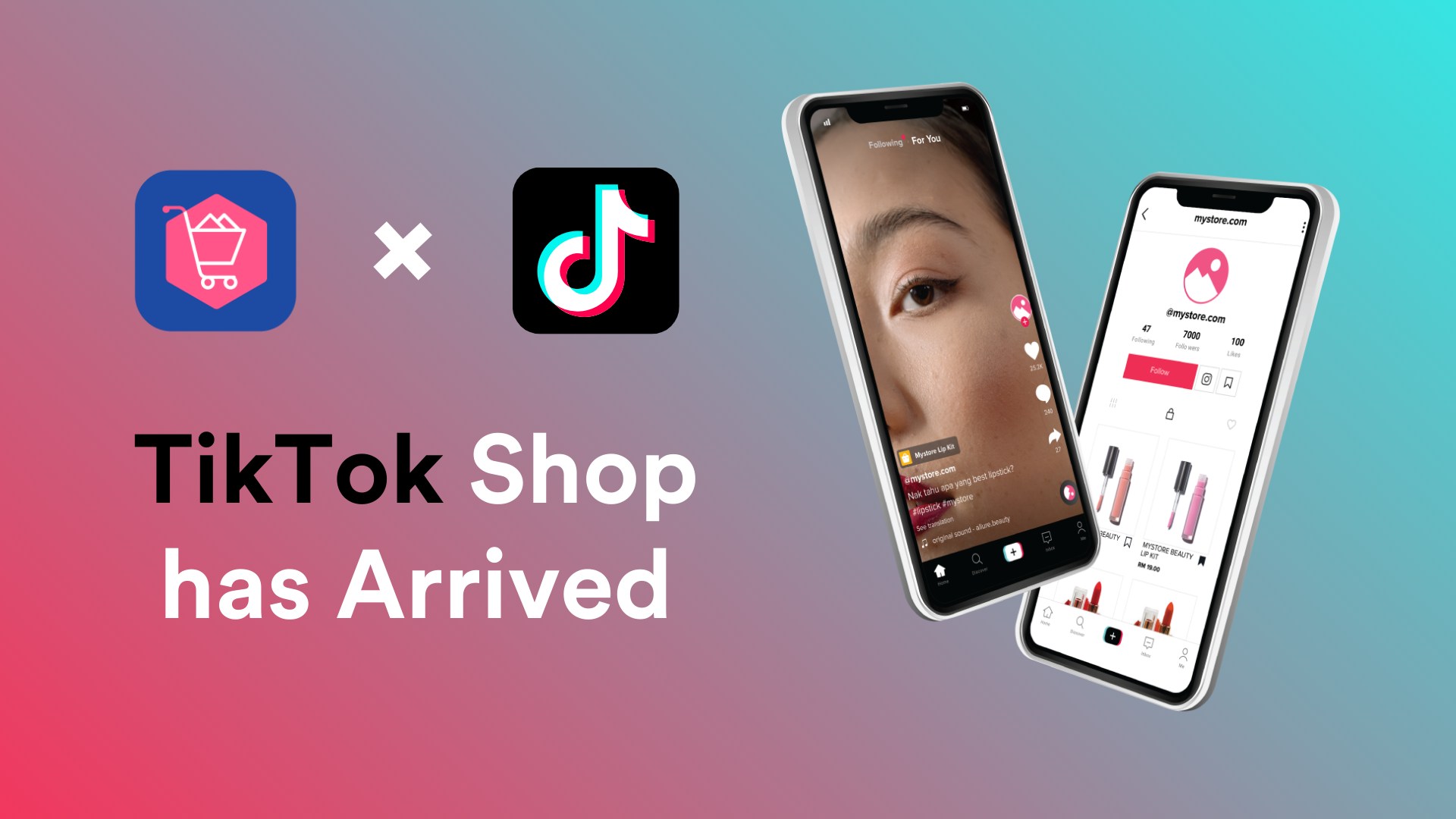 Feature Enhancements
1. [Sales channel] New checkout for your ecommerce platforms
One small change for your checkout, one giant leap for your business. We added the options to choose payment methods and shipping methods at checkout. It's available if you're selling on these channels through EasyStore:
WhatsApp
Line
WeChat
Telegram
Facebook Shop
Facebook Live
Instagram
What payment methods can be integrated? Check out here.
What is Product Bump? Based on Shopee Seller Education Hub, it refers to the bump function that lets you improve your product's search ranking temporarily to increase the number of views and potential sales in Shopee. (previously know as Boost)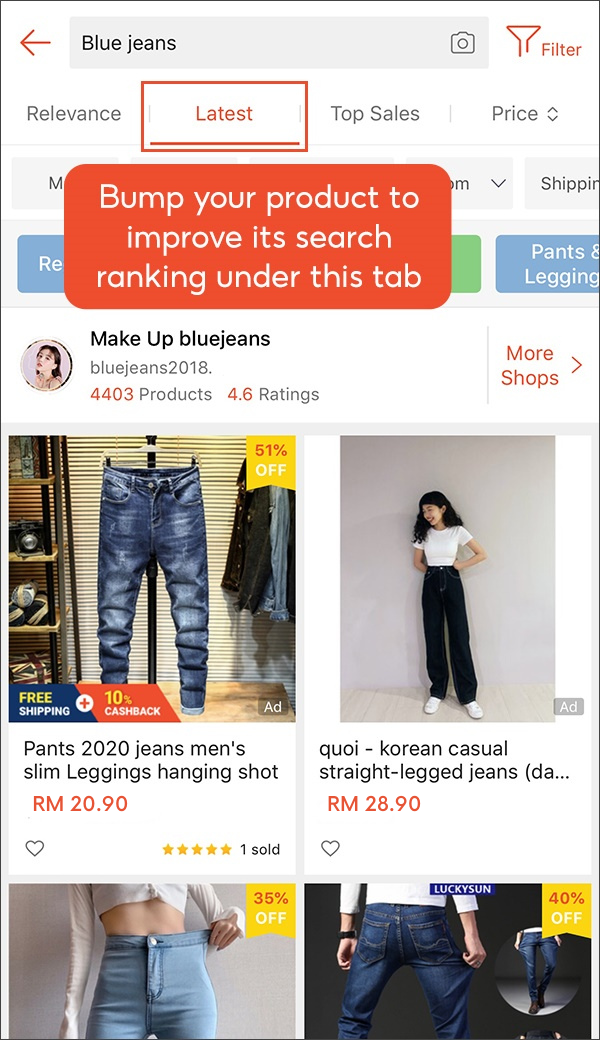 By using this function, the product will be bumped to the top of its category's search results under the Latest tab.
When auto-bum is enabled, merchants won't need to manually bump product every four hours in Shopee Seller. We will bump product automatically after the last bump has ended. Here are a few things to keep in mind:
Able to bump up to 5 (max) products every 4 hours.
Auto bump product again after 4 hours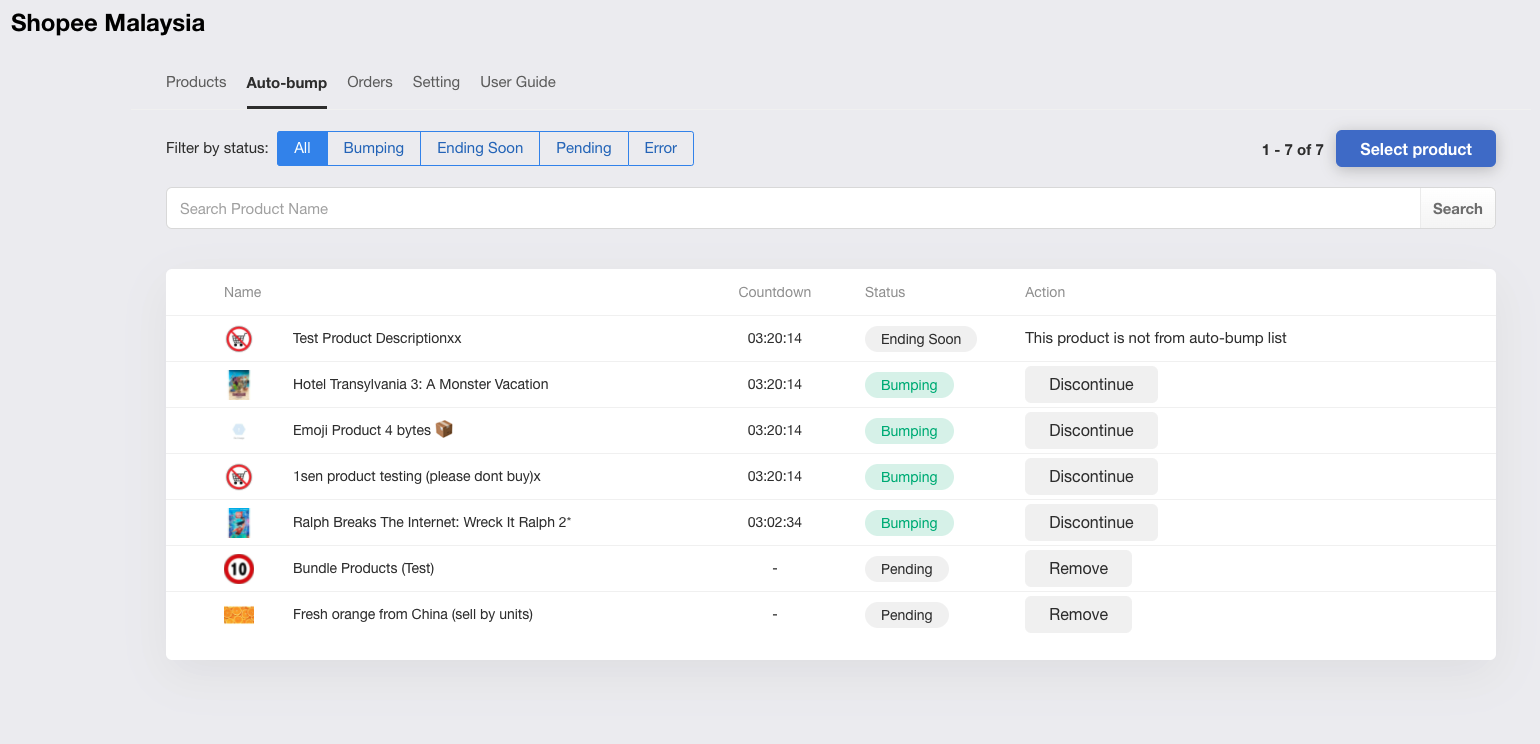 When inviting your customers to give feedback, email is an important part of your online store's branding. So, we've made it easier to preview email before you send them via Product Star Rating.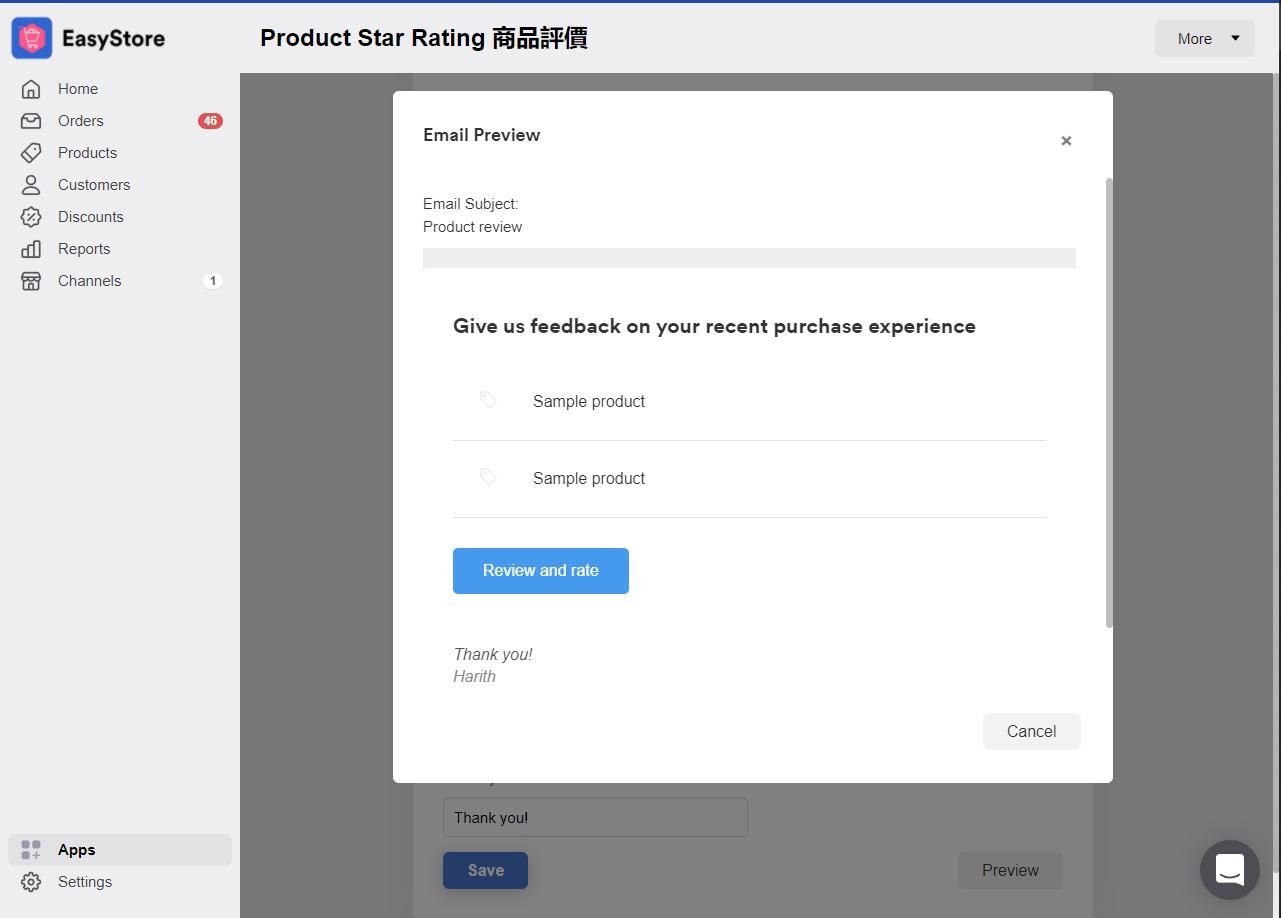 4. [Sales channel] Shopee & Lazada | Manage marketplace sync errors
The Shopee or Lazada integration may encounter sync errors that prevent data from syncing. You can identify and resolve the sync errors in your EasyStore admin panel.
Learn how to set up Shopee in EasyStore.
Learn how to set up Lazada in EasyStore.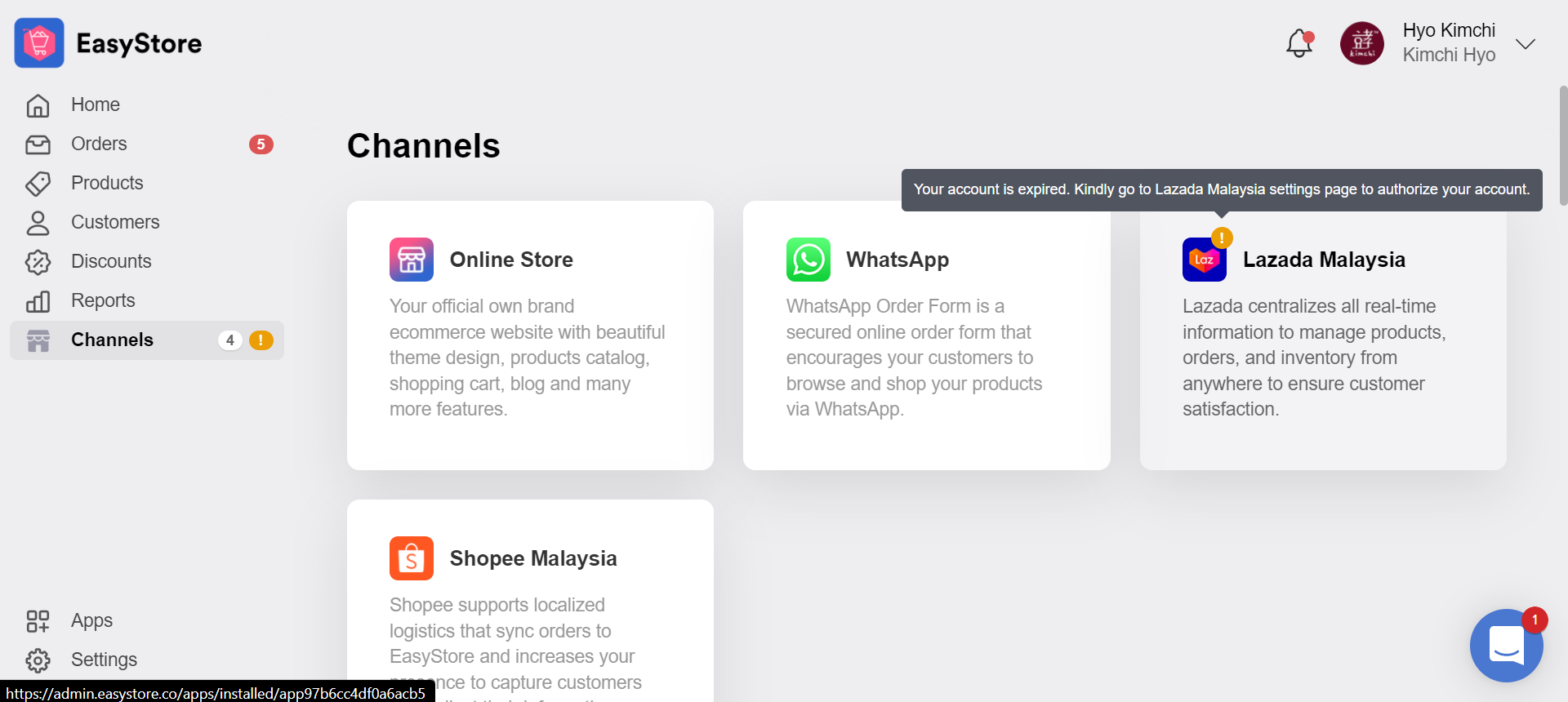 As we introduced Easy Pop-up in 2021, we received much feedback on it and now, you can add your well-designed graphic or image as background. The recommended size is 520px x 350px.
Tips: Try to crop your images in the center of the page as the website layout adapts to the device's screen size.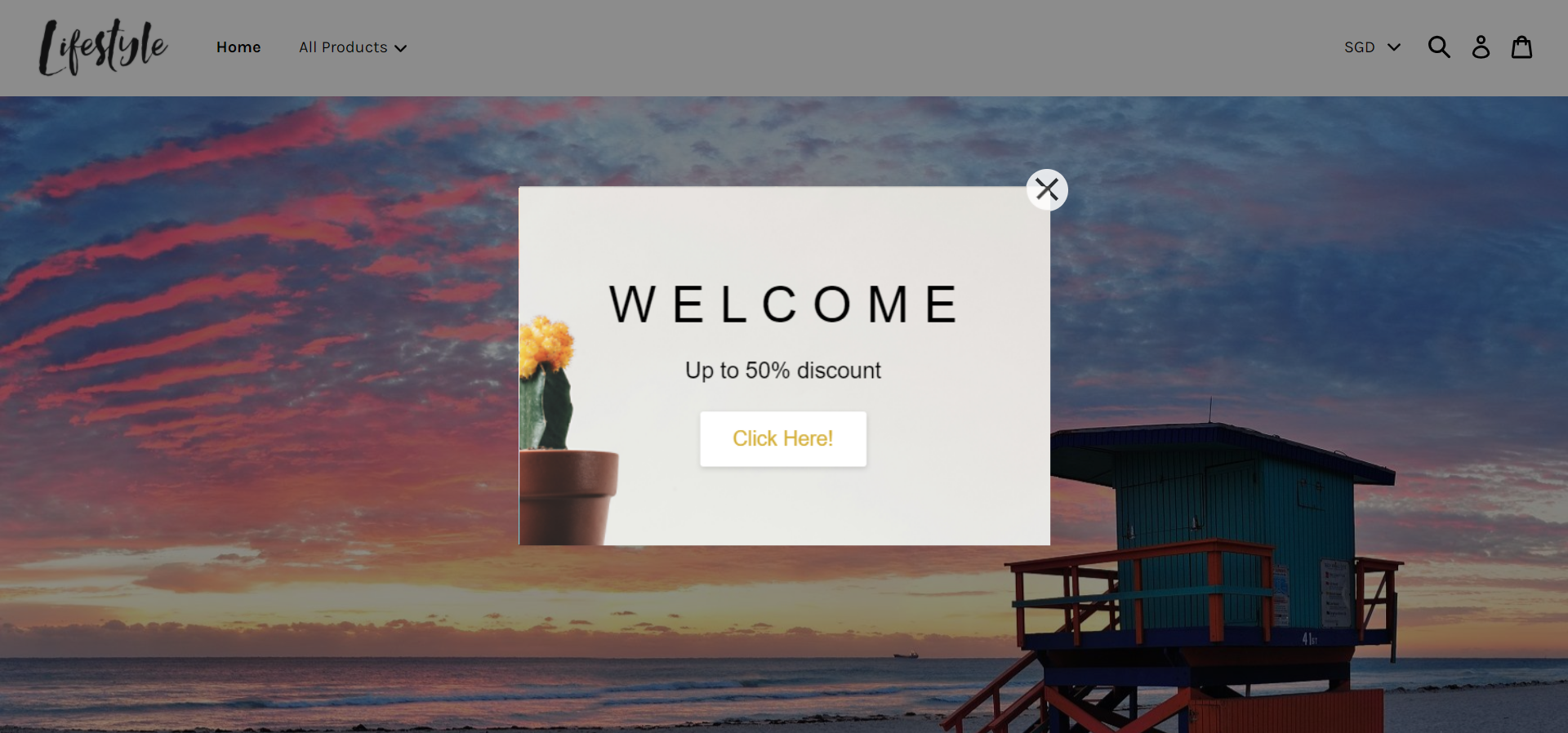 We Won't Stop Here!
In an industry as dynamic and ever-changing as ecommerce, we continuously enhance the user experience by enhancing multiple sales channels and also all the features that are on-demand.
Don't miss out on our monthly latest updates to unlock the full potential and features of your online business in EasyStore!
Related articles:
EasyStore Latest Updates: May 2022
EasyStore Latest Updates: February 2022
EasyStore Latest Update: January 2022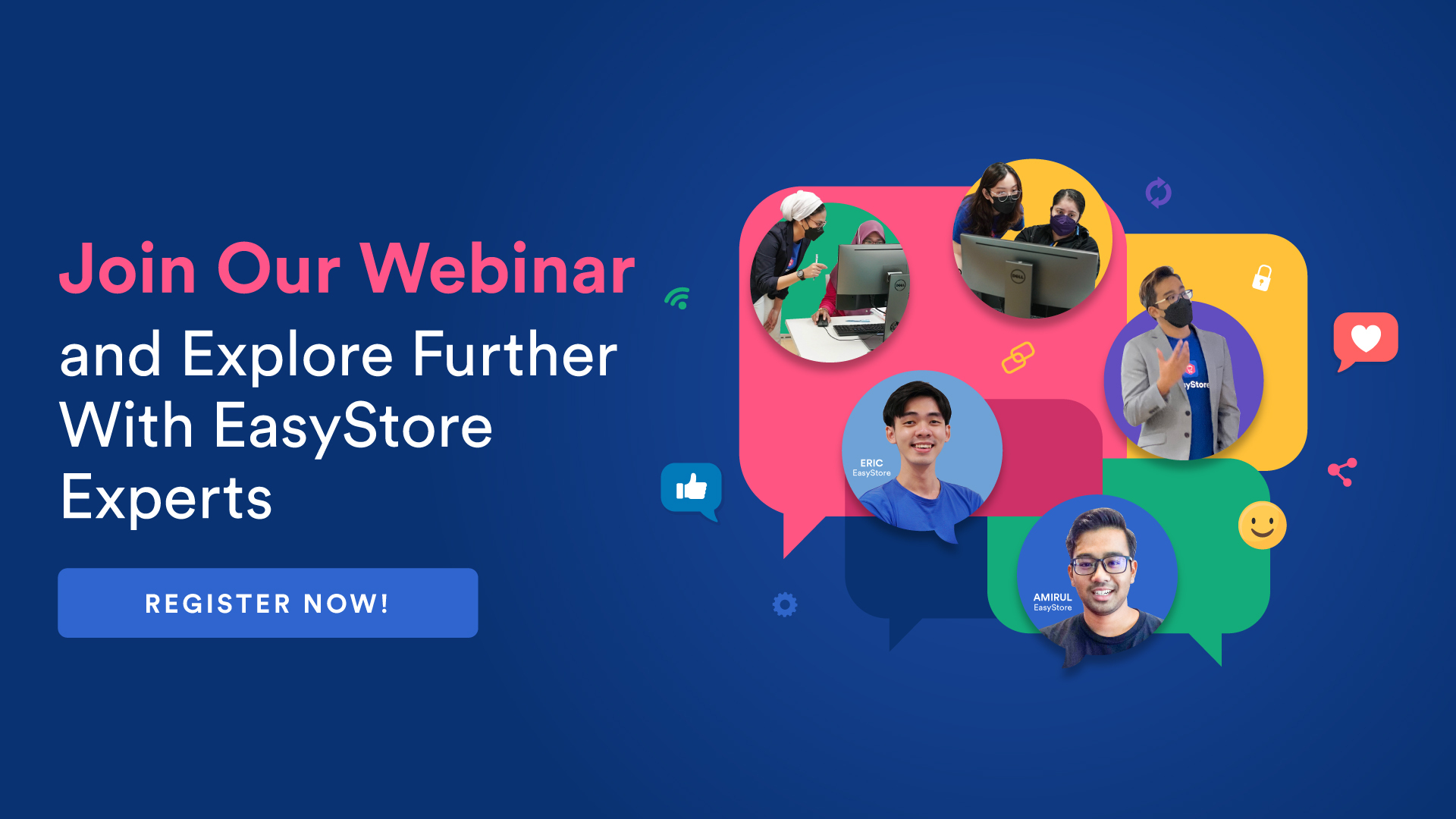 Start selling with EasyStore
Sell and manage your business all in one place