EasyParcel Beta Launches Version 8.0 to Make Booking Much More Easier
By Karyan Lee · 17th July, 2018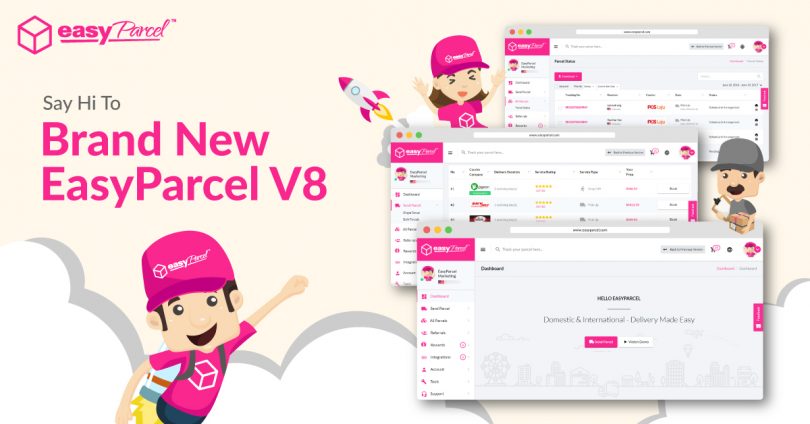 Remember when EasyParcel told you about the new version of them? Probably not, because it was almost a year ago.
Since then, they've been working hard behind the scene to put all of your suggestion into context and looking for the best common ground in order to satisfy different points of view. And they're pretty sure that EasyParcel Version 8.0 that hot off the press will be worth the wait! They're now in Beta and selected lucky ones with an EasyParcel account have access for it.
Now, here's an inside look at how everything becomes simple as we rolled out this new version: EasyParcel V8.0. In this version, you will find out:-
IMPROVED UI
Cleaner interface? Checked. Straightforward booking flow? You got it. It's easier to quote and book multiple courier services via EasyParcel with their new version.
FASTER LOADING SPEED
Faster and far more user-friendly. With EasyParcel V8.0, you can quote, book, and pay without ever spending more than 2 minutes. Save time and cost!
SELF SERVICE CENTRE
They've made shipment management easier with self-service centre. Directly select drop off point, remind courier and rebook to a new courier is up for you.
Heads up, there might be some differences to book your shipment on EasyParcel V8.0. Here's the quick tutorial for you:-
The EasyParcel V8.0 still in beta, but they want to make it super smooth as soon as possible. EasyParcel believes that there are things they didn't anticipate, wish they'll figure out faster. Go check it out, and please send them some feedback with simple steps below so they can keep improving to serve you better.
Remember for now, you can still switch between the V8.0 and the V5.3 EasyParcel whenever you like via a click on your dashboard. Hope you enjoy it as much as we do!
Register To Get RM25 FREE Credit here and have a try on EasyParcel V8.0 here.
Visit EasyParcel website: www.easyparcel.my
EasyParcel Facebook: https://www.facebook.com/easyParcel.my/
Start selling with EasyStore
Sell and manage your business all in one place
Connect with our team
Let's begin your unified commerce journey. Complete the form to chat, book a meeting, or connect with our team.