The NEW EasyStore Instagram Live Selling Automation
By Vincent Leong · 29th April, 2022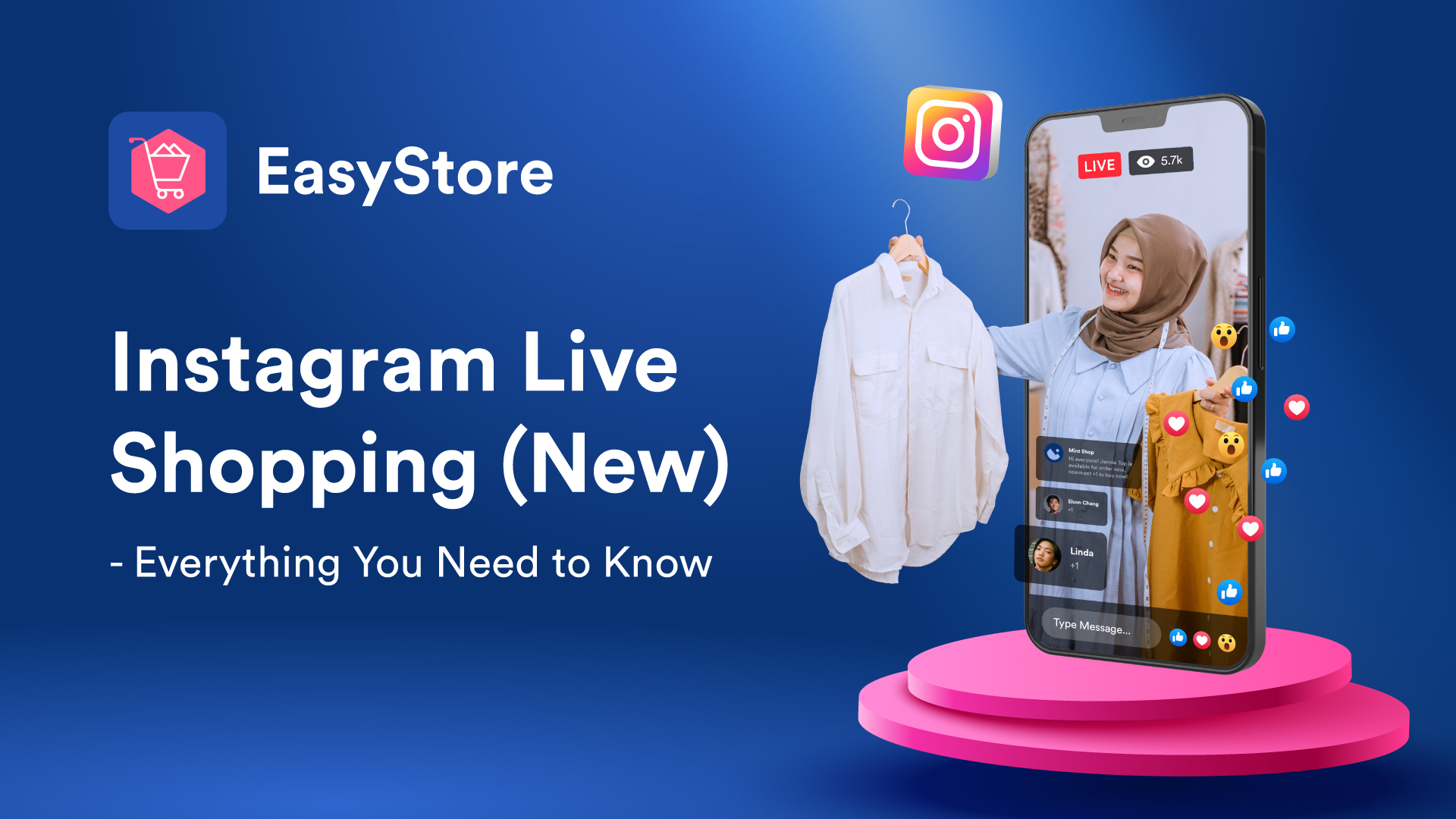 Is well known that using social media could increase your sales, but the game changer right now is Live commerce!
Live streaming is no longer just an opportunity to interact with viewers or show off your products.
Businesses nowadays heavily using Instagram Live to sell, and their viewers love it!
Why Instagram Live shopping gains its popularity among viewers?
Shoppers can make educated purchase decision and enjoy in-store experience while interacting with the host.
It's kind of hard to miss an Instagram Live as Live videos are prioritized at the first position in Stories at the top of users' feeds, and it notifies your followers whenever you are going live.
Viewer engage through Q&A is a great way to build relationship and trust.
...and this makes Live commerce is a thing now to generate real revenue for your business.
But did you know that Instagram selling was a team game previously?
*Imagine doing these alone → hosting the Live, selling the product, replying to customer's enquiries and order, jotting down orders, checking inventory, payment and the list may still may still go on...
...and, bigger issues may arise too!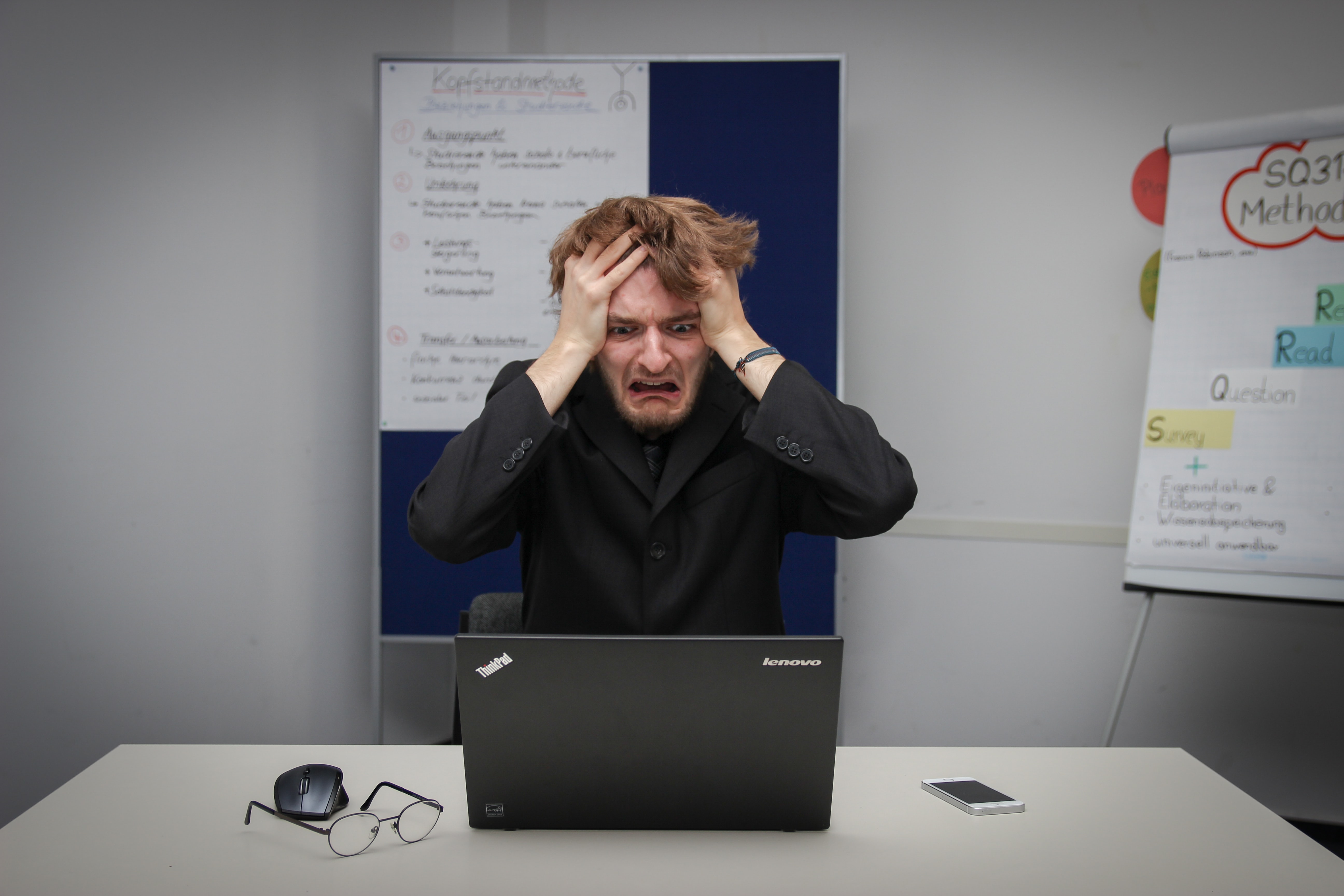 Overlooked on orders
Manual data entry prone to human error
High order cancellation when payment not done on the spot
Overselling

Instagram Live is great! And it can be better with Instagram Live selling automation.
Instagram Live selling is made easier by automating the ordering, customers details, payment and inventory part for you, so you can focus solely on the selling part.
Too good to be true?
EasyStore Instagram Live automation allows your viewers to complete their checkout on their own without any hassle, simply by just commenting the "Keyword". Then, you'll see the order flowing in to your control panel while conducting your Instagram Live.
Isn't it great? Here's how exactly Instagram Live selling automation can boost your Live commerce sales.
1. Comment to order
Familiar with the term "Comment +1 to order"? That's right! With EasyStore Instagram Live selling automation allows you to set unique keywords for each products.
If customers are interested with the product, comment only the keyword. Then, product will be auto added to their shopping cart to proceed with checkout.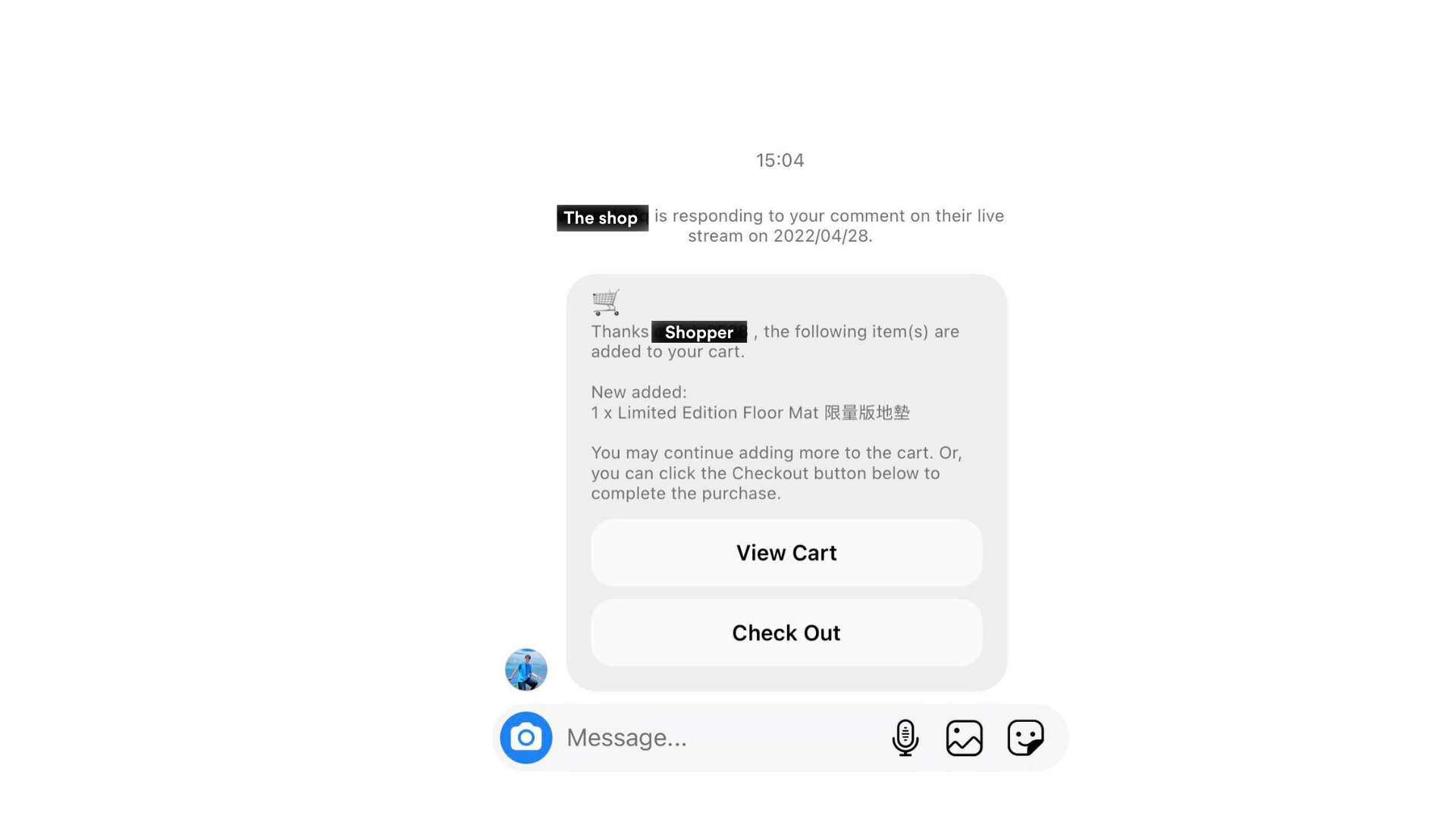 2. Instagram chat automation
Delight your customers with zero waiting time during your Instagram Live selling.
Your customers will receive an automated direct message with purchase link once they commented the "Keyword" during your Live streaming.
Upon checkout, shoppers can browse for more products or complete the order by filling in the delivery details and pay.
*Instagram automate responses can be edited based on your business preference.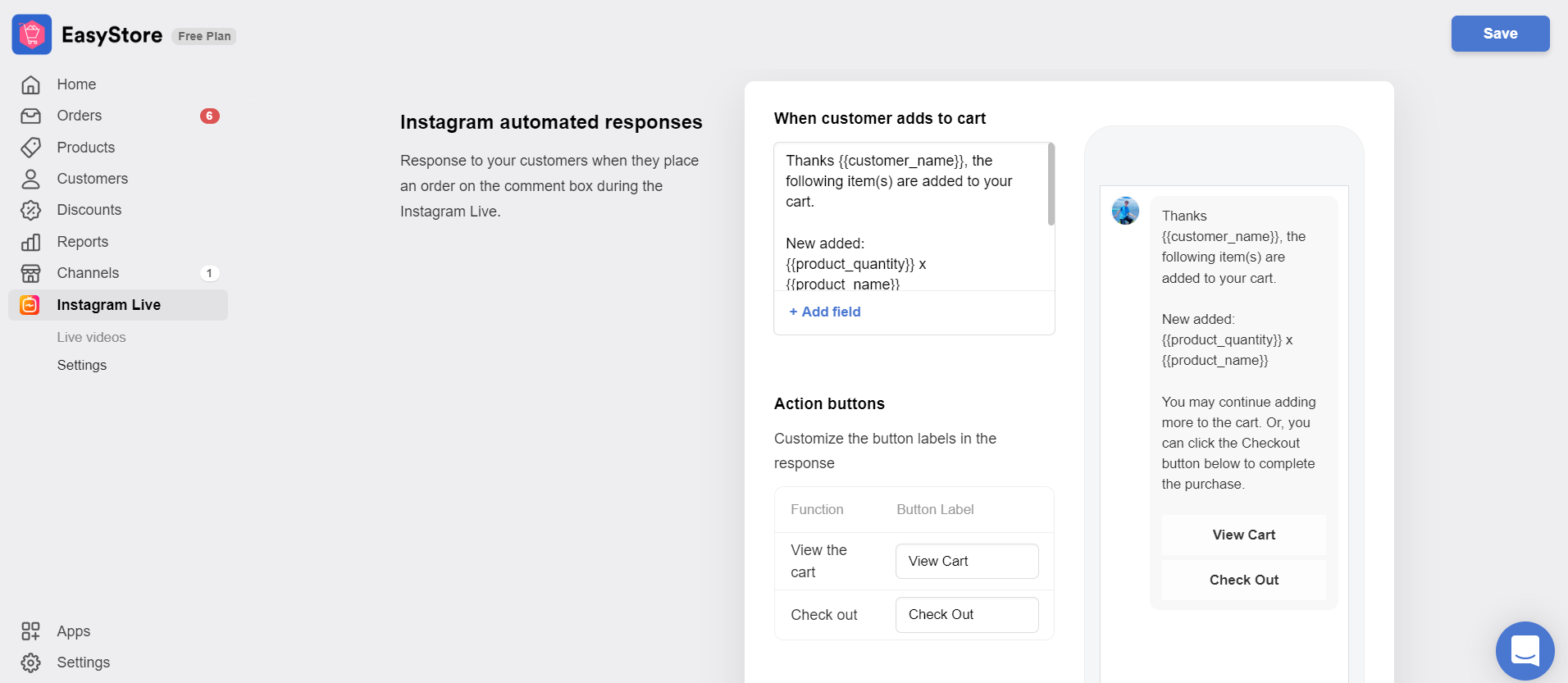 3. Auto order collection
Selling a product and jotting down the order on your own = suicide mission!
Any order received during the Live will be reflected directly on the control panel.
Let EasyStore to collect your orders in the backend for you, including full customer contact details, shipping address, and remark (if any).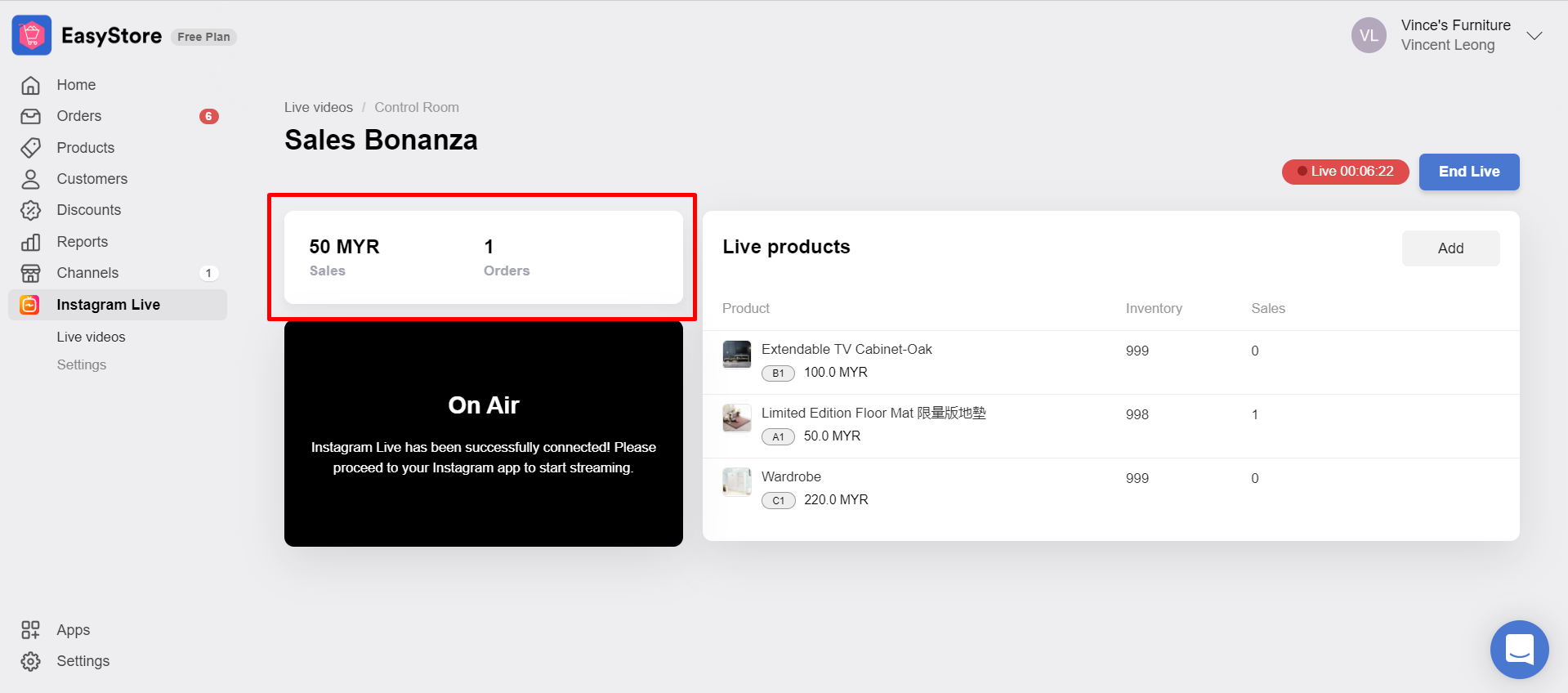 4. Seamless and efficient payment experience
EasyStore provides the widest payment gateway integration and let your customers pay easily during checkout (Online banking, credit card, e-wallet, COD and more). During checkout, shipping fee will be auto calculated based on the shipping location.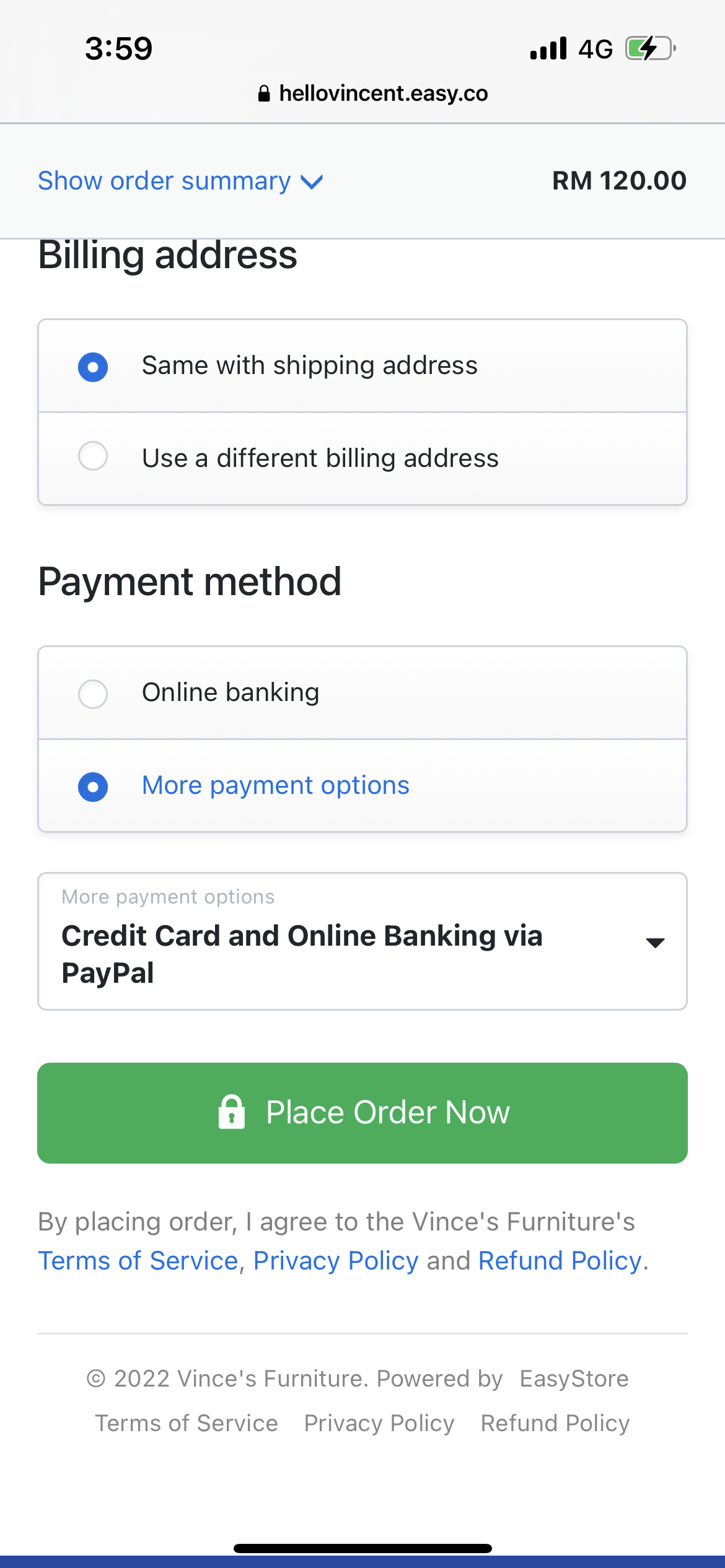 5. Real-time inventory count
Overselling is not good for any business reputation. To avoid overselling, every sold item will be immediately reflected in your inventory during your Instagram Live.
When time your stock on hand is insufficient to meet higher demands, you can also edit the inventory amount directly from the control panel during your Live. *Do make sure the items can be replenished soon enough for delivery.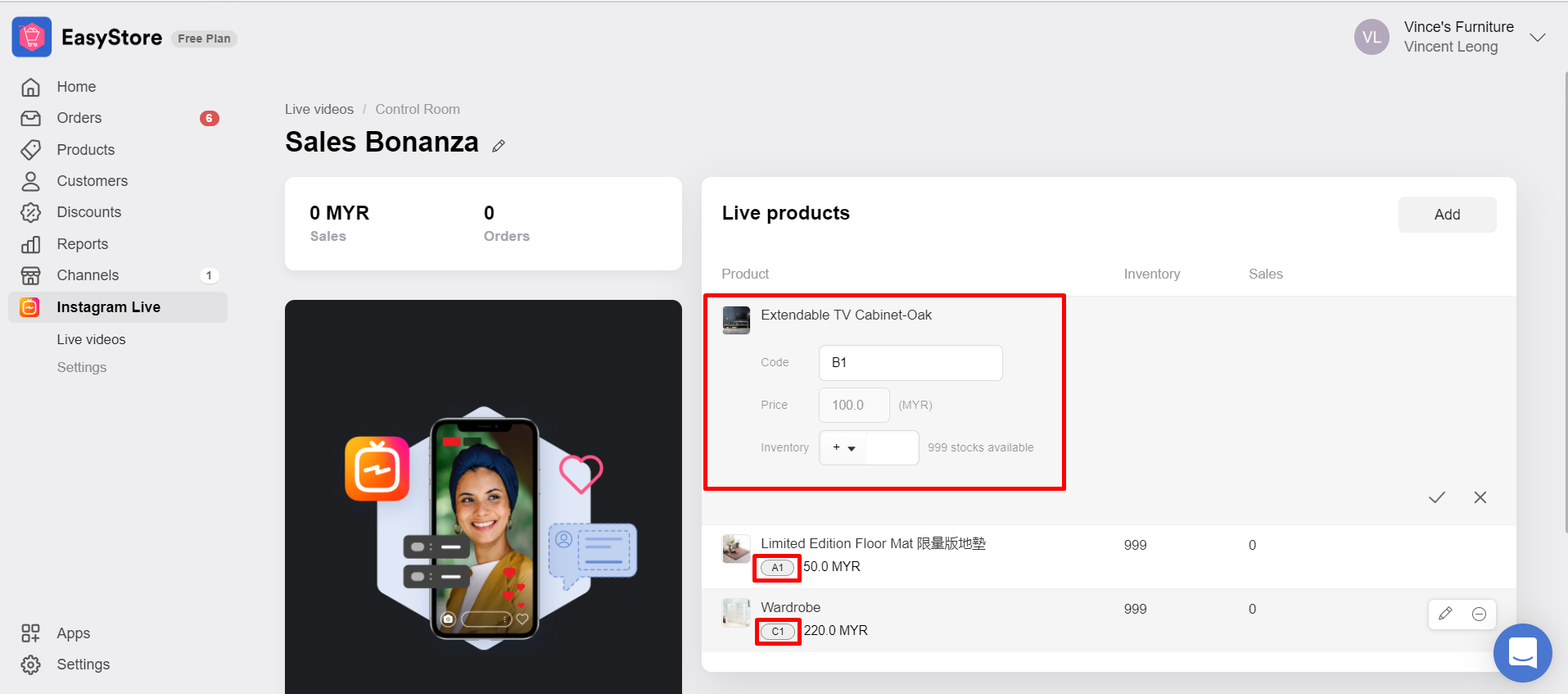 6. Generate Instagram Live sales report
EasyStore able to generate important insight for post sales evaluation, such as:
Estimated earnings
Items in cart
Items purchased
Conversion rate
*A summary will pop up once the Live is ended. And if you wish to revise the previous Instagram Live result, you may still find them at the statistic section.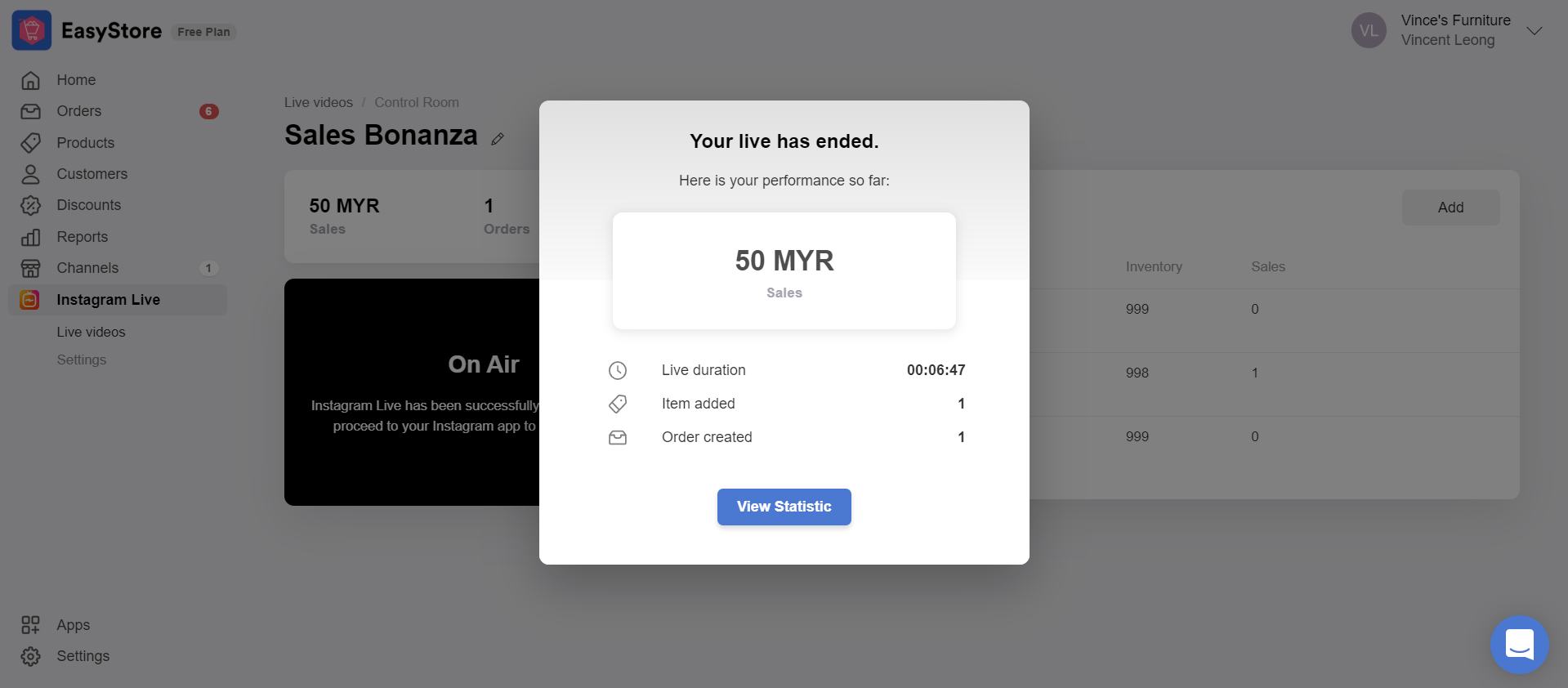 Take Your Live Selling to Another Level
People love watching Live video. The algorithm loves Live video. And now you know how to start live selling the easy way with automation. Speed up your process on orders, inventory, customer service, and marketing. Give it a try and let's say goodbye to missed orders, messy inboxes and delayed payments on your Live selling!
Then, follow these steps to sell with EasyStore Instagram Live automation
From your EasyStore admin, go to sales channels > Instagram Live

Click enable Instagram Live. You will be redirected to link Facebook → EasyStore

*Please ensure that you have done the followings:

Confirm that your Instagram profile is a business or creator account. Learn More
Connect your Instagram business account to your Facebook page. Learn More

Create Live control room

Add products that you want to sell on Live

Edit product code and inventory (you can also edit them during the Live)

Go Live on your Instagram app, and connect (Practice mode will not be shown here)
Get latest inside news from EasyStore
Join community to keep yourself updated with the latest updates or insights from EasyStore and connect with other business owners alike.
Join Community
Start selling online for free