How To Get The Green Tick For Your WhatsApp Business Account?
By Amos Choo · 5th October, 2023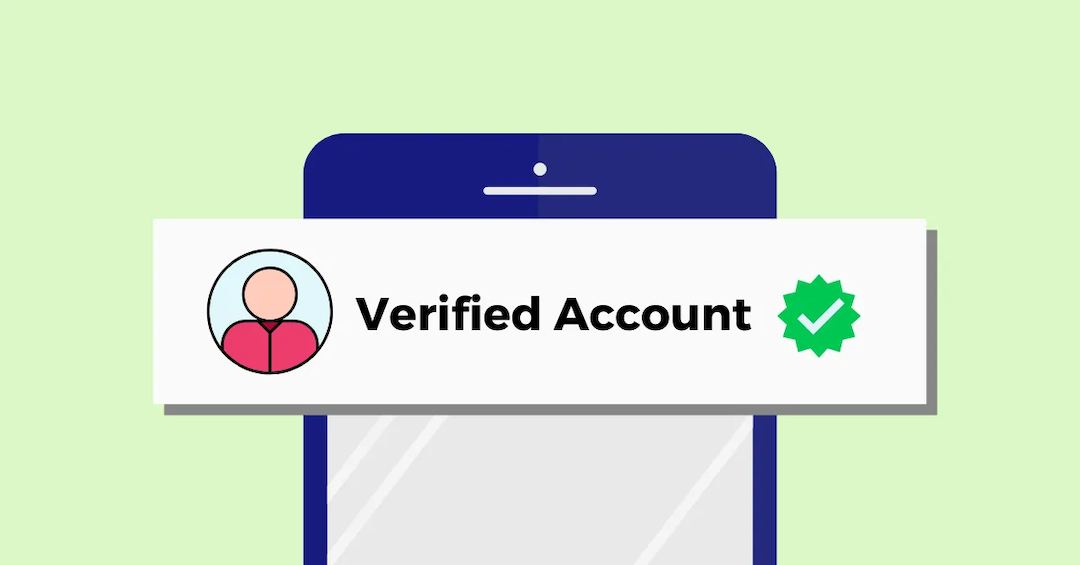 WhatsApp Business is becoming an essential part of many businesses' communication strategies. In fact, the WhatsApp Business app has over 50 million active users! This just goes to show that WhatsApp is a pretty powerful way to market your business.
If you're thinking about transitioning to WhatsApp Business to engage with your customers, you've probably heard of the green badge of honor — the WhatsApp green tick.
But what exactly is it and how can you get it?
Well, if you're confused, fret not! In this article, we'll tell you all you need to know about what the green tick is and how you can get it. Let's dive right in!
What is a green tick?
The WhatsApp green tick is a green badge or checkmark that appears next to the contact's name to confirm that this is an authentic and notable business account.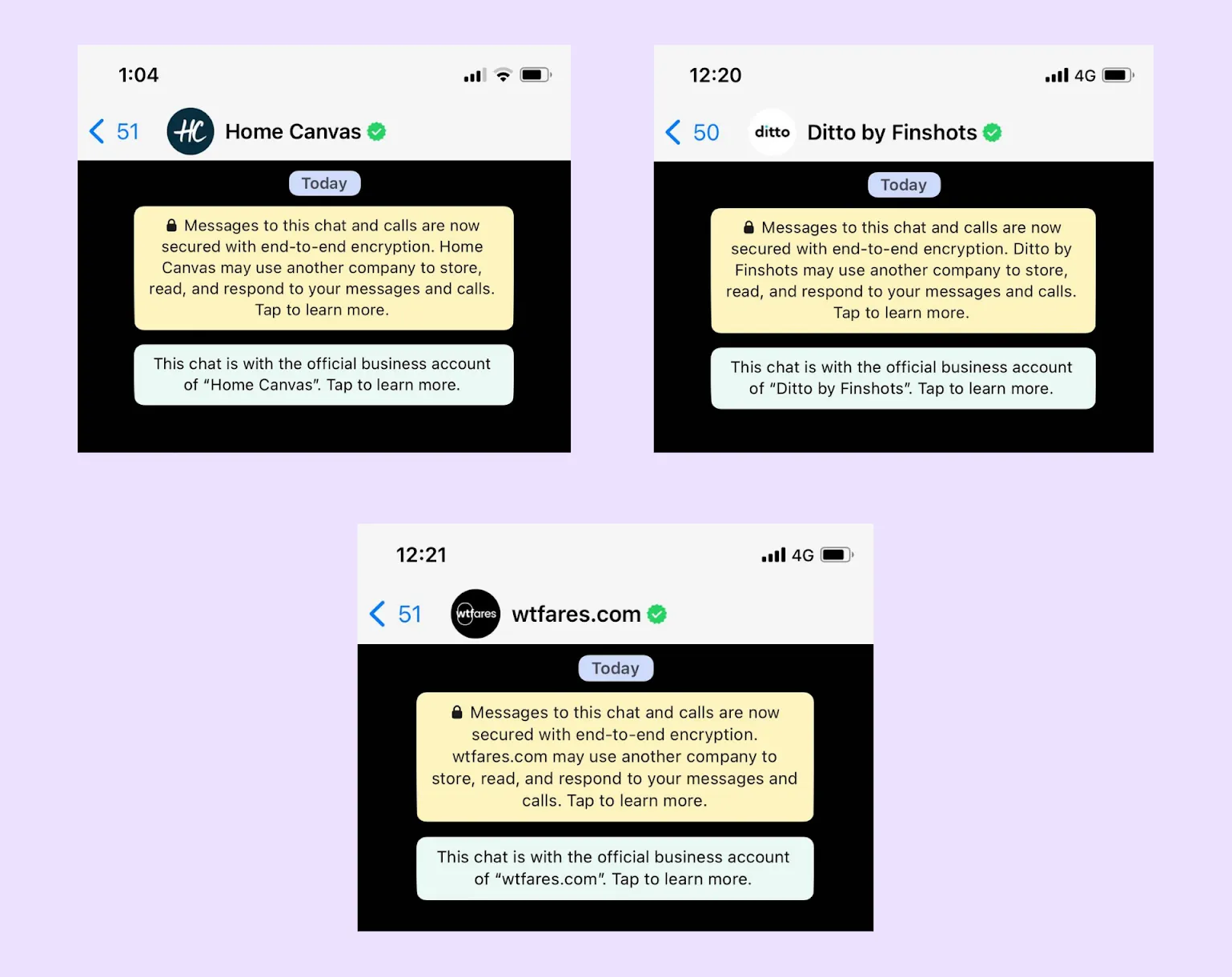 WhatsApp is very particular about who gets the green checkmark — highly reputable and big businesses typically get the tick of glory.
The green tick means that these accounts are owned by the actual brands they claim to be and are not fake accounts or scammers. There's even a light blue disclaimer that emphasizes to the customer that this is an 'official business account'.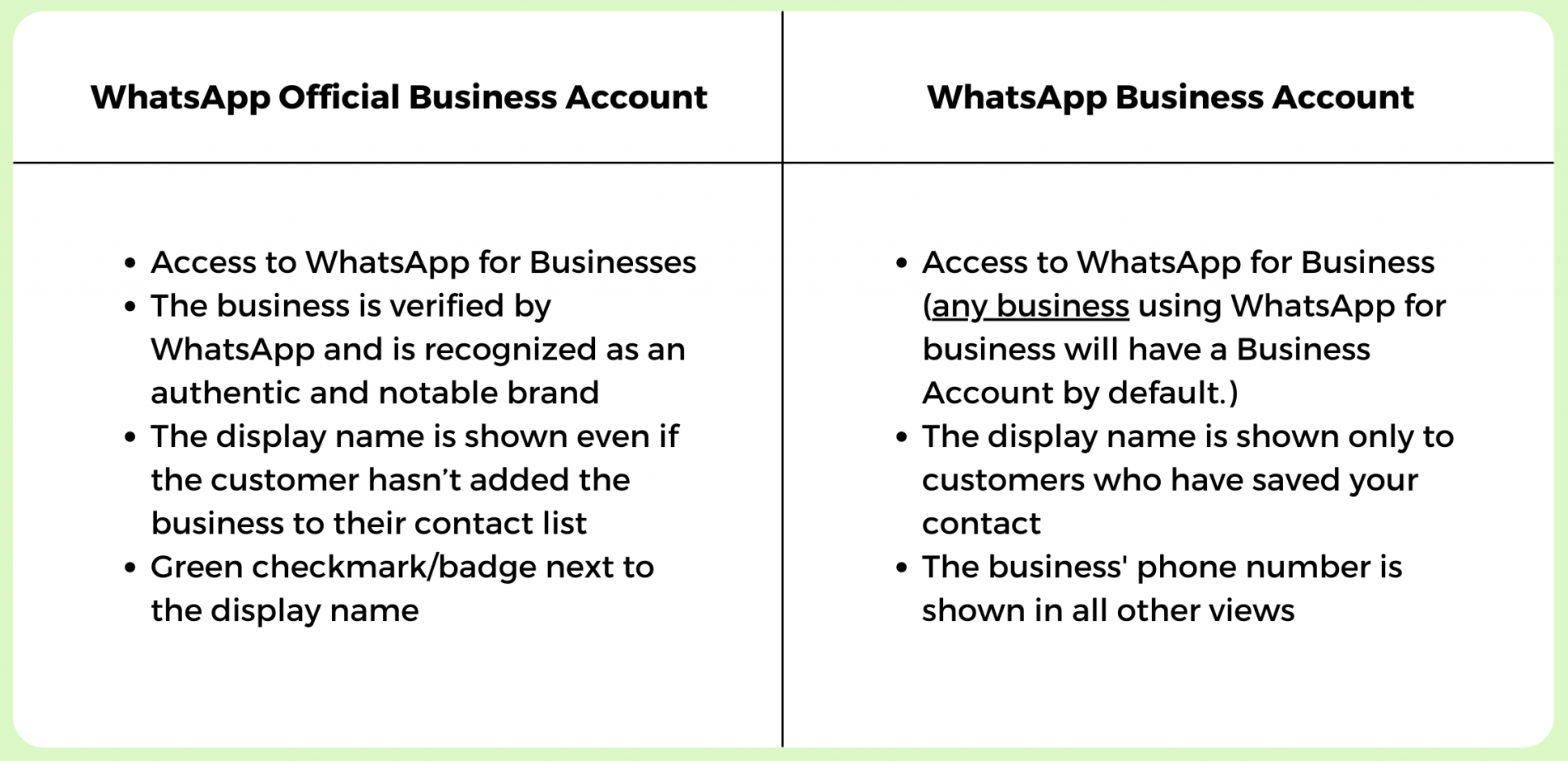 Here's a table to show you the difference between a WhatsApp Official Business Account and a WhatsApp Business Account:
If you didn't already catch on, only WhatsApp Official Business Accounts, or verified accounts, have the green checkmark.
Why you should verify your WhatsApp Business Account
Remember how we mentioned that not all businesses get the badge?
Well, having an Official WhatsApp Business Account shows that you're influential and a trusted business in the industry — why else would WhatsApp verify you?
A verified WhatsApp Business account adds credibility and proves that you are a legitimate business. After all, your business is established and trustworthy enough to get recognized and verified by WhatsApp.
It helps differentiate your business from competitors that do not have the green checkmark.
Furthermore, your brand name is visible to customers even without them saving your number in their contact list. As opposed to simply showing your business number on a WhatsApp Business Account, showing the business name is easily recognizable to your customers.
Eligibility for a green tick on WhatsApp
Once again, not everyone is eligible to be verified on WhatsApp.
If you have been approved for a WhatsApp Business Account, you can apply for an Official Business Account. Unfortunately, not all accounts get approved to receive the green badge. But, this doesn't mean that you shouldn't try to apply for it.
That said, here are some pre-requisites you have to fulfill:
To add on, if your business is dealing with the products or services mentioned below, you are not eligible to integrate with a WhatsApp Business Platform. Without the WhatsApp Business Platform, you can't apply to get the green tick.
Drugs
Tobacco items
Gambling businesses
Alcohol brands
Weapons and ammunition
Live animals
Adult products or services
Medical and healthcare products
Dating services
Cryptocurrencies
How can I apply for a green tick?
The entire process of becoming a WhatsApp Official Business Account (OBA) is relatively straightforward. Do take note that you would have to integrate with WhatsApp Business API through a WhatsApp Business Solution Provider (BSP) like EasyStore.
Step 1: Verify Facebook Business Account
In addition to following WhatsApp's Commerce and Business Policies, businesses need to be:
Verified: Has gone through Business Verification, and
2FA: Has set up two-step verification.
Step 2: Submit a request for an Official business account
Login to Facebook Business Manager
Navigate to WhatsApp Accounts (Settings > Accounts > WhatsApp Accounts)
Access WhatsApp Manager (Select WhatsApp Account and click on WhatsApp Manager)
Select the phone number and click on Profile
Submit a request for an Official Business Account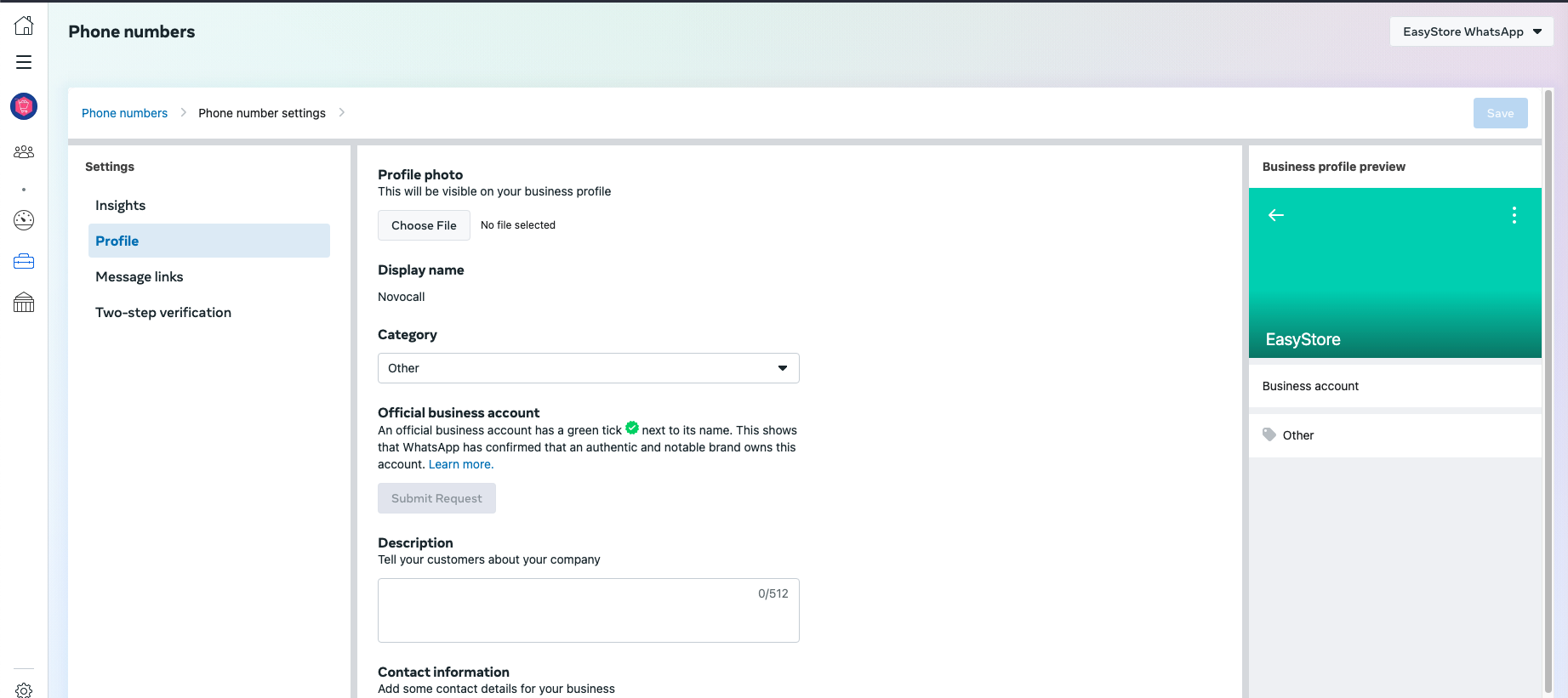 Best practices to get approved for a green tick
There are some things you can do to increase your chances of getting approved for a WhatsApp official Business Account:
Make sure your business has been verified on Facebook and you have 2 Factor Authentication (2FA) set up
Use a business email address like xyz@easystore.co instead of a webmail email such as xyz@gmail.com
Make sure your display name adheres to WhatsApp's guidelines for display names
Have some ad spend in your Facebook Business Ad Account
Grow your Facebook/Instagram following to at least about 10k likes/followers to indicate brand awareness
Have a detailed Wikipedia article or be featured in multiple news sources to prove that your business is well-known
Conclusion
And that's it! We hope that this article has given you deeper insight into what a WhatsApp green tick is and how you can apply for it.
Getting the green tick on WhatsApp Business is easy, but not every business gets approved. After all, the small green badge can do wonders for businesses and every brand would want to proudly show it off — which just isn't possible.
Don't be disheartened though! Not having the green tick doesn't make your business any less legitimate, it could simply mean your business isn't well-established enough to be verified, yet. 😉
Start selling with EasyStore
Sell and manage your business all in one place
Connect with our team
Let's begin your unified commerce journey. Complete the form to chat, book a meeting, or connect with our team.