Traditional VS Digital Business Practices
By Najwan from iPrice Group · 3rd February, 2019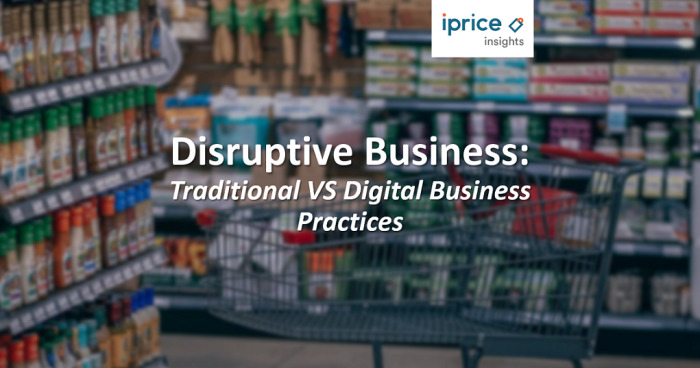 The idea of having a business of our own is a leap that some would call courageous, adventurous or a bad idea. The history of how businesses evolve and innovate around us is a fascinating journey. According to academia, Malaysia's history in dealing businesses with foreign countries dates back to the year 1957, just before the independence day which produced total revenue of 313 million sterling pounds which is RM 1.6 billion in today's amount. Over 3 decades ago in 1988, the introduction of the internet had begun to revolutionize the Malaysian's way of life. This was when the Malaysian Institute of Microelectronic Systems (MIMOS) started to set up their network system called Rangkaian Komputer Malaysia. In 1996 Telekom Malaysia Berhad (TMB) received a license to launch their services which were when TMnet was introduced to the Malaysians.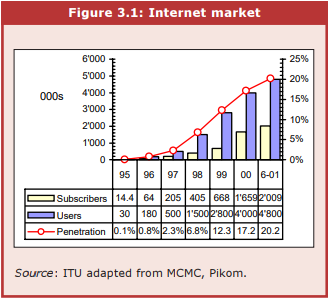 Taken from ITU.int
In December of 2000, it was recorded that the penetration had reached up to 17.2% which translates to 4 million users. Ever since the introduction of the internet, Malaysians were quickly evolving with the trend and the same goes to the structure of the businesses. According to statista, the revenue earned on e-commerce alone in Malaysia is up to RM16.05 billion as of 2018.
Entrepreneurs today have the ability to be born global in a matter of a few hours and a few clicks at the comfort of their own home. How you may ask? Today we see a variety of choices and opportunities to explore with the introduction and rapid popularity of e-commerce platforms like Lazada, eBay, Shopee, and Alibaba.
Entrepreneurs can simply use the network which these platforms had built for potential consumers and business partners at their own advantage. That, to some entrepreneurs is why digitalization of businesses is a preferred choice today. However, with the help of these platforms to make entrepreneurs born global, this would also mean that the competition will be tougher from the get-go.
As technology continues to evolve, we can see disruptions occurring within businesses from the introduction of apps which replaced GPS devices to Grab Car disrupting the taxi business. But the question remains, does the introduction of e-commerce platforms mean that it would disrupt brick and mortars? The truth is, it has and its not all bad.
To understand why, let's take a look at how businesses run traditionally in Malaysia and have a look at what they are today with the help of the internet.
1. Business Formation
Traditional:
To set up a physical platform the entrepreneurs would need to make a loan from the bank. According to the balance small business, an average business that plans to produce their own product and has a physical office would take at least a year to establish. That year is not including the time taken for the loan approval for entrepreneurs that need it for their start-up.
To invest in a foreign market, traditional businesses needed to invest through foreign direct investment (FDI), Turnkey Projects or even by franchising and licensing which is still popularly used today.
Digital:
Well technically entrepreneurs would still need a loan if they wish to invest in physical stores but the popularity of the internet would allow young Malaysians to start an online retail store through free web creator agents like wix.com and they can rely on the investors to survive.
Based on the article review by balance small business, an entrepreneur that plans to work entirely alone at the comfort of their homes would only need a laptop and internet connectivity in which the business can be set within a day. However, sourcing for a good supplier would take some effort but if all goes well the business would be able to be established within a month.
2. Product Sourcing
Traditional:
Product sourcing is an important element before starting a business. Entrepreneurs would have to source their products from a supplier that provides the product they want at a cheaper price which would enhance their probability of making a profit. A traditional business practice which most Malaysian entrepreneurs tend to do is through a wholesale model.
The cost to buy products in bulks is most definitely eye gouging. However, businesses tend to make profits from the sales which make bulking worth it for the long run. This practice can be seen mainly in big companies like Giant and Tesco or some restaurants. As an example, Malaysian celebrity Rosyam Nor's Rosyam Mart is a destination for most Malaysian restaurant owners for their seafood and meats which are super cheap.
Buying in bulks from wholesalers is beneficial for the long run because it is more cost effective than buying the goods from retail stores which is more expensive. In this case, Rosyam's Mart would enable restaurant owners to provide a reasonably priced dish at a profit.
Digital:
According to EasyStore's Amirul Mokhtar, sourcing products using the online supply chain management method where the entrepreneur would not have the need to own a warehouse to keep the goods is possible with Dropship. This virtual warehouse is very useful as young entrepreneurs would not have the need to get a loan to start their business.
As a matter of fact, the entrepreneur would not even have the need to actually have the product in hand for them to sell it. This "online warehouse" enables the entrepreneur to buy the product at what they call agents' price for which they will then be able to make a profit as the customer makes the purchase.
3. Providing Customer Experience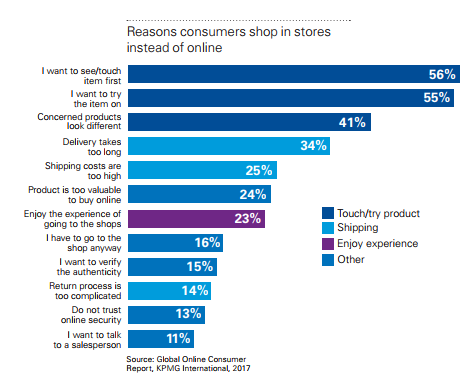 Traditional:
This is where physical stores shine and start to truly make an impact in which online retail stores find difficult to mimic. According to V12data.com, although millennials are comfortable with making purchases online, almost the majority of them prefer stopping by physical stores before making a purchase. Physical stores enable consumers to fully experience the product, thus making it more efficient when it comes to the consumers decision making process.
Moreover, brick and mortar businesses tend to improve themselves through feedback. Traditional businesses use surveys which is handed out to the customers after they receive a service from the business. Today we still see these practices in some restaurants which they provide a piece of survey form and a pencil in a cup or an iPad which they would then inform the customers to fill for their feedback.
Digital: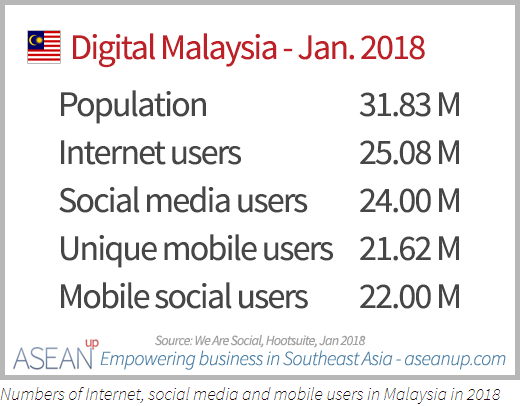 Taken from aseanup.com
According to the reviewed article from ASEAN Up, more than 78% of the Malaysian population uses the internet daily. This would mean that majority of the consumers in Malaysia is on the internet. With statistics showing a US$3.9 billion in revenue which is RM16 billion from just the e-commerce sector, it is noted that the e-commerce platform is blooming steadily in Malaysia.

Taken from miti.gov
According to the study, 63% of the Malaysians that surf the internet are millennials which are considered to be the tech savvy generation. This would explain why revenue on e-commerce platforms alone would increase in years to come which would boost the Malaysian economy.
An article from matdespatch discussed that the foot count for traffic in malls can be seen to drastically decrease as popularity of e-commerce platforms like Lazada starts to rise. Although research from other countries seem to be in a direction for which the consumers prefer physical stores, Malaysians tend to be heading in a direction where online shopping is a better alternative.
However, the end of physical stores in Malaysia is not the case as businesses that has both online and physical platforms tend to be at an advantage. The reason for this is because, Malaysians being majority millennials, tend to be aware of physical stores that has an online website. As stated in the reviewed article, "if it is not on the internet, it does not exist".
4. Market Penetration
Traditional:
Traditional businesses are mainly focused on B2C where the business would chase after consumers with the flyers and constant yelling on the promotions, they are having right at their door step. Today in Malaysia we can still see the concept where such promotions are done traditionally in wet markets, food courts and especially during the Raya season Bazaar Ramadhan). Back then, promoting the business takes a tremendous amount of effort but efficient.
However, television and radios were already invented and the market penetration strategy for the businesses then grew from the usage of these devices. Today businesses still use the traditional marketing strategy as it is very effective and used by everyone which makes market penetration very effective.
Magazines and newspapers are other examples of a traditional marketing strategy. Some might even ask "if e-commerce platforms are faster and efficient, why do magazines and newspapers still exist? Well, the right answer is, magazines and newspapers still exist because there are still demand it. Sure, there's online papers from The Star and New Straits Times but some people tend to prefer getting newspapers. Magazines, on the other hand, are still popular within the Malaysian market with publishers like Mingguan Wanita (Bahasa Melayu) and Top Gear Malaysia (English).
Digital:
Digitalized marketing provides a wider choice for businesses to penetrate a targeted market. Digitalized marketing is also innovative in a way that it shifts the business flow from B2C to C2B. Social media is widely used in this strategy as they provide high traffic which at the same time increases the opportunity for the businesses. According to StatCounter, the social media stats for Malaysia shows that Facebook is the most popular social media site with a whopping 85.77% users compared to YouTube with 3.95% followed by Pinterest with 3.79%.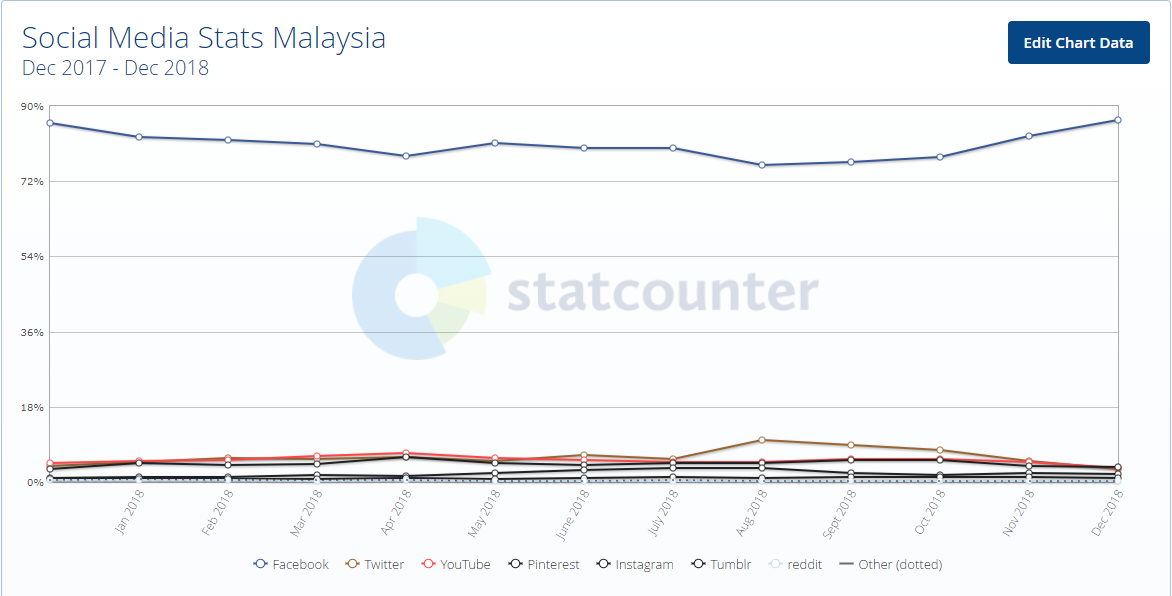 Pop up adds on Facebook is a very common thing which some Malaysians might find annoying and a few that find it informative.
An article by blue wire media further explains that digital marketing helps businesses to target the market very efficient and precise. Although traditional marketing is efficient in a way that it provides a good base of consumer awareness, however, the target audience is not trackable. Social media sites, on the other hand, provides the business with a more precise approach which makes targeting a specific market decidedly less complicated.
All and all, as Tim Cook current CEO of Apple, said "Some people see innovation as change, but we have never really seen it like that. Its making things better. To not innovate is to die". Therefore, innovation on businesses as a whole with the usage of the internet is a stepping stone, not a dead end just like how hybrid cars are automotive innovations for the better tomorrow.
***
This is an expert article by iPrice Group.
Start selling with EasyStore
Sell and manage your business all in one place