The Leading E-commerce Mobile Shopping Apps and Websites in Singapore as of Q1 2019
By Deridian from iPrice · 3rd July, 2019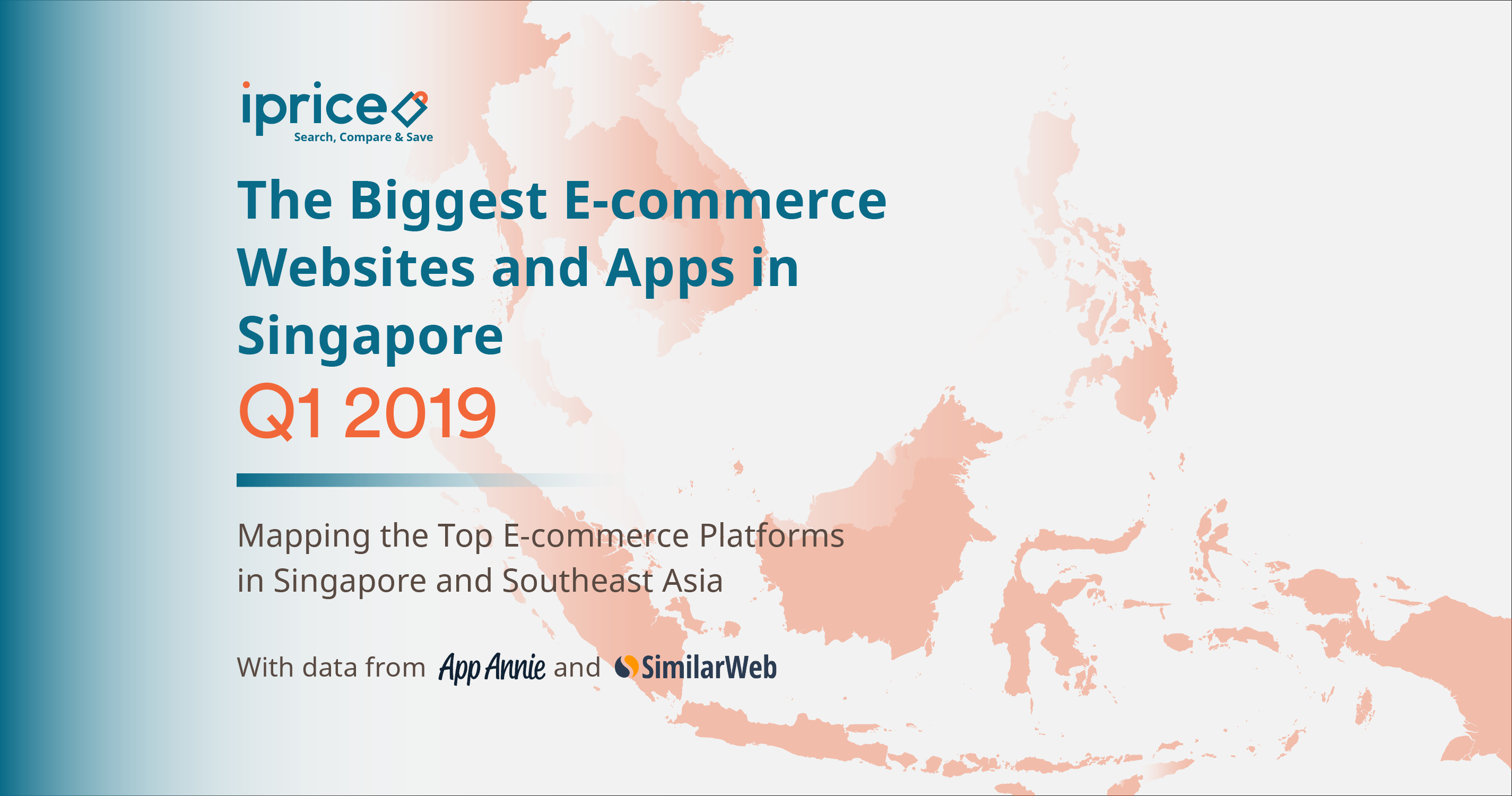 When it comes to smartphones, Singapore is ranked as one of the highest globally for smartphone penetration. The various mobile app continued to rise in popularity - with the usage and need of shopping online that have become ubiquitous.
We can't deny how essential mobile phone to be used for almost every aspect of our lives. In fact, a report stated that Singaporeans downloaded 245.4 million apps in 2018 spending approximately US$399.3 million on apps alone.
Although mobile apps today play an important role, a number of Singaporeans still prefers to browse for product and conduct purchases on desktops. This was evident in our previous study on the State of E-commerce.
We conducted a study to portray who were the mobile e-commerce shopping apps with the highest monthly active users in Southeast Asia in Q1 2019 with the help of App Annie Intelligence. This data comprises combined iPhone and Android phone averaged monthly active users, Q1 2019 in selected countries - Singapore, Malaysia, Indonesia, Philippines, Thailand, and Vietnam.
We also analyzed the top most visited e-commerce platforms in Southeast Asia in Q1 2019 obtained through SimilarWeb. The companies selected for this study were amongst the top 50 most visited platforms - on desktop and mobile web - in Singapore.
Lazada, Qoo10, Shopee, & Taobao Were The Most Actively Used Apps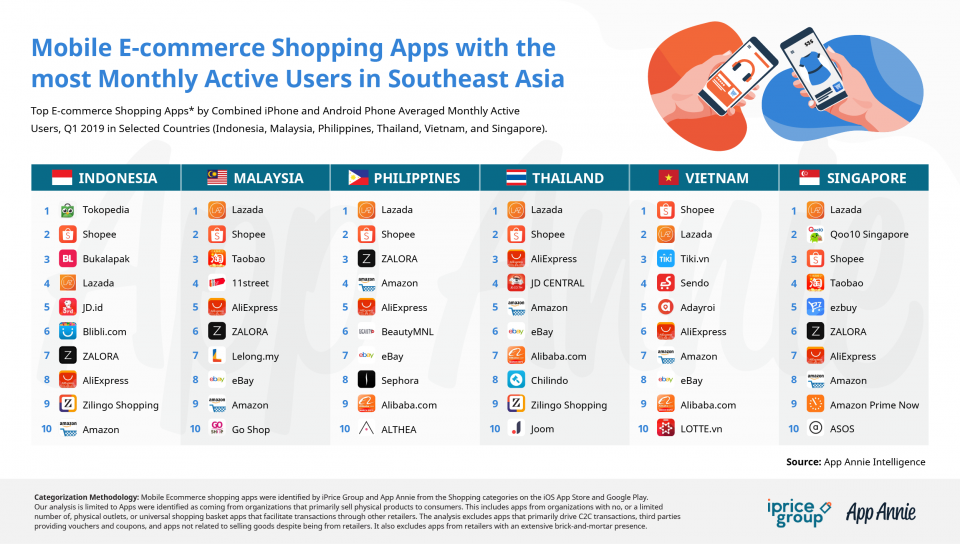 1. Lazada
Lazada juxtaposed its annual anniversary event to offer a varied range of products and prices that took place from 21 to 27 March 2019. The platform received a tremendous amount of traffic over week-long celebration that came to its peak with a 24-hour shopping extravaganza on 27th March.
Through the app itself, on average shoppers would log on as often as six times a day to play in-app games. On top of that, Lazada live streamed performances artistes on its app to attract consumers.
More importantly, Lazada has strengthened its position as a key e-commerce player in Singapore as Redmart was integrated into Lazada's app and website on 15 March 2019. Customers now are able to browse to more than 400,000 retailers in Lazada's ecosystem - within the same app as what users have been using and at redmart.lazada.sg.
Nonetheless, Lazada requires a series of app updates over the next few months as well as launching the Redmart features and functionalities which is hoped will be ready by end-June 2019. These include; order amend, delivery slot incentives, my list features, search functionality, delivery slot reservation, and order rescheduling.
Furthermore, Chinese New Year 2019 that fell on February 4th to 5th - coincides with the February new moon and the year of the pig - was celebrated by people in Southeast Asia countries as a time to honor deities and to be with family.
In conjunction with this Lunar New Year, Lazada Singapore celebrated its CNY campaign with huge promotions, such as 888 flash deals, up to 88%off, and up to $88 vouchers. It is a celebration sale period as consumers will actively go through the Internet and e-commerce to find what they need for the preparation of the occasion.
2. Qoo10
Qoo10 remains as a strong competitor in Singapore with the 2nd highest in monthly active users on its mobile app in Singapore in Q1 2019. The Singaporean-based e-commerce company in 2018 stated that the company will continue to focus its progress on the city-state and remains as a strong competitor in the mobile shopping app arena.
Among the possible drivers of its performance in Q1 2019 could be the introduction of its partnership with Grab Pay that provides consumers the option to pay later for rides, food delivery, and for shopping on Qoo10.
Ku Young Bae, the CEO of Qoo10 is optimistic of its company's future as there is much room for improvements such as in its diverse product selection, more cross-border merchant sources, a predominantly domestic vendor base, self-owned cross-border shipping network, and price competitiveness to drive further growth in Singapore.
3. Shopee
Shopee - as the third most actively used app - is amongst the fastest growing e-commerce apps as compared to others in the list of the most active users in Singapore. Shopee was founded in 2015 where the trend in Southeast Asia had a tendency towards users were to purchase through their smartphones. Founded since 2015, the e-commerce company has considered itself as a mobile-first platform, prioritising its developments on the mobile app, which has made them amongst the most actively used apps in Singapore. In terms of its overall ranking, Shopee's mobile app was ranked at 2nd place amongst other apps.
In its past months, prioritised a 'hyper-localised' user experience approach by having a different app for each country. This was part of their strategy to focus on taking a highly localised approach to each market. Sea - the parent company of Shopee - in March 2019 stated it aims to raise US$1.5B in an effort to drive further growth for Shopee. It also has become the most visited e-commerce platform (on desktop & mobile web) in Southeast Asia during the quarter, which garnered a total traffic increased by 5% from website and app combined as compared in Q4 2018 to 184.4 million visits.
4. Taobao
As the fourth most actively used app in Singapore in particular, TaoBao seemed to be performing well in countries where there were more consumers proficient in the Chinese language - Mandarin. As such, Taobao although usable in other countries in Southeast Asia, was most actively used in Singapore and Malaysia. Taobao was actively used in Singapore as most sellers would provide delivery services to Singapore as well as attractive deals and products that are sometimes not available in the country.
Beyond its ley mobile app, Taobao products are also available to Singaporeans via a Taobao agent or third-party platforms such as EZBuy, SGShop, Peeka, and Oops.
Nevertheless, if users are to prefer Lazada as their platform to shop through Taobao, it is still feasible to purchase the items from there as Lazada recently excelled cross-border business across Southeast Asia.
The Most Visited E-commerce Platforms on Desktop & Mobile Web in Singapore and Southeast Asia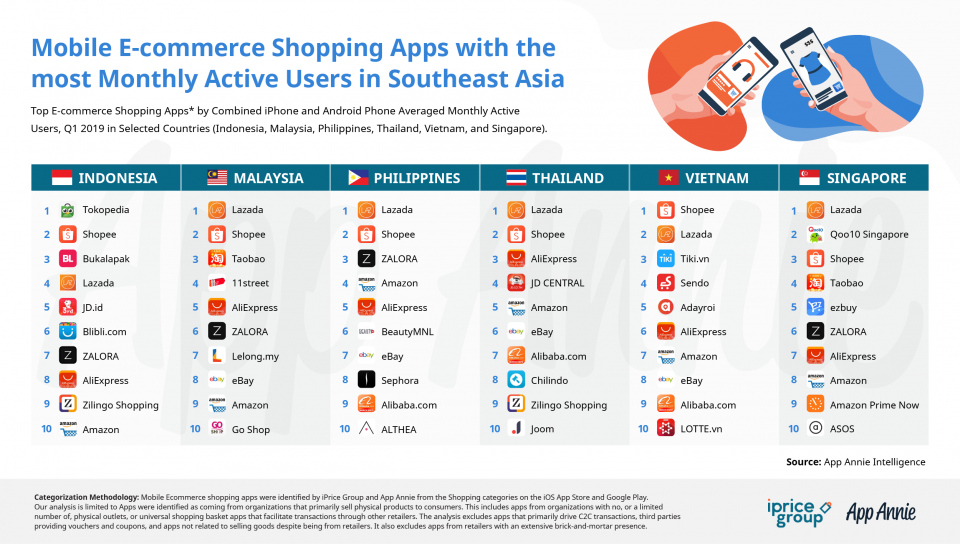 Qoo10 remains as the most visited e-commerce platform in Singapore, garnering an average of 7.9 million visits on desktop and mobile web in Q1 2019. Subsequently, Lazada was the second most visited at 7.4 million visitors and Shopee at 2.5 million visitors in the same period.
Totalling the overall traffic garnered in Q1 2019 across Southeast Asia, Shopee is the most visited e-commerce platform in Southeast Asia (six countries – Indonesia, Malaysia, Philippines, Thailand, Vietnam, & Singapore) in Q1 2019 with a total average of 184.8 million visitors.
In terms of ranking, Lazada remains as the most visited platform (on desktop and mobile web) in Malaysia, Philippines, and Thailand. Overall, Lazada obtained 179.7 million visitors in Q1 2019 (six countries – Indonesia, Malaysia, Philippines, Thailand, Vietnam, & Singapore).
Please click on one of the links below to view the data in detail for each country. More findings in the overall Map of E-commerce Report for Q1 2019. And click here to go to the original source of this study.
*iPrice is always happy to share their insights with you, the press, academia and more. Should you decide to utilize their data or visuals, please attribute us by including this sentence "From the Map of E-commerce, iPrice Group, April 2019" with a hyperlink to one of these URLs:
Singapore : https://iprice.sg/insights/mapofecommerce/
Indonesia : https://iprice.co.id/insights/mapofecommerce/en/
Vietnam : https://iprice.vn/insights/mapofecommerce/en/
Thailand : https://ipricethailand.com/insights/mapofecommerce/en/
Philippines : https://iprice.ph/insights/mapofecommerce/en/
Malaysia : https://iprice.my/insights/mapofecommerce/
Start selling with EasyStore
Sell and manage your business all in one place