Sell to More Channels with Marketplaces via EasyStore
By Max · 14th January, 2021
There's no doubt that marketplace sync has played an important role in Malaysia in shaping the online business and expanding their business. Nonetheless, there are plenty of choices of marketplaces available for integration. EasyStore has taken it upon ourself to integrate all of these 4 marketplaces listed below but you can make your own choices to choose which to integrate, either one or four of them. Let's have a look into the focal points of each marketplace available in EasyStore.
Lazada
Lazada started its business model by selling inventory to customers from its own warehouse when it first launched in 2012. In 2013, this company added a marketplace model that accepted third-party retailers to sell via their platform and later, claimed as one of the largest E-commerce Marketplace Companies in Southeast Asia. Up to now, they have expanded their markets to Malaysia, Singapore, Indonesia, Philippines, Vietnam and Thailand.
Shopee
Started its first appearance in Singapore in 2015, Shopee serves as a mobile-centric marketplace for everyone to sell and buy online. This platform initially started as a consumer-to-customer (C2C) marketplace but has transformed into both C2C and business-to-consumer (B2C) hybrid models. With the strong payment support and logistic partners, Shopee successfully expanded its market to Malaysia, Indonesia, Philippines, Vietnam, Taiwan, Thailand, and Brazil, retaining its position as the most visited e-commerce marketplace, accumulating more than two billion visitors across the region in 2019.
PrestoMall
PrestoMall was formerly known as 11street Malaysia, is now the largest homegrown online marketplace in Malaysia that strives to provide various lifestyle and convenient features as well as hassle-free mobile payments to online shoppers. Asides from products for online buyers to choose from, PrestoMall offers services too e.g. tickets, bill payments, E-voucher & travel under one virtual roof.
Lelong.my
Being the first and oldest homegrown online marketplace in Malaysia since 1998, Lelong.my offers a reasonable and complete E-commerce marketplace for every shopper, unveiling them with a variety of products and services from more than 10,000 sellers. Lelong.my has everything you need, offering more than a 1.3million products across the categories, from personal items to home appliances, you can get anything you want at any time you like.
By selling your products to these multi-channels via EasyStore, you can benefit from:
1. *Latest Update* Sync Status
Selling on Lazada and Shopee at the same time? This feature will definitely help you! You can check every status in different marketplaces at once without too many browser tabs. Go into your product, check out the right column and you can view the situation at a glance.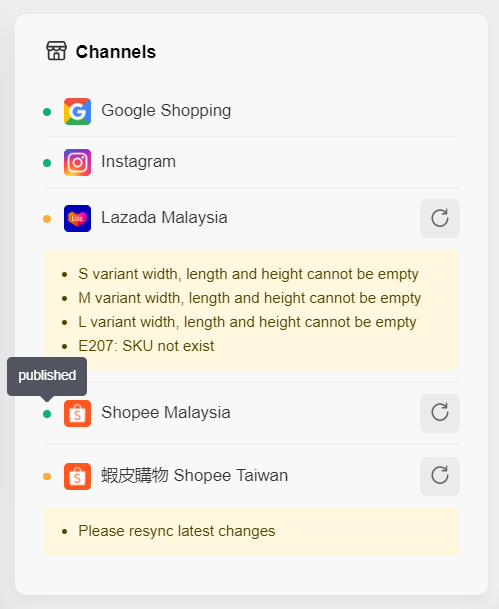 The date of "Last Updated" about the product sync is also indicated for your catalog publications.
2. Choose delete synced products actions
We understand that you will have to manage your products differently in multiple channels. When you delete a product in your EasyStore, you can now choose to do nothing, set it as active, delete permanently at Shopee or Lazada.

3. Different market segment, different selling price
You might want to sell at a different price on your online store and marketplaces. We have this price adjustment column for you to amend your selling price either by the amount (MYR) or percentage (%).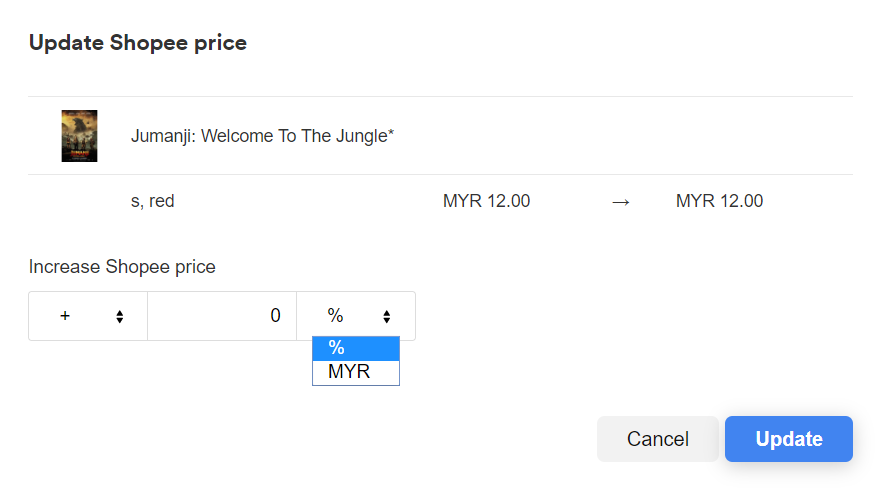 4. Indicate logo to filter your order
Respective logos will be displayed at EasyStore when there's order from the marketplace itself. This will help you to manage your orders and know your customer source accordingly.

5. One-time-sync
Get your product title and description exactly the same in both EasyStore and marketplaces during the synchronization process, save your time without copying and pasting them one by one.
6. Manage all in one platform
We make it easy for you. You can manage your products, process your orders and complete your fulfillment in one single place (EasyStore) without the need to access different platforms.
7. Bulk fulfillment
Many orders waiting to be shipped? Just select the orders you want and click on the 'Fulfill' button to fulfill your orders in bulk! This will help you streamline your fulfillment process in the all-in-one platform.

Here's a comparison of the features of these 4 marketplaces available in EasyStore:
| | | | | |
| --- | --- | --- | --- | --- |
| | Lazada Malaysia | Shopee Malaysia | PrestoMall | Lelong.my |
| Sync Product from Marketplace to EasyStore | ✔ | ✔ | ✔ | ✔ |
| Sync Product from EasyStore to Marketplace | ✔ | ✔ | - | - |
| Price Adjustment | ✔ | ✔ | - | - |
| Sync Order from Marketplace | ✔ | ✔ | ✔ | ✔ |
| Fulfillment (Single Order) | ✔ | ✔ | ✔ | ✔ |
| Fulfillment (Multiple Order) | ✔ | ✔ | - | - |
| Print Airway Bill (Single Order) | ✔ | ✔ | - | - |
| Print Airway Bill (Multiple Order) | ✔ | ✔ | - | - |
Explore more places to sell and launch your own online brand in the best actionable way with EasyStore now.
Start selling with EasyStore
Sell and manage your business all in one place