How to Beat Competition With Multiple Sales Channels Selling
By Vincent Leong · 21st August, 2022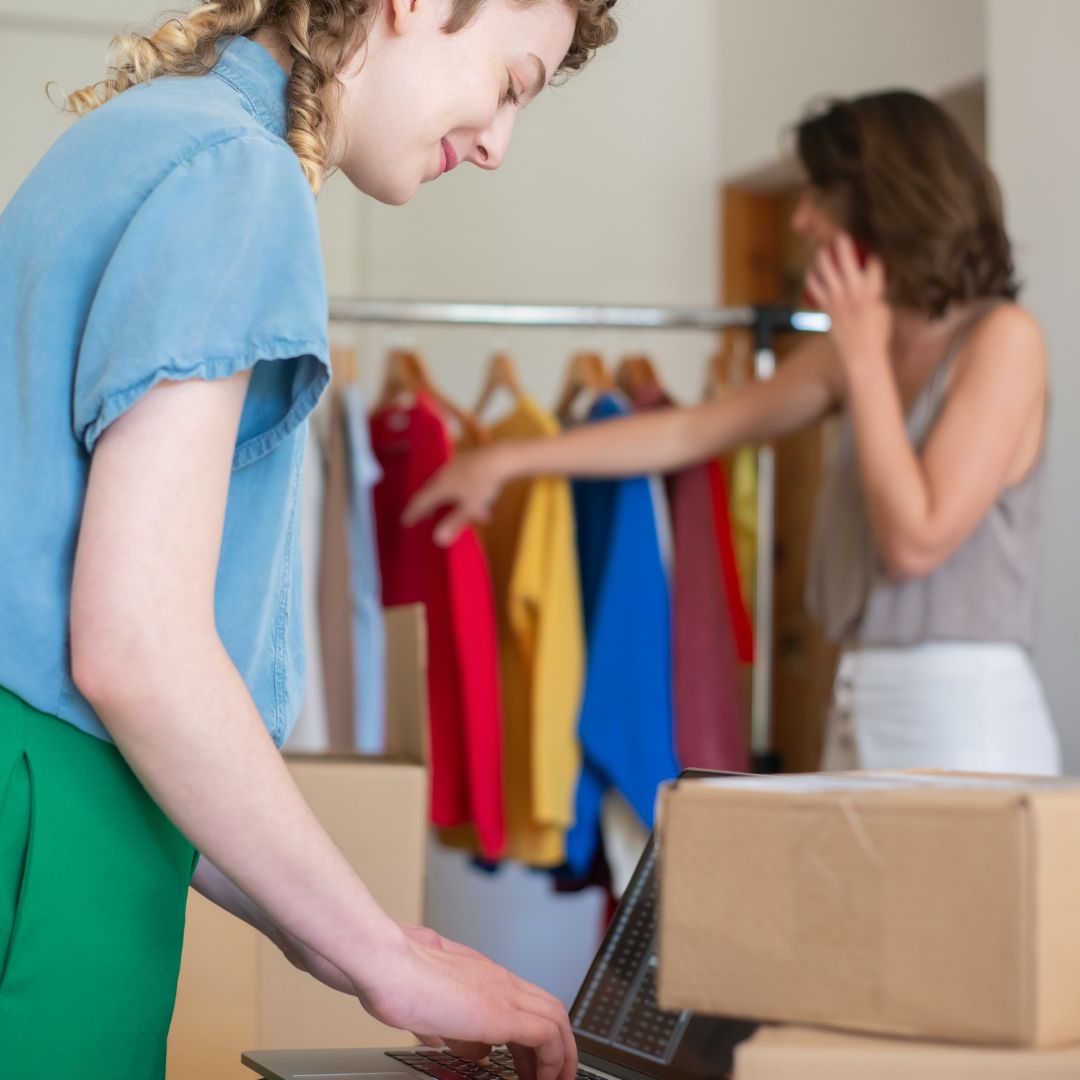 On any sector, ecommerce is a crowded industry in Malaysia as it has seen strong growth over the past few years and is expected to grow 24 percent annually.
Positive numbers are showing that ecommerce trend isn't dying despite the post pandemic situation and it has paved the way to economic recovery. Even the government, MDEC has supported in this initiative to better prepare Malaysian businesses for today's ever evolving landscape and enhance the digital capabilities to boost the digital economy.
This could also mean that there will be more competitors flowing into the market. So, one of the inescapable challenges that most brands will face is to identify the strategy that help them stand in ecommerce - multiple sales channels selling.
Single vs multiple sales channels
You should have heard the saying: customers shop everywhere.
Multiple sales channels selling happens when you are selling on multiple ecommerce or retail platform simultaneously. Giving you the opportunity to sell more.
And if you are not on the channels they shop, means that you are not in their buying process, and you miss the opportunity to sell. From here we know that being everywhere you customers go is crucial.
I always encourage sellers to diversify their risk instead of being too clingy on one platform. In any event of account suspension, you get to operate with other unaffected sales channels. So, don't put all eggs in one basket - once basket fall, all eggs broken.
Ultimately, selling on multiple popular platforms brings more good than bad for your business. It helps your brand to get more competitive and set your business up to compete with larger brands where you could hardly set a foot in the past.
Hop on the multiple sales channel bandwagon
This strategy involves reaching out and connect with your potential shoppers on their preferred channels. Meaning that you will no longer selling in one place, but to many.
One obvious indication that you might be already doing is having an online store, at the same time you sell on marketplace like Shopee or Lazada for their pool of customers, but you are also relying on Facebook or Instagram to bring in more traffics.
Based on all that, if you are selling on more than 1 sales channel, you are already considered as a multiple sales channel seller.
And EasyStore gets you connected to over 20 popular sales channels and make your multichannel selling even efficient.
Strategy to expand your multiple sales channels effort
Multiple sales channels selling is not just about setting up your store and listing products across multiple platforms - all sales channels are no the same!
1. Join Marketplace (Shopee, Lazada, Youbeli) to acquire more customers
Marketplace like Shopee and Lazada adding up has a large user base of 60 million in Malaysia, and this makes marketplace a to-go place for acquiring new customers.
However, growing sales on marketplaces involves a lot of work and can take up a lot of your time.
We have compiled a list of online tools that will save more time and capture more sales.
Get your product in front of shoppers. Marketplace is doing great marketing effort to bring in shoppers every month. Besides the traffic that you can tap into, Shopee offers product bump function for you to improve 5 of your product's search ranking temporarily for 4 hours, but you need to reset again every 4 hours. To make less hassle, you can automate this with EasyStore auto product bump feature.
Although you can get your product in front of more shoppers, but marketplace are saturated with sellers, which encourages price war.
Pricing consideration. It's ideal to apply the same selling price across platforms. But if you are new to marketplaces, that may require different pricing strategy to build up your reviews. Therefore, you need to work around with the pricing strategy to adjust a lower selling price. EasyStore's marketplace price adjustment feature helps you to set different pricing for different marketplace.
Do note your customers on marketplace are not owned by you. Once acquired new customer, you can always turn them into loyal customers via your online store.
Collect customers data via EasyStore allows sellers to access to customers data to design a comprehensive buying cycle that encourage repeat sales, but also reduce transaction cost from marketplace.
2. Link your online store to social media (Facebook, Instagram, TikTok) if you are looking to increase website traffic and improve interaction with your potential shoppers
Social media is designed to be engaging and interacting. And what I like about it is the ability to go viral, and get more people to know about your brand and products. Social selling can also develop a strong connection with your followers and engage with potential leads.
Think of social selling as modern relationship-builder. If you continuously feeding your followers with useful information to what they are interested that is related to your field, this helps you to be the first brand your shoppers will consider when they're ready to make a purchase.
In the meantime, you can also use the live function to have a better interaction with your followers.
However, without an automated system, selling on social media can be tedious. You'll be overwhelmed with many order requests that you've to capture manually because they can't buy from you automatically - this also applies to Live selling.
With the help of EasyStore you can activate the shop function on social media. Not only can you tag your product in your social post, but you can also share an automatic purchase link that send your customers to your online store for direct checkout when the +1 keyword is detected in your live broadcast.
3. Use messenger tools to automate and enhance shopping experience
Selling on a chat-based community, like WhatsApp, Messenger, Telegram might be great for conversational shopping to chat, inform and follow up with their customers. And customers love it as it's giving them an in-store-like shopping experience.
Previously, seller would have to share product catalogue and record order manually. While this tedious process can be condensed into a single link! You can now include every product detail and automate the ordering system using the EasyStore order form.

4. Operate an Offline bazaar/ physical store to let customer experience your the product before they buy
Online provides the convenience and flexibility, but physical store has 1 thing that no other channels can provide, which is the touch and feel of your product.
The post pandemic has retail store or bazaar reopened and there's no surprise that foot traffic is expected to increase as well. As part of the multiple sales channel strategy, you can use this approach to let more customers to experience your products before they buy.
And this is where physical outlets also contributes in online store where many shoppers actually visit your physical store before they would reorder online. Combining both approaches for the best of both worlds.
From our data, it shows that our merchants who is practicing omnichannel approach get 50% coming from offline, while another half is actually coming from online - where average of 40% actually comes from repeat purchase. This shows that online store is still a big influence to retaining your shoppers effectively.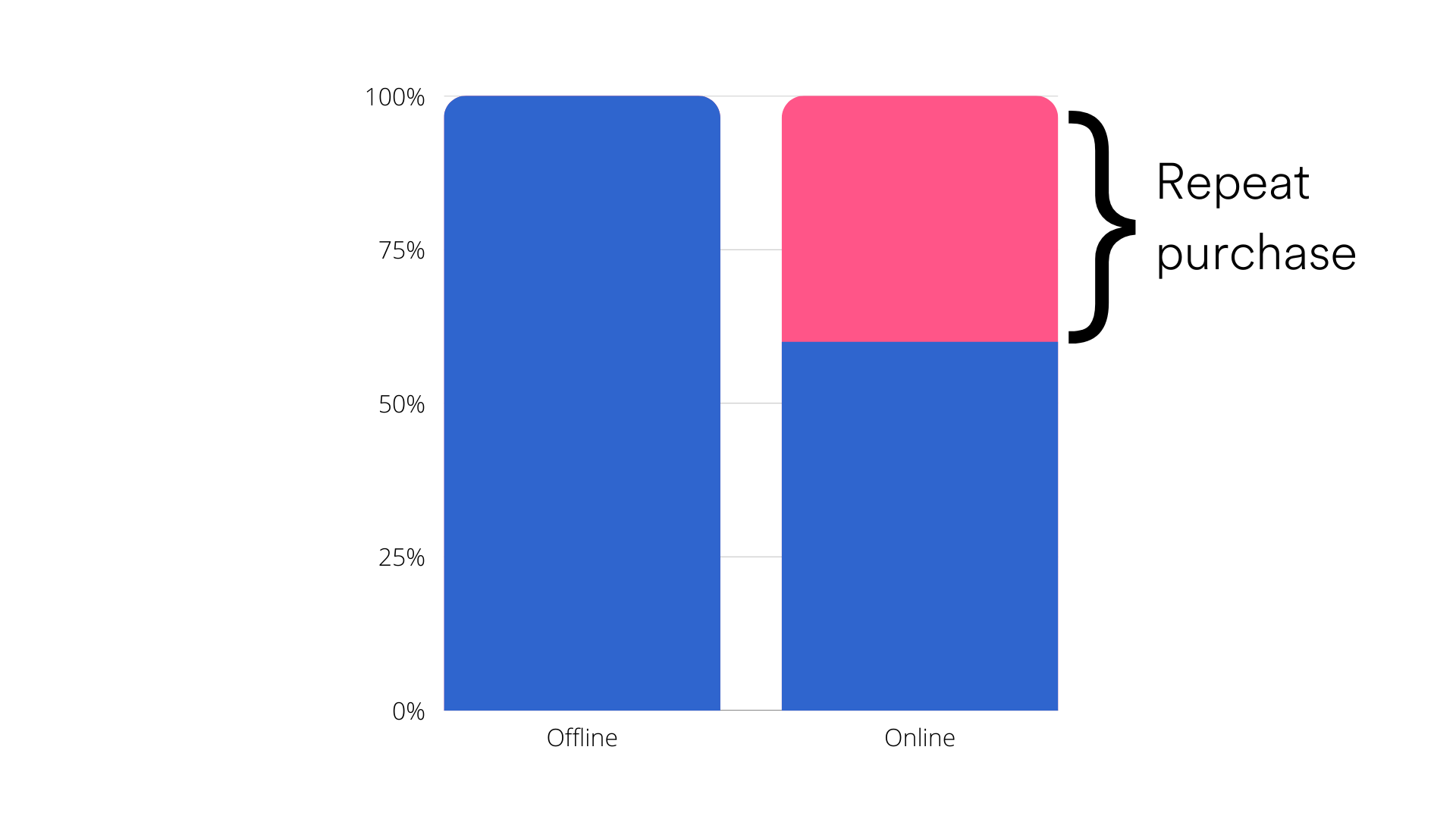 As shoppers are jumping between physical and online, you can developed an omnichannel experience to serve this changing behavior.
Easily merge offline and online sales with EasyStore mobile POS. Not only records your offline order, but it's effective in collecting and managing customers data for seamless loyalty program that boost repeat sales.
Build an online store if repeat sales and branding are important
Many businesses use online store as a branding tools and run marketing campaign around it as a branded online store can provide authority and credibility to people that don't know you online.
Besides, selling on your online store to let shoppers easily discover you on Google, social media to engage in live selling and marketplaces for maximizing exposure.
Acquiring new customers is more expensive then retaining them? In fact, most companies see online store as the source of repeat purchase up to 40%.
So your main goal is to get them coming back.
Since you have acquired their data from various sales channels, always turn them into repeat buyers with effective retargeting tools like loyalty program and post purchase follow up.
If you don't have an online store, you can build on for free on EasyStore.
You got your multichannel in place. What next? Increase repeat purchase!
Selling on multiple sales channels get your brand or product exposed in many different ways which is necessary for building customers trust and ultimately turn them into loyal customers. And here's some suggestion on how you can do so.
Offer discount codes for the next purchase. This usually works in keeping shoppers stickiness with your brand. You can always include the discount code in the packaging or post-purchase email.
Get them to recommend. Selling on multiple sales channel gets you build up your testimonial fast and easy via EasyStore. The more the merrier, where testimonial on marketplaces can be synced to your online store.
Loyalty program. Shoppers can earn point through every successful purchase. This can keep them coming back to the same store instead of visiting your competitors.
To summarize
Each of these have their own uniqueness and market focus. Which developed and shaped shoppers preference towards any shopping channel and this is why shoppers are everywhere.
Multiple sales channels strategy can be beneficial if you are doing that right. By utilizing the exposure on multiple sales channels, it gives you the opportunity to be shown to more potential customers and help you boost credibility too.
However, managing multiple channels give you multiple headache. each of the platform has their own dashboard interface, style of reporting and management. That means you need to open multiple tab to do multiple things. Therefore, multiple headache.
With that, EasyStore's single dashboard that keeps everything simple in one place, not all over the place.
Start selling with EasyStore
Sell and manage your business all in one place
Connect with our team
Let's begin your unified commerce journey. Complete the form to chat, book a meeting, or connect with our team.