Enjoy RM10 Cashback From EasyParcel via Boost
By Eric Lian · 20th August, 2018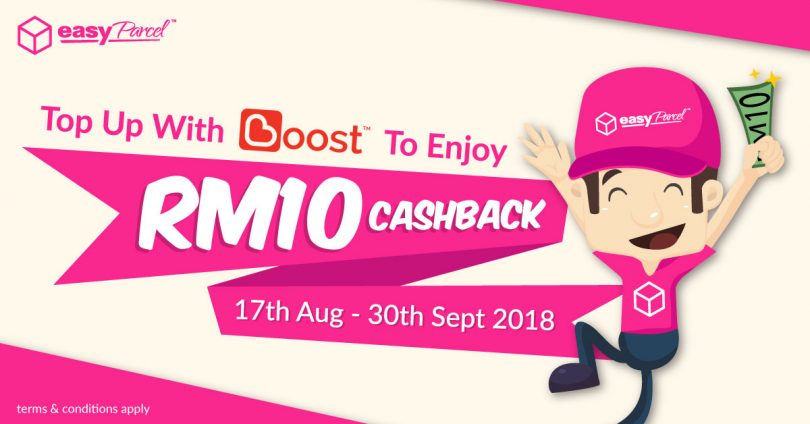 The Merdeka month is now in full swing and something interesting about this year is the RM10 instant cashback given by Boost, the leading e-wallet application which you can use to pay without the hassle of using physical cash.
Aiming to make you save more on your deliveries, EasyParcel is in for this cashback promo! Starting from 17th August till 30th September 2018, you just need to top up any package as low as EP100 – EP1000 to enjoy RM10 cashback which instantly credit into your Boost wallet the next working day.
Sounds great? You can earn the cashback today and send more parcels tomorrow!
MAGICAL STEPS TO EARN THE RM10 CASHBACK
Step 1: TOP UP
Select EP100 – EP1,000 top-up package on EasyParcel.
Step 2: PAY WITH BOOST
Choose Boost to pay for your selected package
Step 3: EARN THE CASHBACK
RM10 cashback instantly credits into your Boost Wallet the next working day.
Here's how you can pay using Boost on EasyParcel:
STEP 1: Go to top up page and choose whichever package you prefer, from EP100 to EP1,000.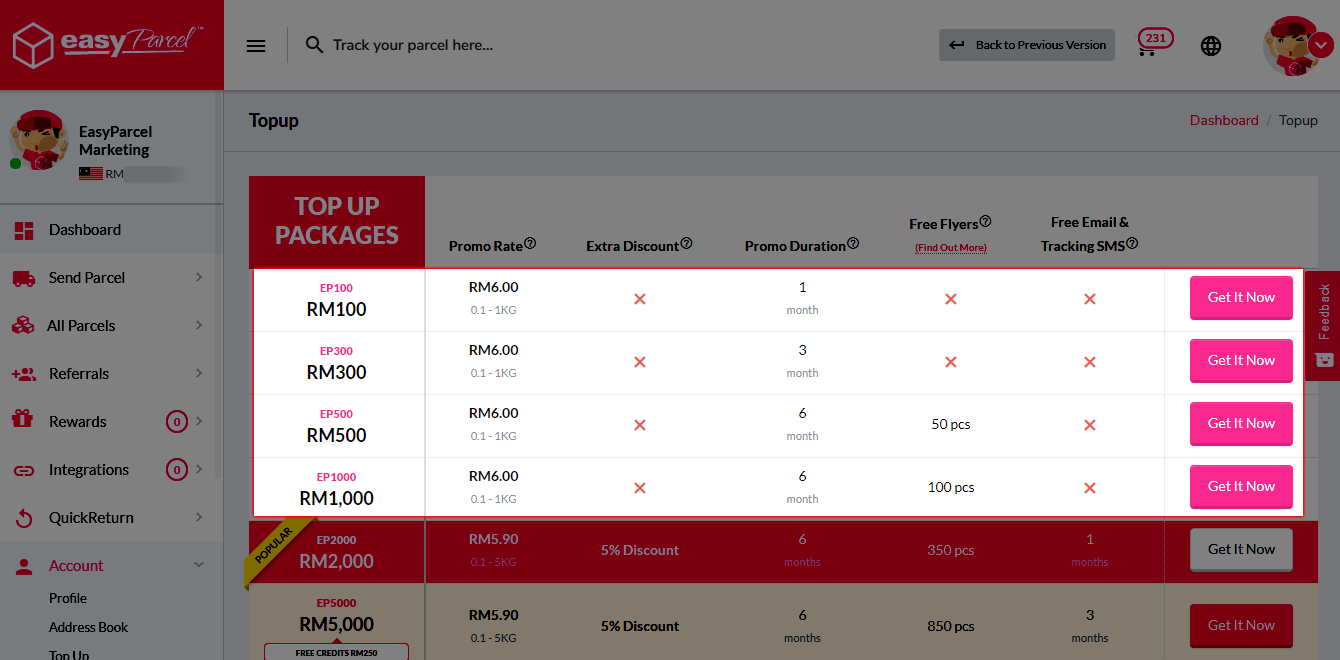 STEP 2: When comes to payment method, choose "Boost" and click on "Continue" to proceed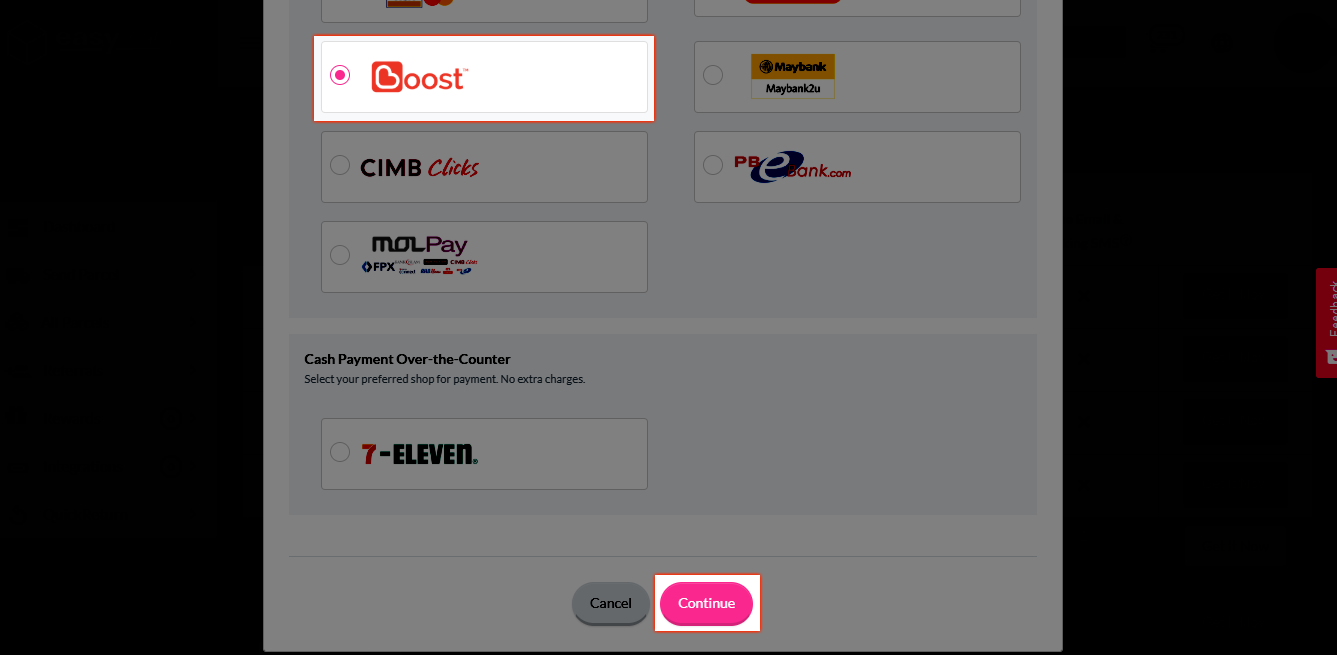 STEP 3: Confirm your top up details and click on "Proceed" to continue your payment.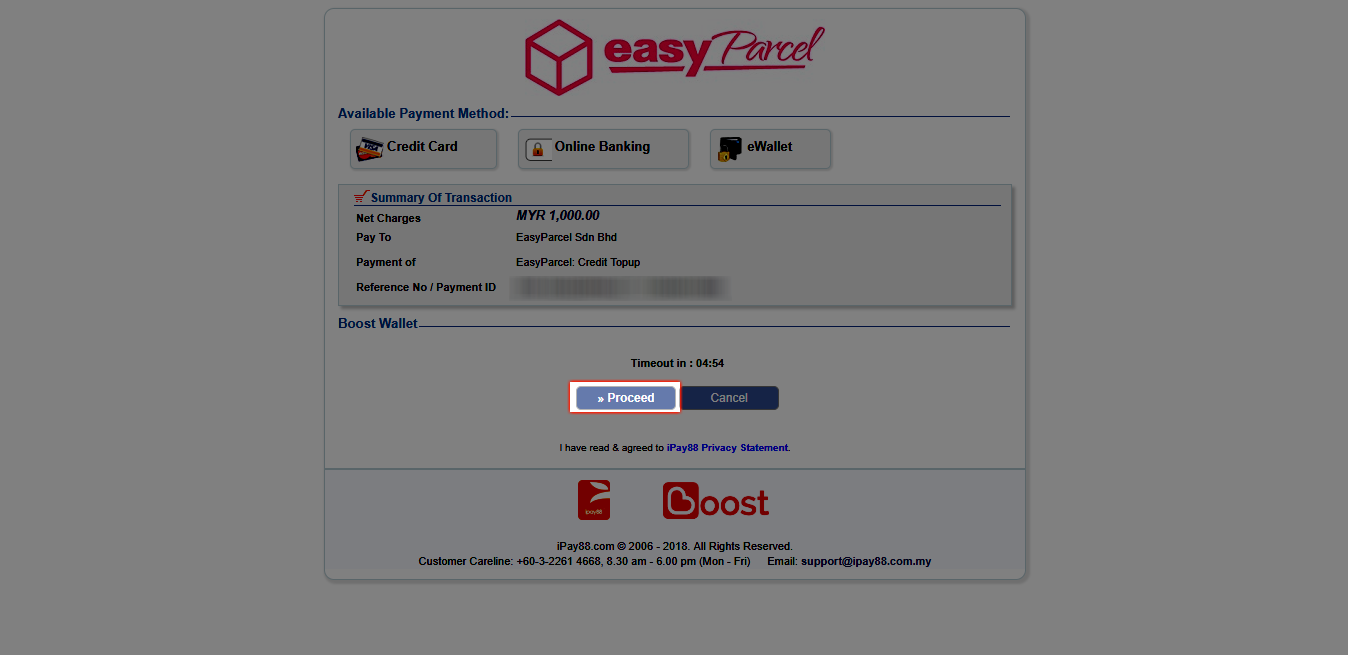 STEP 4: Open your Boost App and then tap 'Pay With QR'. All you need to do is just scan the QR code given and wait for the notification of the cash back into your Boost Wallet at the comfort of home the next day!
What are you waiting for? Register To Get RM 25 Coupons and Top Up Via Boost Now!
Terms and conditions
This promotion is open to all EasyParcel members, starting from 17th August till 30th September 2018.
Each account is only entitled to enjoy one-time RM10 cashback only.
EasyParcel reserves the right to cancel, terminate or suspend the promotion.
EasyParcel reserves the right at its absolute discretion to modify any of these Terms and Conditions or information provided above from time to time.
For more information, you may refer to EasyParcel's article here
Start selling with EasyStore
Sell and manage your business all in one place