EasyStore x KEDAI - Raya Bergaya Bazaar on 25 & 26 March
By EasyStore · 7th March, 2023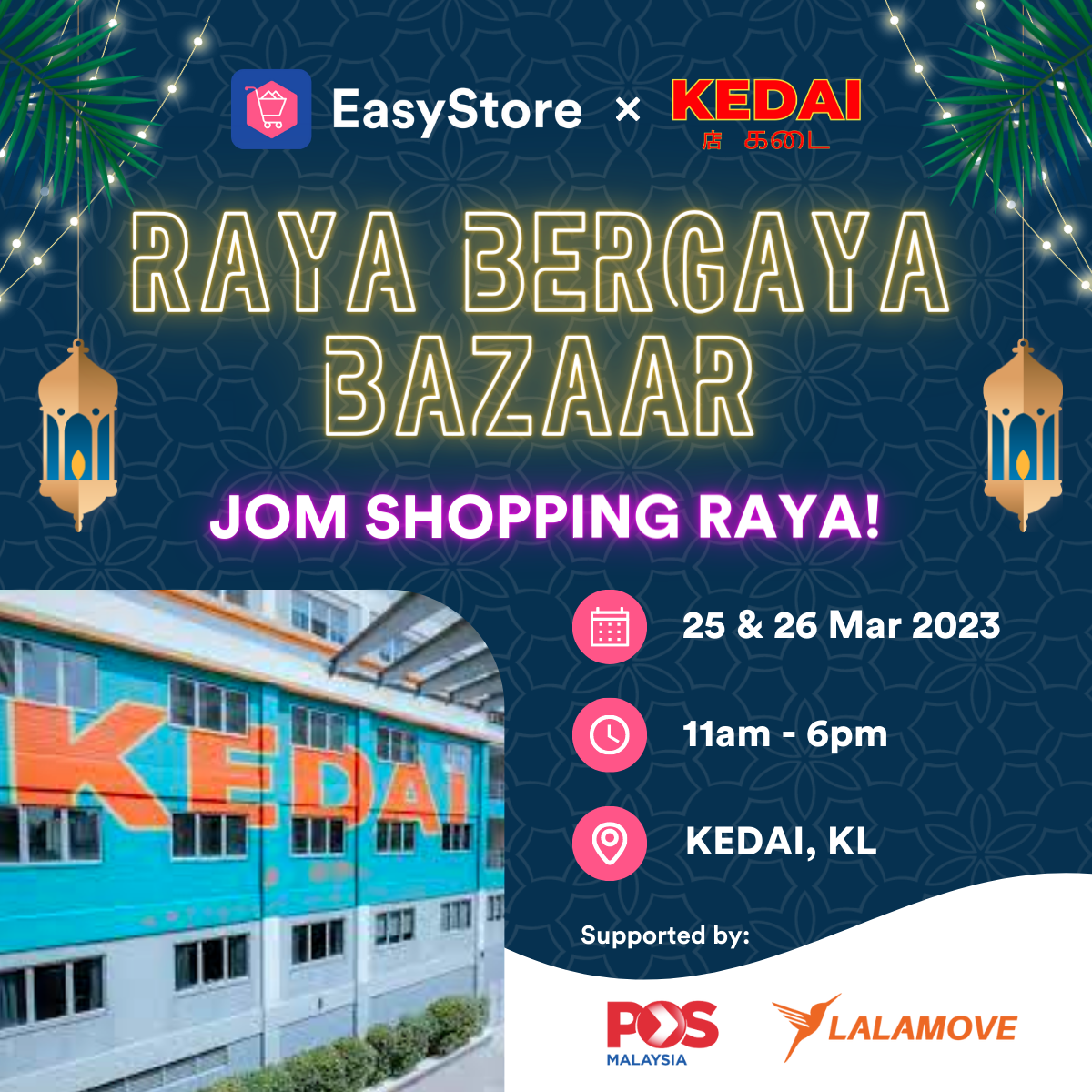 The Raya Bergaya Bazaar 2023 is an exciting bazaar event organized by EasyStore, a unified commerce platform that empowers brands to manage their online and retail businesses. The event is set to take place on the 25th and 26th of March at KEDAI, KL. EasyStore has partnered with two major players in the commerce industry, POS Malaysia, EasyParcel and Lalamove, to bring this event to life.
The bazaar will feature a variety of your popular local vendors with all the barang-barang you'll need for Raya. From favourite brands such as Hana Tajudin, Junandus, Tiqa.co and The Batik Life, you bet you can buy your baju raya here. There will be food vendors selling a range of delicious snacks and meals, as well as stalls selling locally-made crafts and gifts. Whether you're a foodie, a fashionista, or just looking for a fun day out, there's something for everyone at our Raya Bergaya Bazaar. You'll even get a chance to redeem our giveaway bag worth RM 100 with gifts and vouchers from our vendors.
Our Raya Bergaya Bazaar is family-friendly and accessible to all. Take the opportunity to relax by the poolside, check out the local cafes and enjoy the aesthetics and entertainment. There will be plenty of opportunities to take photos at our Instaworthy photo backdrop and create lasting memories with your loved ones. Don't forget to tag us @easystore.co on your pics!
Date: 25 & 26 March 2023
Time: 11AM - 6PM
Location: KEDAI KL, Mahsa Avenue, Petaling Jaya
So, come and join us for a day of fun, food, and entertainment at our upcoming local event. By attending the Raya Bergaya Bazaar, you'll be supporting local businesses and entrepreneurs, helping them thrive in their respective industries. It's a chance to discover new and exciting businesses and to experience local culture and traditions.Don't miss out on this exciting event!
Start selling with EasyStore
Sell and manage your business all in one place