EasyStore Referral Marketing Program is now launched
By Max · 29th May, 2020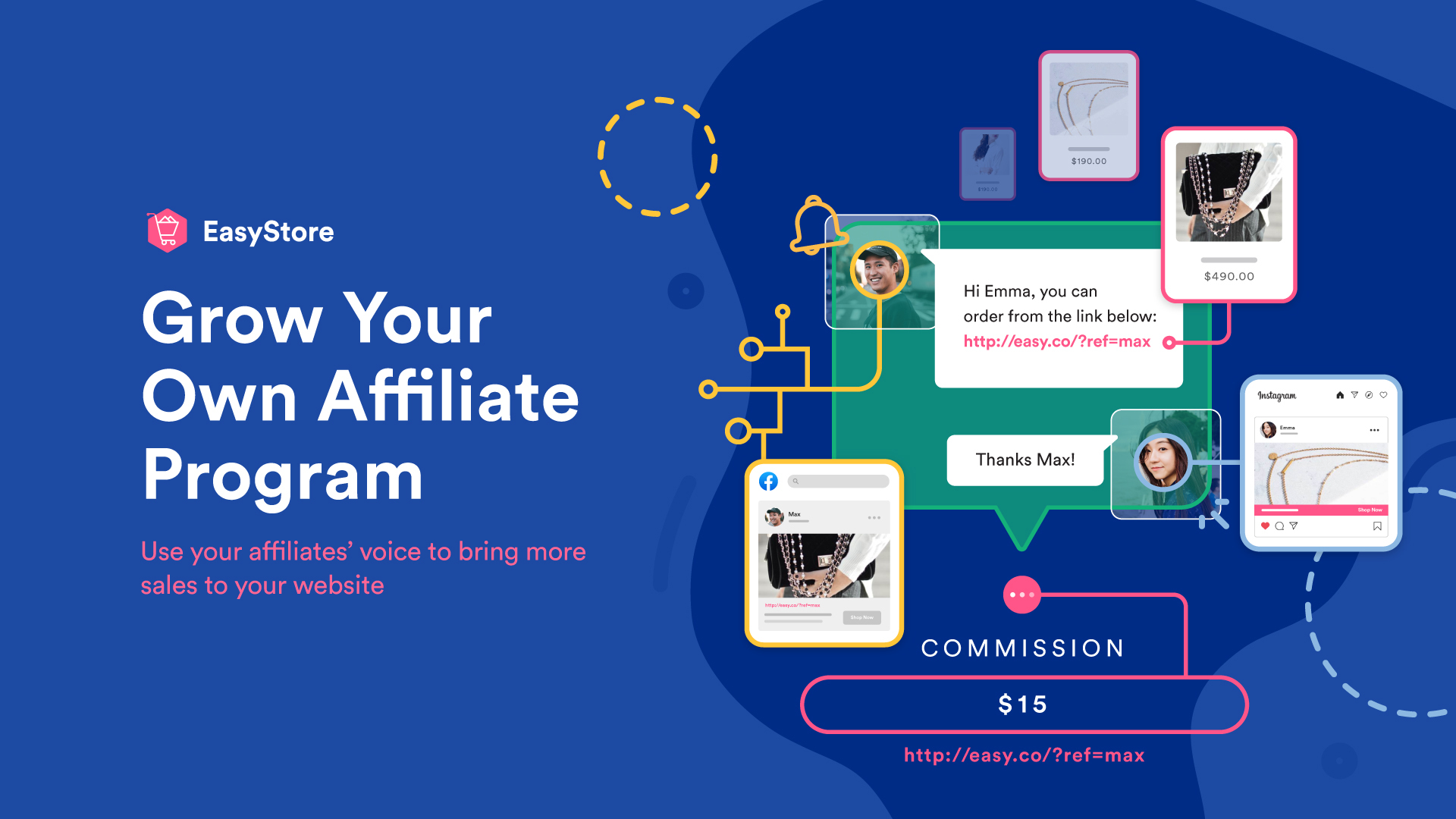 *This feature is available in Business plan only.
The Ecommerce sector is set to see more intense competition nowadays. Simply having a nice design website or selling to multichannels is no longer enough to stand out than competitors. In fact, study has proven that there's a powerful area that we might have neglected in Ecommerce business: Referral marketing.
What is Referral Marketing?
Referral marketing, also called word-of-mouth marketing, is a strategy that promotes a product or service to new customers through recommendations by the referrals (family, friends, social media influencers etc). According to Nielsen, 92% of the consumers will tend to believe referrals from the people they know and people are 4 times more likely to purchase a product or service when referred by a friend.
This marketing strategy is powerful and is continually becoming one of the primary factors behind all the purchasing decisions. Why?
Trust factor. This reason has played a critical role in convincing someone to purchase something. If we do not trust someone, we are not going to listen to them nor purchase anything from them. Studies have shown that the purchasers are likely to trust real people's opinion over the generic ads.

Increased marketing reach. By using your website's existing customers as your advocates, this marketing strategy allows you to increase more outreach, as there is no limitation to your existing customer base spreading to their friends or family members about a good product or a company itself.

Increased in customer retention rate. We often try different approaches to reach more customers, investing in affiliates or advertisements which end up incurring a huge cost. Customers that participate in referral marketing programs are more likely to stay longer with you.
Referral Marketing in EasyStore
EasyStore launched our Referral Marketing Program in April 2020. With this program, you can:
1.Generate a unique referral link in seconds
Only 3 items are needed. Get the necessary information such as referral code, name and email address and the referral link for the online store/order form is ready to be sent to the referrals.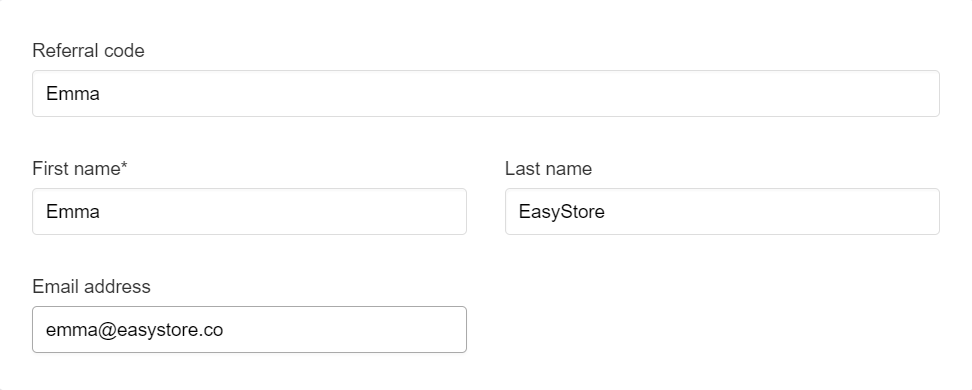 (💡New) Motivate your staff with commissions
You can now assign your staff to be a referral, allowing them to earn commissions by sharing the online store/order form link along with a referral code in order for customers to place an order. Once a customer places an order using the staff's referral code, the staff will get the commission.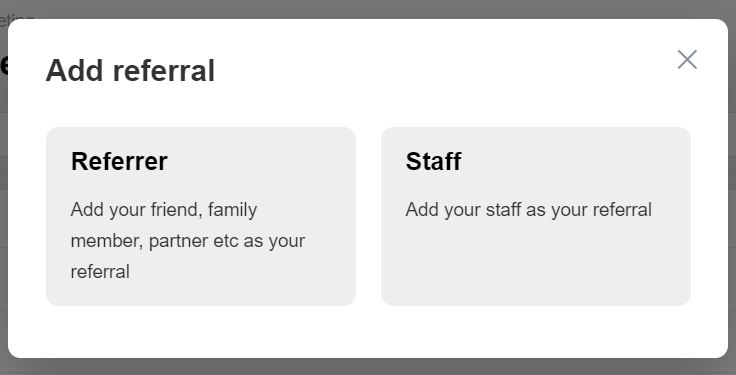 2.Different referral groups, different commission settings
We understand that you might be having different groups of referrals such as agents, influencers, friends, sales people, staff etc. We have this commission settings field for you to assign different commissions to these referrals in percentage or any fixed amount when comes to rewarding your referrals.
However, you might feel that having fixed amount reward might not make sense if the sale is lower than the fixed commission. Hence, you can set a minimum purchase amount, which the commission will be effective only when the order has exceeded the minimum spending. Lastly, the commission of your referrals is now listed on the referral page, great for performance evaluation.

(💡New) Support commission pending period
You are now able to set commission pending period to let you (owner) a few days to ensure that you have taken your refund policy into consideration. If you are offering moneyback guarantee within 14 days, make sure the commission pending period is set to 14 day(s) to avoid paying commission on refunded orders. The commission pending period allows you to waive the commission to a particular referral if the order has been refunded (in a given period).
* If the commission can be confirmed instantly, you are able to fill in '0' days for the commission pending period.

3.Automated commission calculation
We save your time by calculating the commission automatically for you if there's any customer successfully placed an order via the referral link. You can view the sales from referral at your order page and the referral setting page itself.
Auto remove commission once an order is being refunded
Understand that it could be frustrating when the commission expenses and sales generated are not tally, if you didn't take the refund into consideration. But now, the referral commission will be crossed out when the particular order is being refunded. Hence, no commission is to be paid to your referral when the orders are being refunded.

(💡New) Track unpaid commission and payout record
Eliminate the issue of delaying the commission distribution to your referrals, thus, you can view the total confirmed commission, total payout amount and also the remaining referral commission that is pending to be paid at a glance. Moreover, the payouts log allows you to keep track of the previous disbursement and can be added, edited, or deleted immediately from the dashboard.

4.Evaluate your referral performance
You can export the order report from the Admin Panel to analyze the performance of your referral. Filter by referral name to check how much commission the referral has earned and pay your referral the commission on time. Moreover, you can now compare and measure the performance of each referral at a glance based on the sales results (New).
(💡New) Reports
5.Generate automated sales commission email
Notify your referral on every success in bringing you sales. An automated sales commission email will be sent to your referral when our system detects that an order is made through the referral link. Thus, your referral will be informed when a customer has successfully completed an order, as well as the commission amount they get.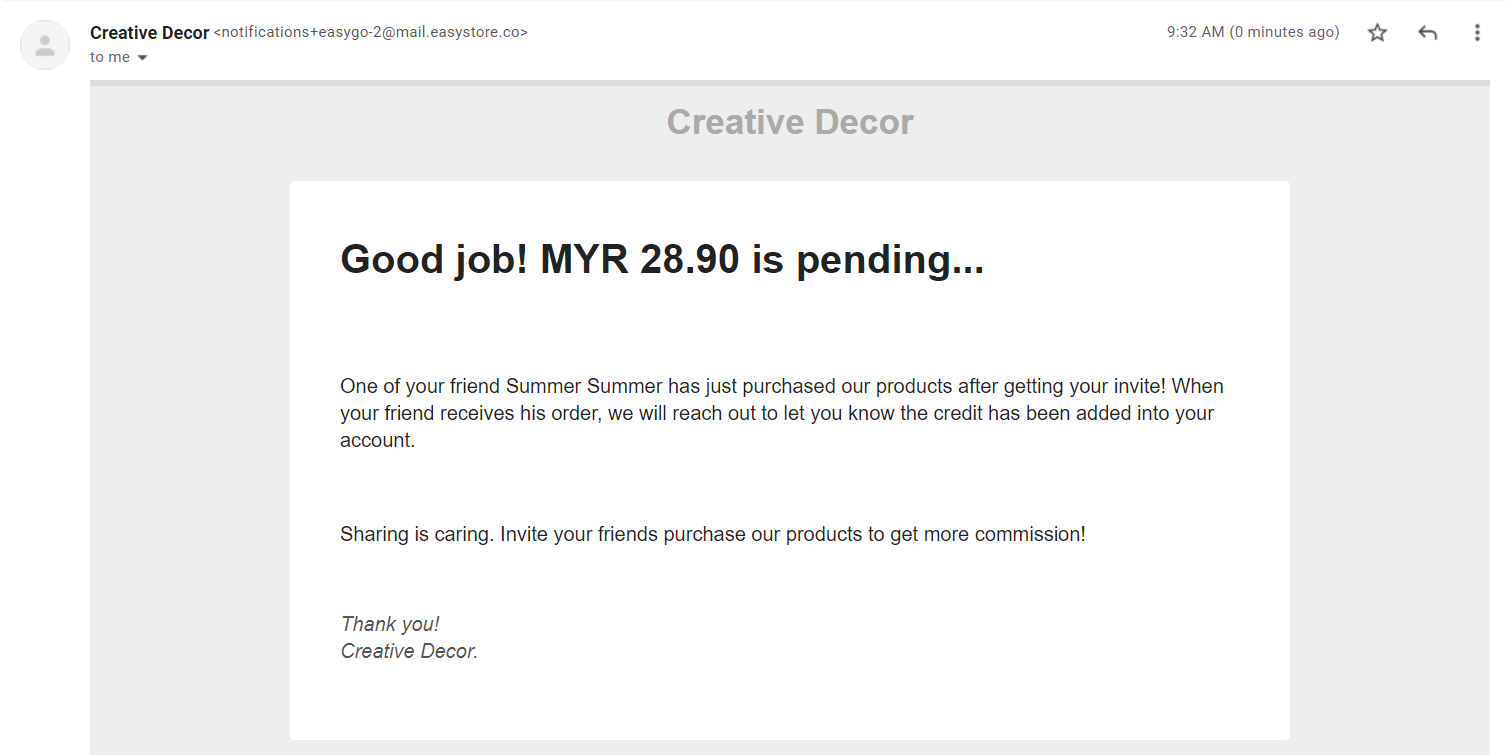 In a sum
Allow your referrals (friends, family members, influences etc) to recommend your products/services around. Grab free traffic from your referrals and introduce them to your well-prepared website.
Learn how to setup referral marketing in EasyStore now or get started now with a free account!
Start selling with EasyStore
Sell and manage your business all in one place