Accept Credit Cards from Customers with Hong Leong Bank
By Yavini Lucille · 14th January, 2021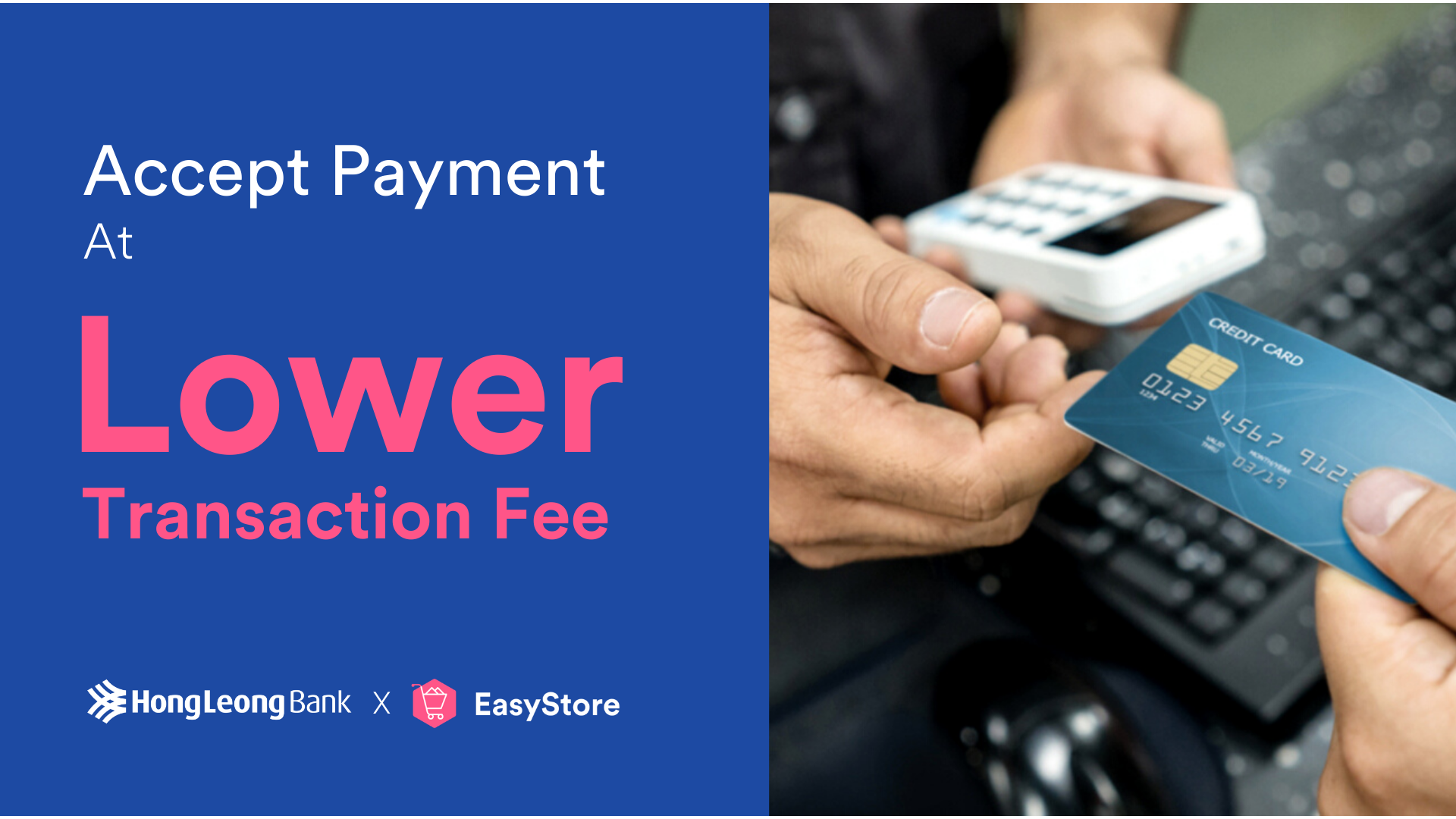 Feel burden with the rising payment processing fees on every purchase from your online store? Look no further. By sharing the same vision, Hong Leong Bank and EasyStore jointly further assist all local small and medium enterprises (SMEs) to have as low as 1%* transaction fee per transaction to help you reduce profit margins.
Online payment has been adapted as a 'new normal' for everyone especially in this historic 2020. As Ecommerce industry is expanding, definitely you need a trustworthy bank to accept and manage the payment for your online business.
Hong Leong is the most trusted retail bank among Malaysian consumers where Hong Leong Bank recorded more than 10% increase in total transaction volume during Movement Control Order (MCO). The figure also indicated increased acceptance of cashless payment in the country in 2020.
If you do not have a Hong Leong Bank current account, please fill the form to get the exclusive transaction fee.
What is the Exclusive Offer From Hong Leong Bank X EasyStore?
- Setup fee is being waived
As long as you're using the EasyStore plan, you're entitled to set up the Hong Leong Bank payment integration with NO cost charged. It's applied to all sizes of businesses, regardless of growing business or startup.
- Competitive promotional rates on every transaction
In order to process credit card and debit card on your site, you will need to work or integrate with Hong Leong Bank and there is a set of the fee that needs to be paid on every card transaction. Check out the transaction fee with the information provided below.
| | |
| --- | --- |
| | Transaction Fee Rate |
| Visa/Mastercard Credit Card | 1.6% |
| Visa/Mastercard Debit Card | 1.0% |
| Overseas Premium | 2.0% |
Settle your earnings to HLB Current Account to enjoy monthly access fee waiver
- Visa and Mastercard Payment Services are Provided
Hong Leong Bank aids convenience for your businesses to accept cross-border payment with a credit card and debit card. Don't hesitate to grab these powerful payment services to expose your businesses to a larger customer base.
Explore Now
Starting an online business looks like a piece of cake, but it doesn't like what it looks like. However, we're here to help and simplify all complexity while catering to your target customers' needs. Sign up today to enjoy the benefits of our Hong Leong Bank X EasyStore partnership.
If you do not have a Hong Leong Bank current account, please fill the form to get the exclusive transaction fee.
Start selling with EasyStore
Sell and manage your business all in one place
Connect with our team
Let's begin your unified commerce journey. Complete the form to chat, book a meeting, or connect with our team.