7 Common SEO Marketing Mistakes Malaysian E-commerce Business Owners Make and What to Do About Them
By Lu Wee from Entrepreneur Campfire · 22nd April, 2019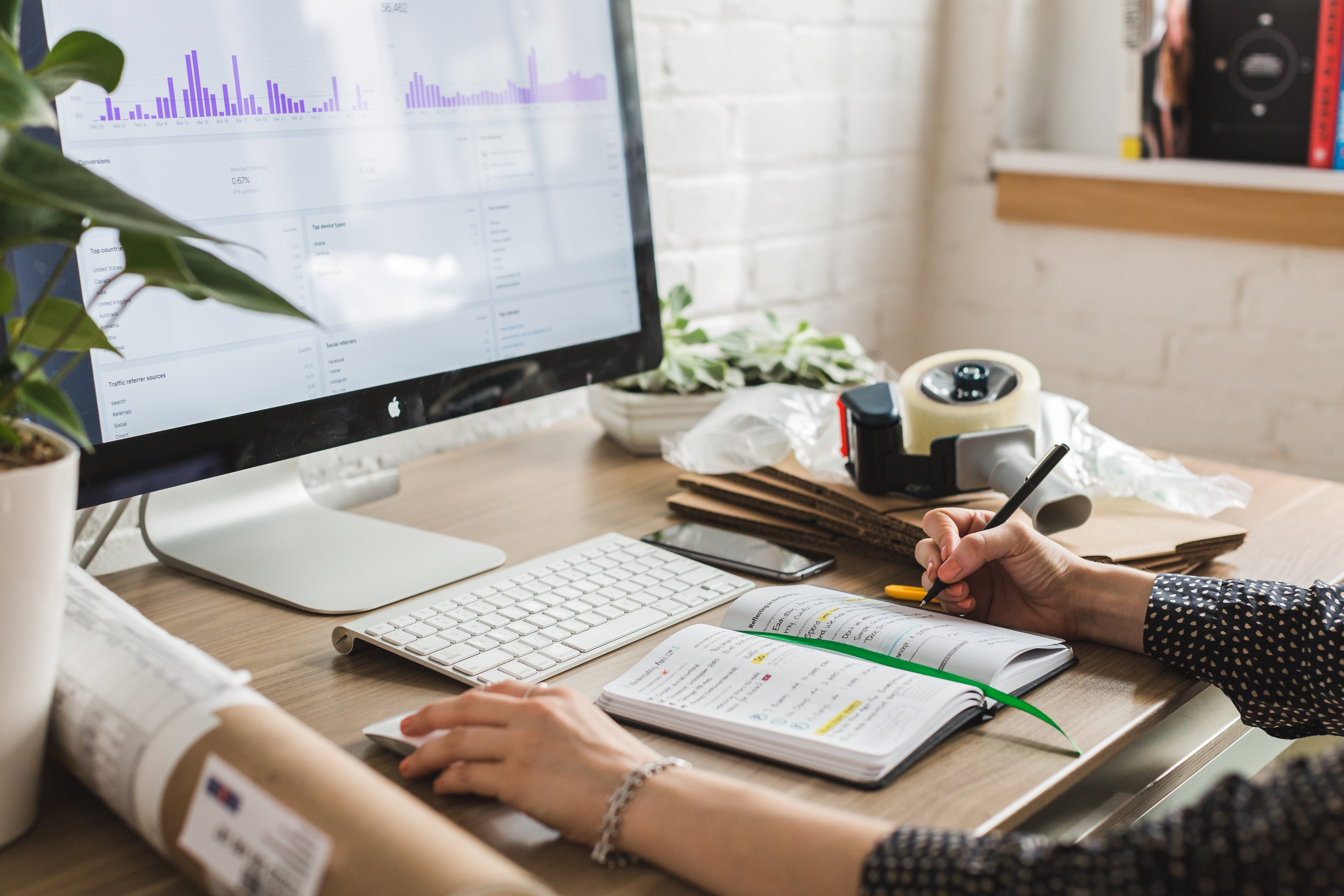 Paid advertising channels such as Facebook advertising and Google Adwords are one of the most popular marketing channels for e-commerce websites in Malaysia.
As such, prices for these channels can go up quickly.
If you are an e-commerce website owner wanting to get more traffic to your website without spending too much money, seeing the costs of advertising go up from one month to the next can be a frustrating situation.
You might have even started asking yourself: what else can I do?
Luckily for you, there is more to marketing online than just paid channels like Facebook Ads or Google AdWords.
One of the most effective ones is what's known as Search Engine Optimisation or SEO for short.
If you've not heard of it before, it's basically a method for making your website get more exposure on search engines like Google, Yahoo or Bing and bring in more traffic to your website.
Traffic from search engines are what's known as 'organic' traffic. This basically means that you don't pay directly for the traffic as in the case of Google AdWords or Facebook Ads.
Instead, when done properly, traffic from search will continue to arrive on your website automatically for months, or even years to come.
If you've never done any kind of SEO on your e-commerce website before, you are missing out on a large amount of organic traffic and revenues. In fact, a lot of marketers and business owners around the world have reported SEO to be give them the highest Return on Investment (ROI) compared to channels like social media ads.
Relying on paid ads isn't only expensive, it can be risky too. The moment you stop paying for ads, your business will stop getting traffic and you will stop making money.
All this is just to say, search traffic isn't something you can ignore if you are serious about creating a long-term, sustainable business.
If you've thought about growing search traffic to your ecommerce website but don't know how to get started, or if you've tried SEO but weren't able to get the results you want, there might be some mistakes you are making right now that's stopping you from reaping the full benefits from SEO.
In this article, we will explore 7 of the most common SEO mistakes ecommerce website owners unknowingly make and how to correct them so you can start seeing growth in your site's traffic.
Let's get to them!
Mistake #1: Not doing keyword research
Keyword research is one of the most common ways to get started building an SEO strategy for any website.
If you have never done keyword research before, it just means using research tools to discover how popular a keyword or keyword phrase is on search engines.
By doing keyword research, you will be able to decide if products you are selling, or intending to sell are being searched on search engines like Google, and if so, how often.
This information will allow you to make decisions on which products to focus most of your effort on to get the best out of search engine optimisation.
If you're new to keyword research, you can use free keyword research tools like Ubersuggest to do your keyword research.
With Ubersuggest, you can key in your product keywords, select the language and location for your search, and discover how popular it is based on the search volume.
For example, if I'm selling water bottles in Malaysia, I might key in the term 'water bottle' and select 'English/Malaysia' and hit 'Search':

Ubersuggest tells me there are 1,900 searches a month on average for the term 'water bottle'. This means people are searching for this product online.
Similarly, if I'm selling glow lights, I might key in 'glow lights' and observe the search volume for the product:

Based on Ubersuggest's data, glow light is not a popular search term as the search volume shown is zero.
You can keep doing this for any number of products. Once you've discovered popular keywords or keyword phrases related to the products you are selling, you can use them to optimize your product and blog pages (as we will see later).
If you are not doing any kind of keyword research yet, I highly encourage you to give it a try. With Ubersuggest, it's free!
Mistake #2: Not optimising your product titles
Even if you have found a popular product using keyword research, your job is not done yet. You need to make sure you can help your potential buyers find your product on Google.
How you do this is using what's known as on-page SEO. On-page SEO is simply optimising your website's pages to make sure Google can understand what your website is about and showing Google that you are worth more exposure on the platform.
While there are many aspects of on-page SEO you can optimise on, one of the most important ones is your Product Title.
A good product without a good product title can make it difficult for people to find it.
If you are selling water bottles, for example, you don't to just use the phrase 'Water Bottle' in your product title.
Instead, you can include the keywords you've found in your keyword research as well as provide details on the brand, size, material and variations available in your product title.
Once you've done this, your product title will more likely resemble the following for the same water bottle:
"Tupperware Plastic Kid's Bottle 500mL (Blue/Green/Yellow/Black)"
Mistake #3: Not optimising your product description
Other than the product title, you will also want to write better product descriptions. Many e-commerce website owners in Malaysia use short product descriptions which do not fully describe the product and does not include enough of the relevant keywords inside.
While your product descriptions don't always have to be 1,000-words long, I would recommend going for at least 300 words, making sure to include all relevant keywords.
That doesn't mean you should stuff your description with keywords though. You should try your best to make your descriptions sound natural.
Remember: keeping a balance between having the right keywords in your description and making sure the human reading it understands what you're saying is key.
Mistake #4: Not optimising your meta title and description
Once you have optimised your product title and description, the next most important thing to do is to optimise your meta title and description.
This is a slightly more technical area so it might be the first time you have heard of these two terms. But I promise you, it isn't as complicated as it sounds.
Your meta title and description is what determines the text that shows up in search results when people Google your product keywords.
For example, if I google 'water bottle', this article from nymag.com shows up in the first page:

The text in blue is your meta title, the green text is your URL and the black text is your meta description.
Optimising these simply means changing the text that shows up in Google's search results.
The reason why you want to do this is to give the searcher more information about the product as well as your company.
If you do not optimise the meta title and description of your products, Google will generate one itself based on your product title and description. While this is fine, I would recommend taking control of the message that shows up by changing them in your back end.
In EasyStore, you can do this easily by editing the product page SEO at the most bottom of the product edit page: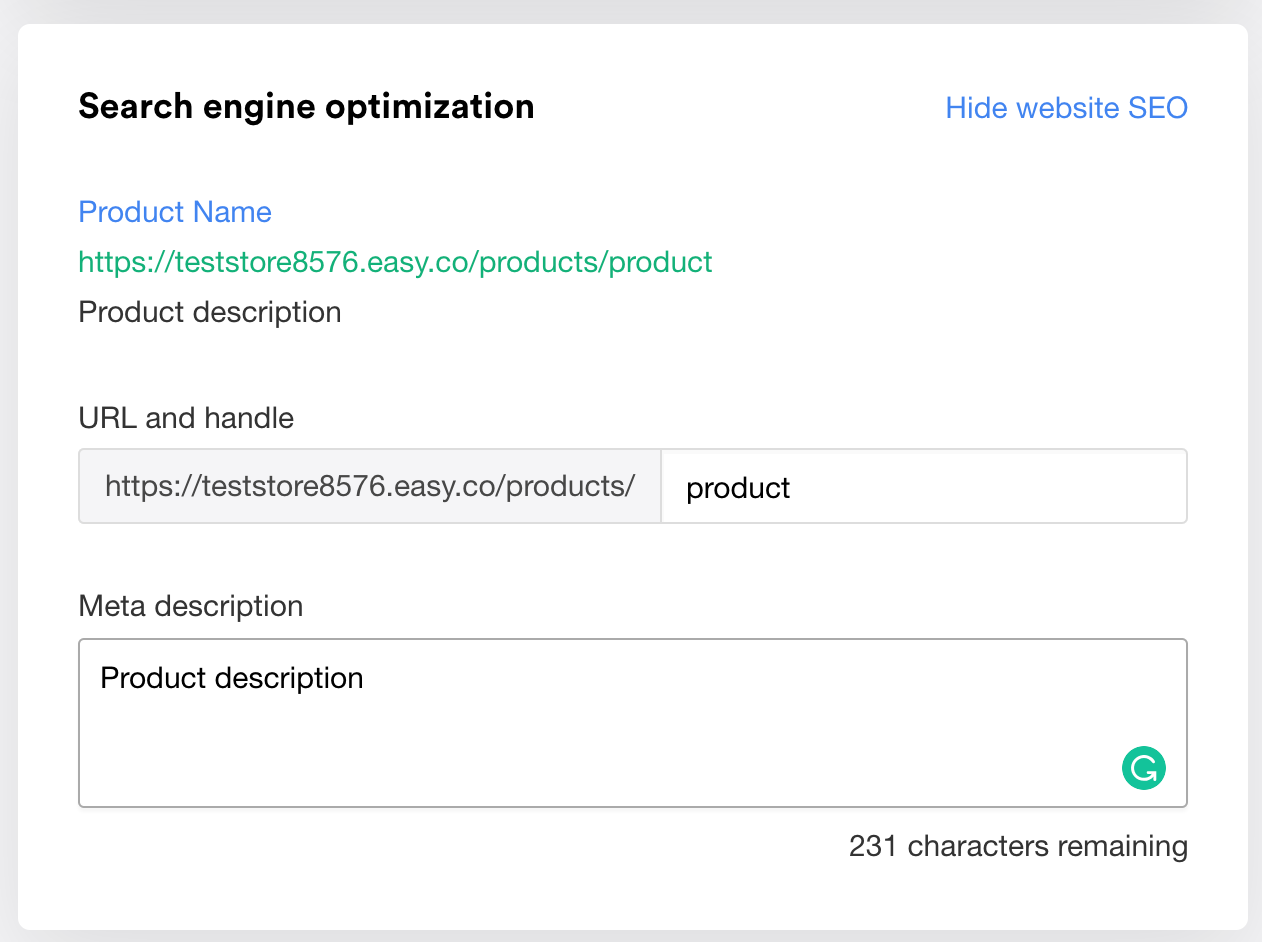 For EasyStore, you won't be able to directly edit your meta title so you must make sure that your Product Title is already an SEO one so that it will also appear as such.
For your meta title and description, be sure to:
Write attractive title and description

Include relevant keywords

Include your store name in the product title
Again, be sure to keep your writing natural and don't stuff it with keywords or sound robotic.
Mistake #5: Not having an active blog
While having a blog may not feel relevant for an e-commerce website, in reality, a blog can be one of the most important assets for an e-commerce website.
Not only is a blog one of the best ways for you to communicate with your customers, it's also good for your site's SEO. Having an active blog means you are continuously adding new keywords to your website.
With the right content marketing strategy in place, you will be able to help push your product page rankings up Google's rankings.
In EasyStore, you can publish articles on the website through the articles section of your store: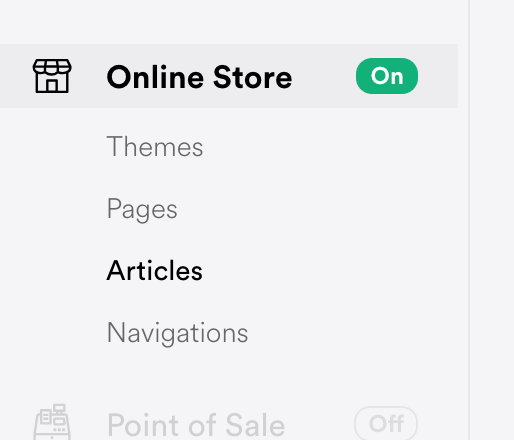 Simply click on 'Add article' to add a new article to your website: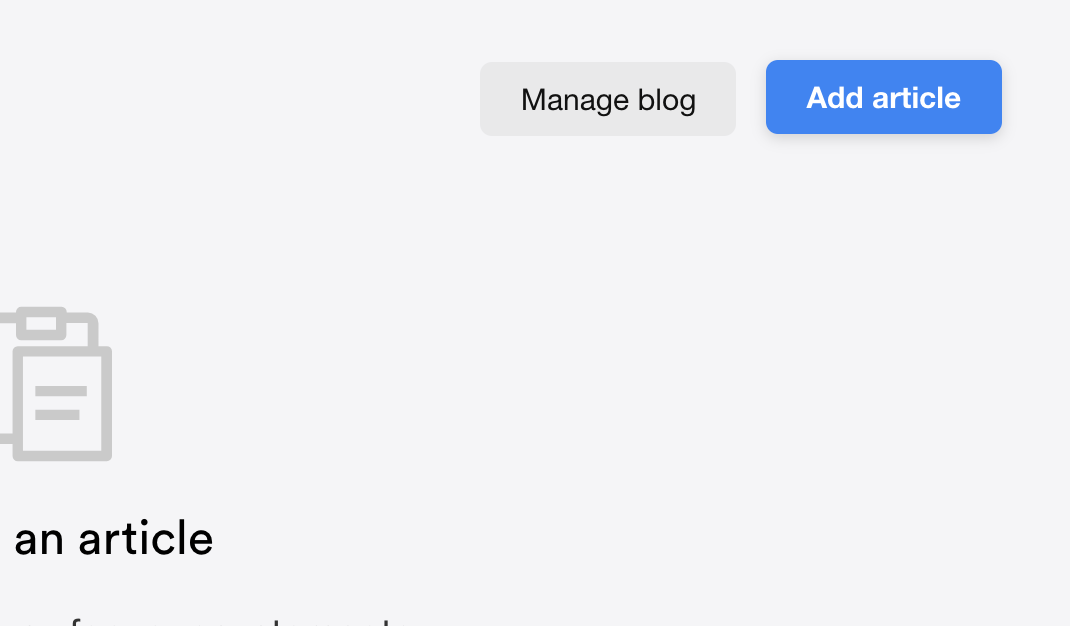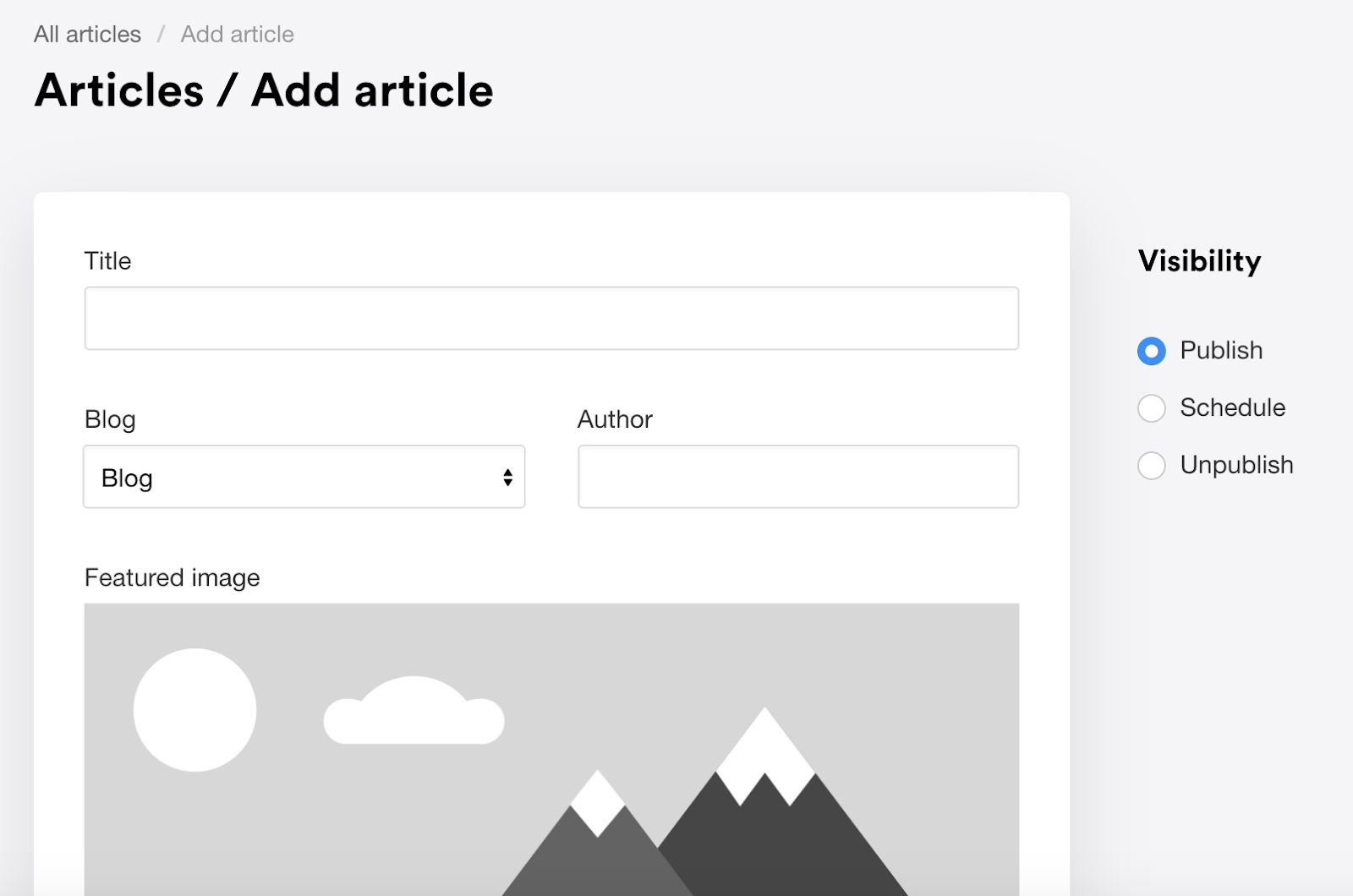 For your blog articles, be sure to optimise the meta title and meta description using the SEO box at the bottom of the article editor: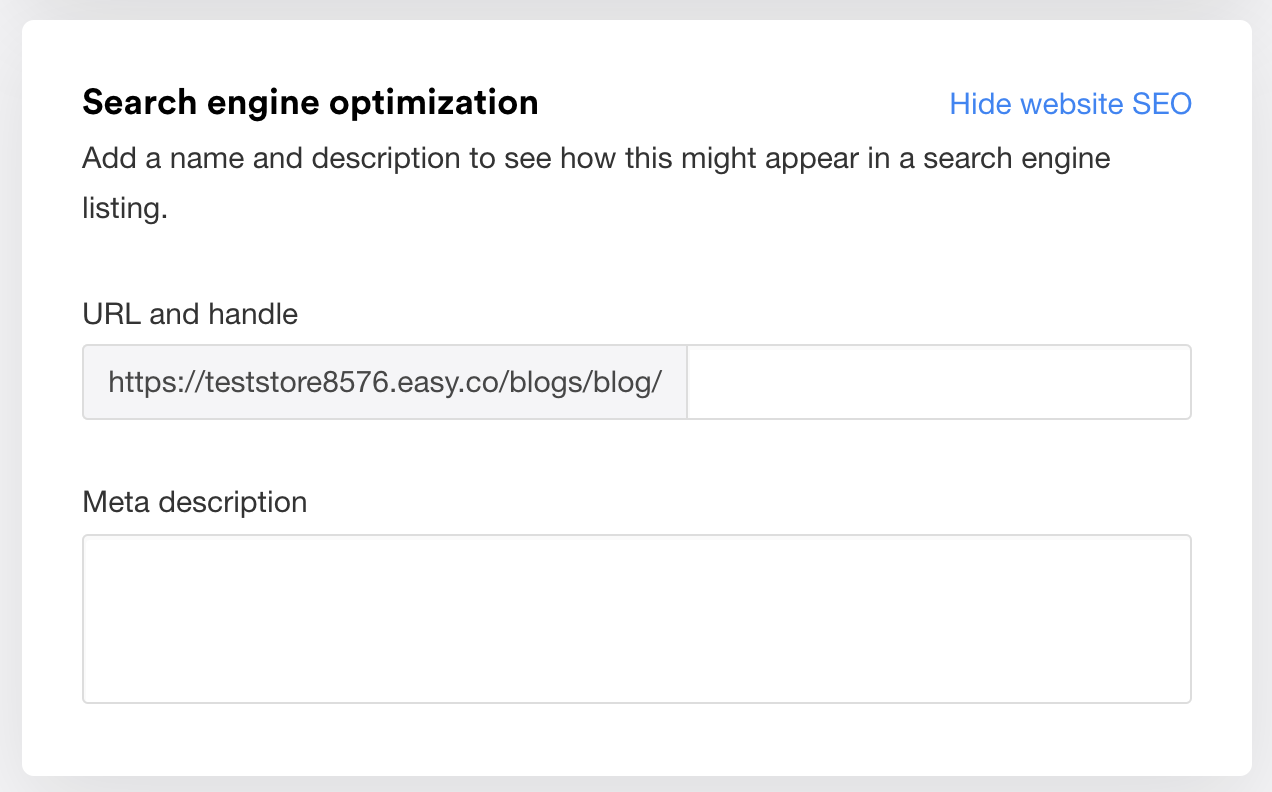 Be sure to have a content plan in place and publish new articles frequently. This will keep your website looking fresh in Google's eyes and help in your long-term rankings.
Mistake #6: Not having enough products
If your e-commerce website is selling generic products, it's highly unlikely for you to get a lot of traffic through search if you don't have enough products listed on your website.
This is especially true if your e-commerce brand name isn't strong enough to get that much search volume yet.
If you've only listed 5, or 10 generic products, you won't likely be able to enough traffic in from search to make your store profitable in the long-term.
Try going for at least a few hundred products if you intend to sell products that don't have a strong brand name through your store.
Mistake #7: Not building links to the website
A link from another website to your e-commerce website is like a vote of authenticity for your website online. To Google, more links from authentic websites can help elevate your website's credibility.
Building authentic, quality links to your website is something known as off-page SEO.
While it's not the most important SEO ranking factor, it's something you can consider working on once you have already optimised your on-page SEO (i.e. product title, product descriptions, and blog).
Reach out to bloggers or other websites relevant to your niche and offer value to them in exchange for a link back to your site. If you are able to collaborate with other website owners in a win-win scenario, you'll be able to get a lot of links back to your website.
Remember: you need quality links from real websites. A lot of links from spam sites can not only be useless, but may also harm your site.
Conclusion
Making these changes can improve your ecommerce website's search performance by at least 20 - 30% in the short term. If you keep this up, you'll likely be able to continue growing your website 5 - 30% month on month.
Begin with on-page SEO by optimising your product titles, meta titles, meta description and blogs and then slowly move into off-page SEO by building links from relevant websites in your niche.
A long-term strategy combining on-page and off-page SEO can boost your search performance and add a healthy new stream of revenue to your e-commerce store.
Let us know: which SEO tweaks have you done to your site? How effective were they?
Our SEO Service Can Help You Grow Faster
If you want a trusted SEO professional to help you with your ecommerce website's search performance, I can help.
I'm Lu Wee from Entrepreneur Campfire, one of Malaysia's most comprehensive business portal. I've not only grown Entrepreneur Campfire from 100 to almost 40,000 monthly visitors in less than two years, I've helped e-commerce businesses grow their traffic by 100 - 1000% in 12 - 18 months.
If you're interested to know more about how I can help, send me a message here about yourself, your company and your website and I'll do a free SEO review for your website.
With this review, you'll be able to get an overview of the most urgent areas requiring changes and our recommendations on what to do about them.
So, send me a message here to get your free SEO review done. I look forward to talking to you.
P/S: There here is no obligation to buy our service once the review is complete. You are free to choose if you want to hire me or do it yourself :)
{% sign_up_form_2 %}
Start selling with EasyStore
Sell and manage your business all in one place