Exclusive Partner Campaigns For EasyStore Users
By Nadia Amir · 30th March, 2023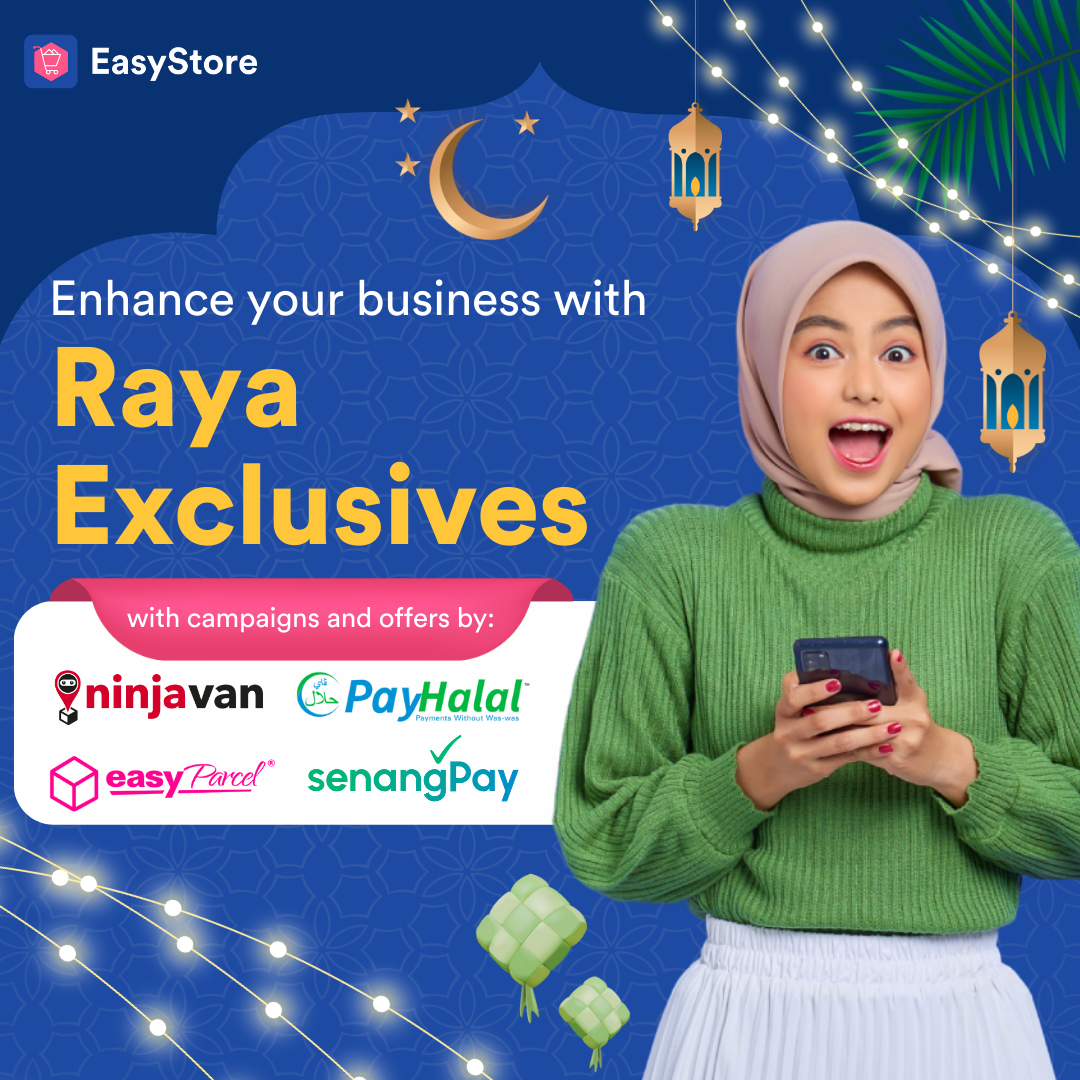 The Raya season is a time of joy and celebration for Muslims around the world, and it's also a great opportunity for businesses to connect with their customers and offer them special promotions and discounts. Joining a Raya campaign can help your business stand out and attract more customers during this festive season.
Check out this awesome offers from our partners that you can use for your business during the Ramadhan and Raya period and connect with your customers!
Raya Bersama NinjaVan - Shop, Snap & Win!
Campaign Period: 15 March - 30 April 2023
NinjaVan is offering amazing prizes to be won by your customers weekly throughout the 'Raya Bersama NinjaVan' campaign period such as Nintendo Switch, 65" TV and shopping vouchers worth RM 100!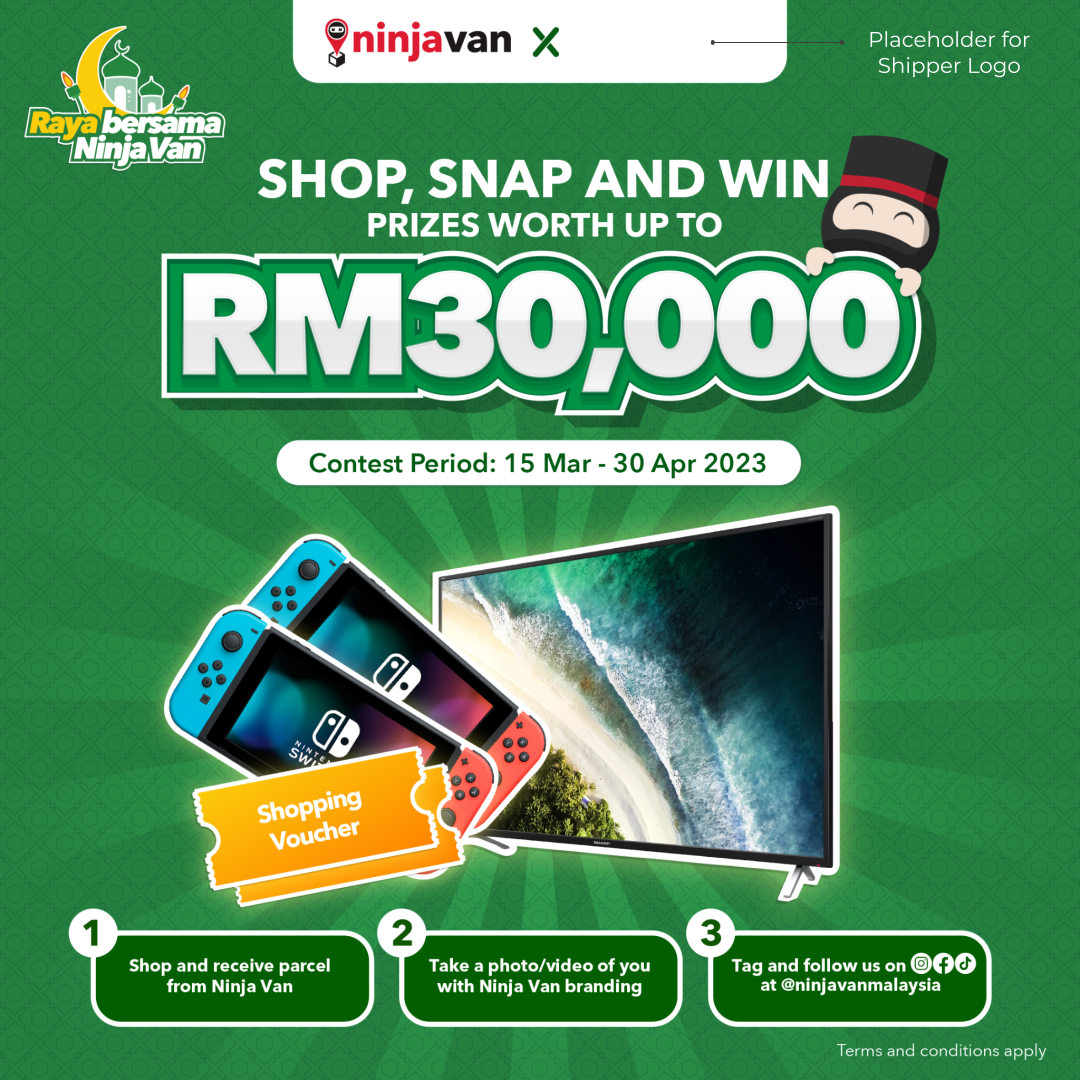 What do you need to do?
For your customers:
Your customers need to post a creative picture or video on Facebook, Instagram or TikTok of their NinjaVan parcel and tag @ninjavanmalaysia.
The most creative post for the week- wins!As a seller:
Share the "Raya Bersama Ninja Van" poster on your social media or website to announce the campaign to your customers.
The posters can be downloaded via these links: Poster (Insta Post), Poster (Insta Story) & Poster (Landscape).
You can even add your own logos in the poster.
What do you get as a seller?
Free marketing and/or brand awareness because your customers will purchase from you during the whole campaign period sebab customer akan beli produk anda di sepanjang tempoh kempen
Increased repeated purchases for higher chances of winning
If your customer is chosen to be a winner, you automatically get the same prize as them!
Campaign Mechanism:
1x winner weekly
1x Grand Prize winner at the end of the campaign (chosen from the weekly winners)
You too get the Grand Prize if your customer is the chosen winner!
Click here for more information on 'Raya Bersama NinjaVan' or contact malvinder.baldeve@ninjavan.co
EasyParcel's Collab, Post & Win!
Campaign period: 15th March - 30th June 2023
EasyParcel is giving away a pool of RM30,000 worth of prizes (from Shop, Track & Win campaign) to your lucky customers who've placed orders with you and the orders are shipped via EasyParcel platform. And to make this even sweeter, you will also win up to RM500 EasyParcel credit whenever your customer is chosen to be the lucky winner! What a way to boost more sales over 3 months long!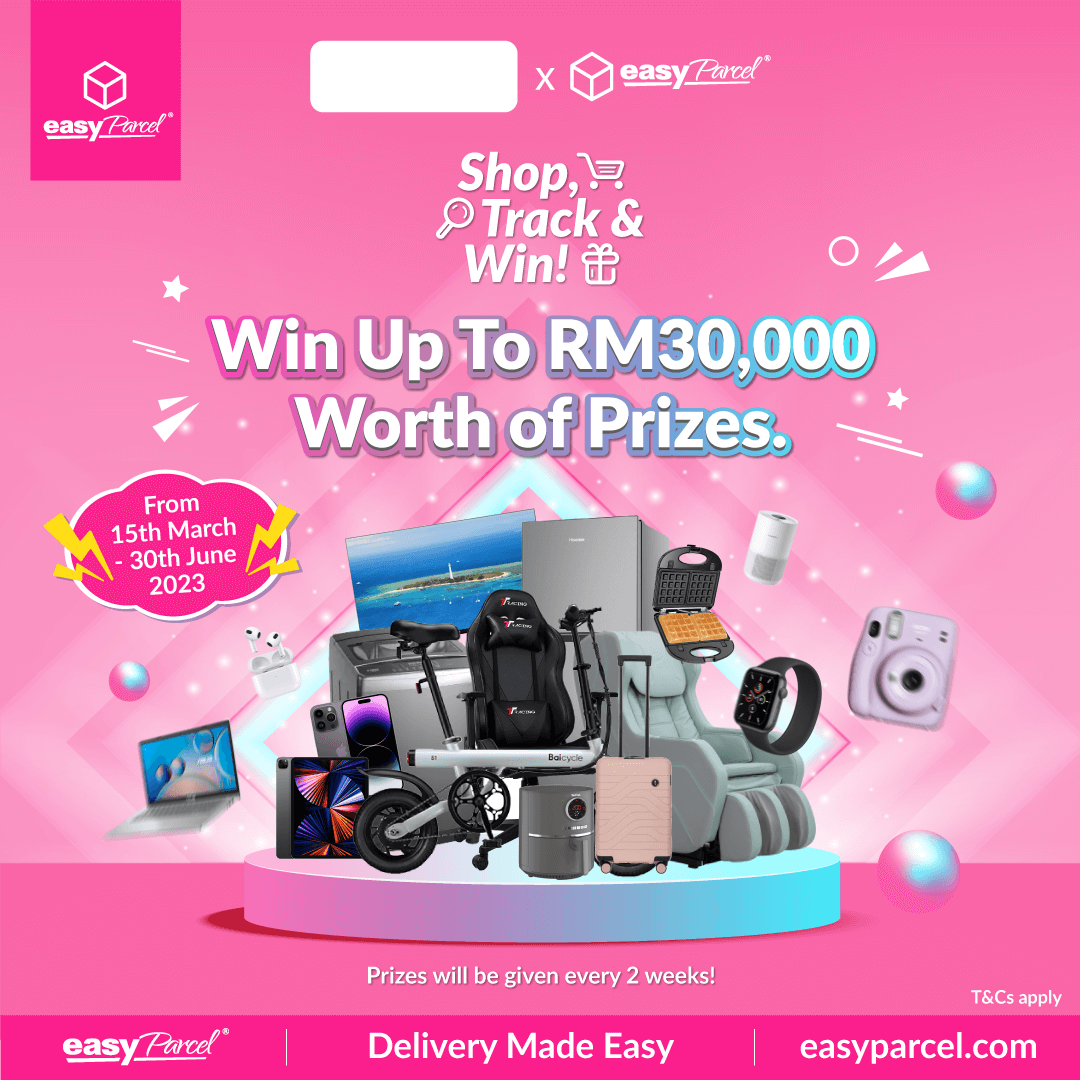 Up to RM 500 EasyParcel Credits To Be Won
Plenty of chances for you to win as there will be a total of 5 winners every two weeks throughout the campaign period.
1x Grand Prize Winner: 500 EasyParcel Credits
1x Winner: 200 EasyParcel Credits
3x Winners: 50 EasyParcel Credits
How to Join & Win
Step 1: Download EasyParcel exclusive banners here and post them to your social media accounts
Step 2: Receive orders from customers and book shipments via EasyParcel platform for your customers to be eligible to win
Step 3: Check out our social media accounts for the winner announcements every two (2) weeks from 15th March - 30th June 2023 to see if your customers are the lucky winners.
Step 4: Receive EasyParcel credit up to RM 500 when your customers win.
Terms & Conditions apply.
For more information, read the full details here on how to participate in EasyParcel's Collab, Post & Win Campaign!
PayHalal's Wah! Zero Entry Package
Campaign period: 29th March - 31 May 2023
PayHalal is providing zero entry fees exclusively only for EasyStore merchant with T+2 settlement, and able to use within 24 hours upon registration.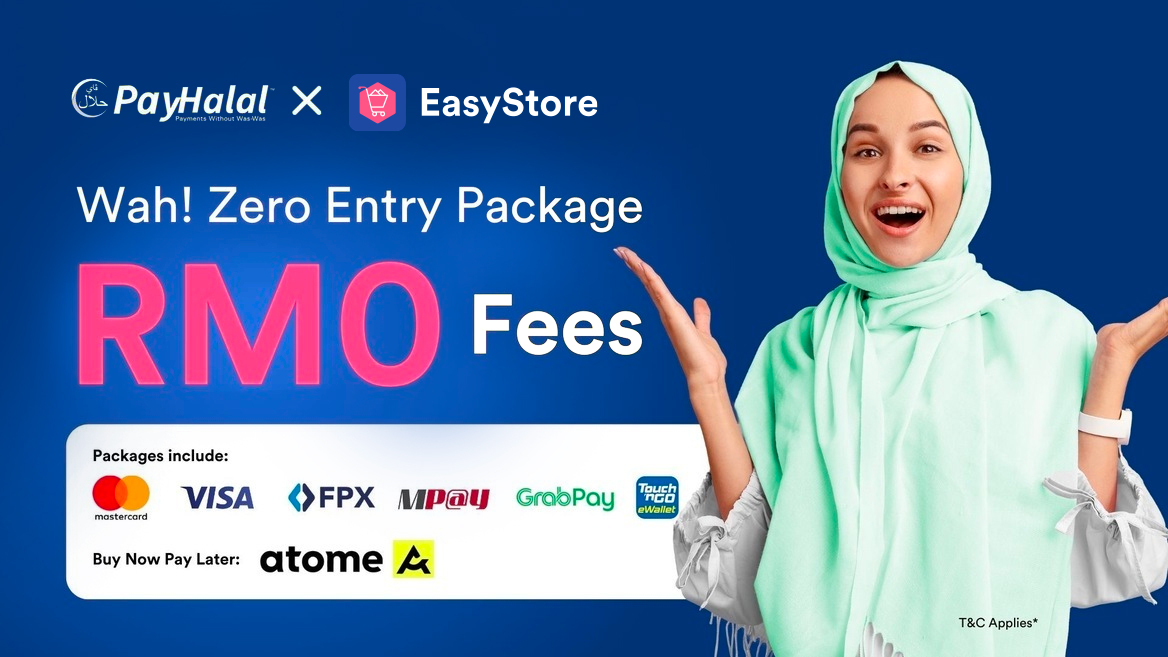 They accept Visa, MasterCard (Debit & Credit), FPX (B2B & B2C), iBNPL (ATOME) and eWallet (TnGo). All this payment transaction reports are able to be access via real time report on PayHalal Merchant dashboard.
PayHalal is a 1st Islamic Payment Gateway in Malaysia that certified by Shariah Advisory , Amanie Advisor Sdn Bhd and we are licensed by Bank Negara Malaysia.
Islamic Buy Now Pay Later of PayHalal is a collaboration with ATOME. Customers only need to download the ATOME application and go through the E-KYC process for only 72 seconds to get instant approval where the credit limit is automatically given with RM1500 debit card and RM5000 for credit card. The process is very simple where the customer only needs to upload a copy of the identity card and a little basic information.
How to get this promo?
Zero entry packages and special promotional rates are catered only for any merchant who are using EasyStore ecommerce platform.
Sign up here to get special Ramadan rates from PayHalal.
Grab 50% off on ALL SenangPay Packages
This Ramadhan especially for EasyStore merchants, senangPay is offering fast approvals of within 3 business days on top of their 50% off subscription on ALL senangPay packages- Starter, Advance or Special Package for the first year!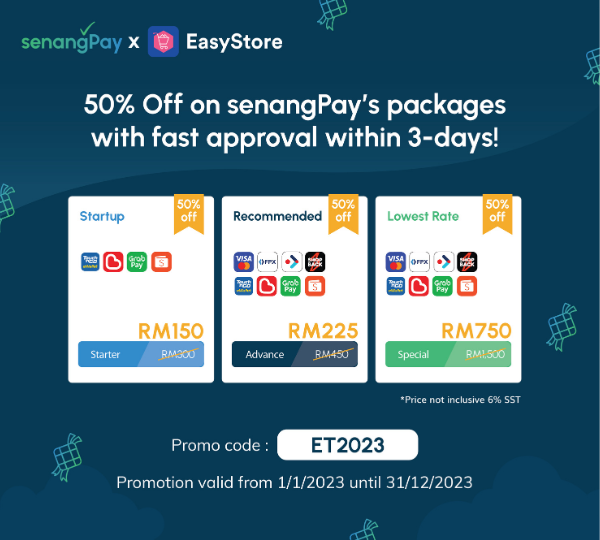 With senangPay, customers can purchase your products and make payment via any local online banking through FPX, debit/credit cards, and even e-wallets such as TNG, GrabPay or Boost.
You don't need to go through the hassle of checking your account to verify the transaction as senangPay will do that for you via special encryption and verification technology.
Business Categories applicable for the 3-day approval campaign:1. Health & Beauty2. Miscellaneous Home Furnishing Specialty Stores3. Clothing4. Education5. Management, Consulting, and Public Relation Services6. Convenient Store and Specialty7. Restaurant8. Bakeries9. Grocery Stores10. Women's Accessory and Specialty Shops
All you need to do is key in the promo code ET2023 when you register here.Note: 3-day approval is only applicable to Advanced & Special Packages. Starter packages are approved immediately without card and FPX payment options.
There you have it! Step up your Ramadhan and Raya sales with these awesome offers from our exclusive partners. And if you're looking to open up a pop-up store or participate actively in bazaars this Ramadhan and Raya, check out our latest retail solutions to track and sync your offline and online sales, orders and inventory seamlessly. Whether your customer is purchasing your product online or in-store, our solution caters to all. Read more on our modern retail solution here.
Connect with our team
Let's begin your unified commerce journey. Complete the form to chat, book a meeting, or connect with our team.