EasyStore Winners at the Malaysia Top E-Commerce Merchant Awards 2023
By Nadia Amir · 29th May, 2023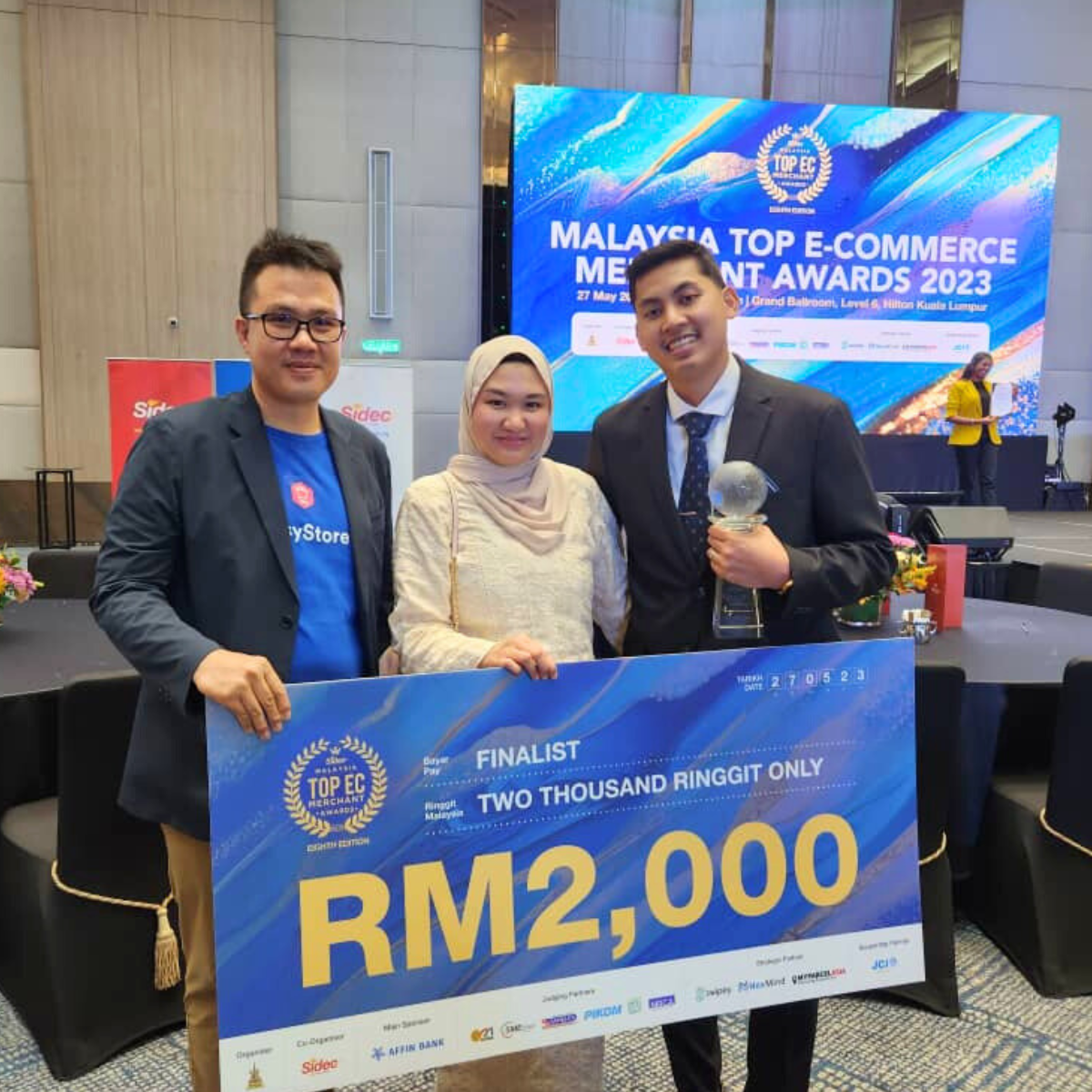 EasyStore had the honor of being invited to the prestigious Malaysia Top E-Commerce Merchant Awards Ceremony, organized by Selangor Information Technology & Digital Economy Corporation (Sidec) at KL Hilton on 27 May 2023. This esteemed award recognizes the most successful, creative, and innovative homegrown e-commerce merchants in Malaysia.EasyStore's merchant participation in this event not only highlights their contribution to the e-commerce growth in Malaysia but also underscores the platform's ability to empower businesses to grow and excel in the competitive digital landscape.
What is Sidec's Malaysia Top E-Commerce Merchant Awards?
The Malaysia Top E-Commerce Merchant Awards by Sidec is a renowned accolade that aims to celebrate exceptional homegrown e-commerce merchants. It serves as a platform to reward businesses that have demonstrated remarkable achievements in terms of sales, creativity, and innovation. By participating in this prestigious award, merchants can gain enhanced recognition and opportunities to elevate their brand's presence among industry players.
The Malaysia Top E-Commerce Merchant Awards encompassed four main categories, which aimed to recognize excellence and highlight remarkable achievements within the e-commerce industry.

Malaysia Top E-Commerce Merchant Awards: This category acknowledged the overall best-performing e-commerce merchants throughout Malaysia based on their sales, innovation, and market presence.

Selangor E-Commerce Merchant Awards: This category honored outstanding achievements of specifically Selangor-based e-commerce merchants.

AFFIN BANK Rising Star Awards: Recognizing promising emerging e-commerce merchants, this award celebrated businesses that showed immense growth potential and innovative strategies.

AFFINGEM Women Trailblazer Awards: This category paid tribute to exceptional women entrepreneurs in the e-commerce space who have made significant contributions to their industry.
To be selected, merchants must have a registered SSM, been in operations since March 2022 focussing on B2C, and have achieved a minimum of RM 25,000 in sales or a minimum of 100 orders accumulatively from any e-commerce platform in any single month between June 2021 and June 2022.The contest is judged on the merchant's sales and orders and livestream views from March 2023 to April 2023, and their business potential as evaluated by the appointed judging panel.
EasyStore's Winning Merchants:
We are proud to have witness some of our amazing and inspiring merchants achieving the prestigious award. Among the big four categories, our merchants claimed three of them:
Finalist Winner of Malaysia E-Commerce Merchant Award - Bayu Somerset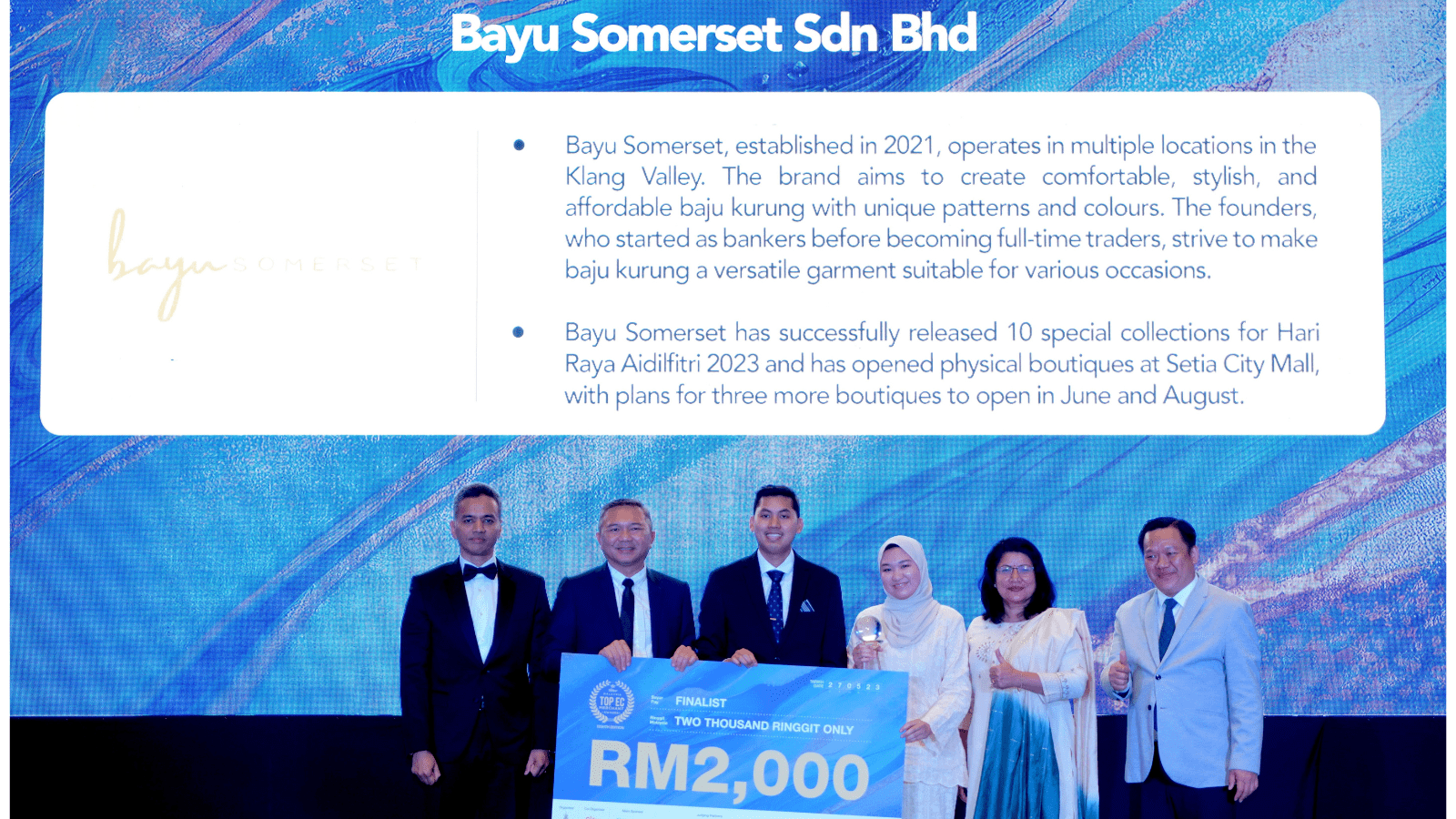 Bayu Somerset is a homegrown leading fashion brand in women traditional wear, aimed to create comfortable, stylish and affordable baju kurung with unique patterns and colours. Established in 2021 during the pandemic, Bayu Somerset saw massive growth in just a couple of years as they conquer the female traditional wear market. Selling on both online channels such as Shopee, Lazada, their own online store and more, Bayu Somerset also boasts 2 retail outlets and three upcoming outlets in June and August 2023. They have been an avid user of EasyStore to manage their business on all their channels and has seen their business revenue grow 25x in just one year.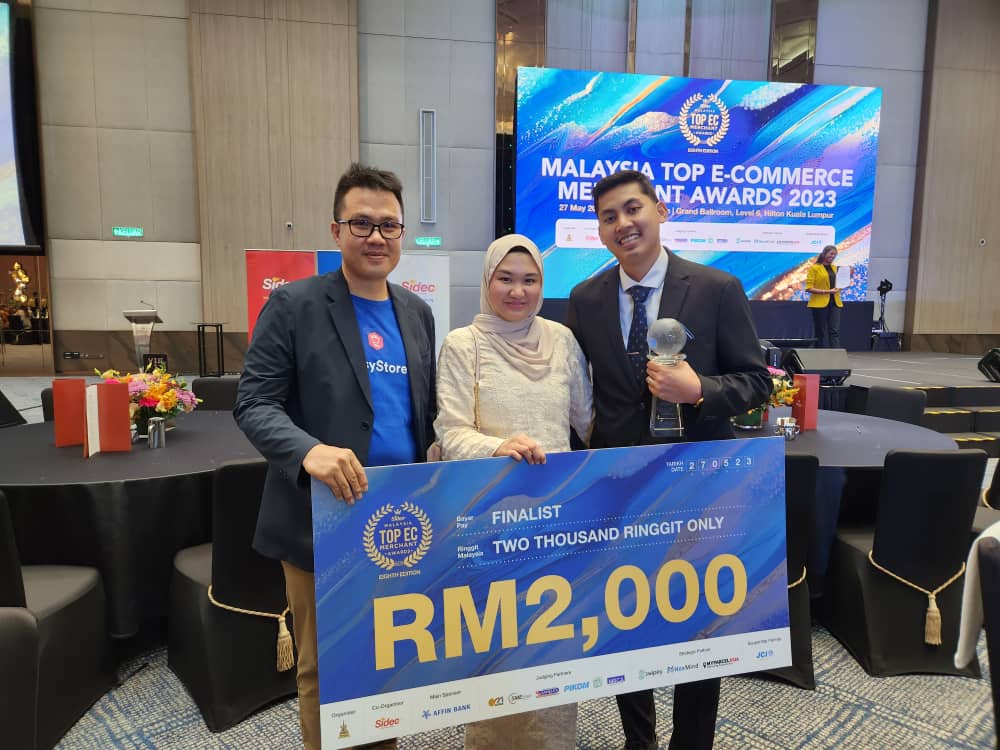 They shared, "We are so grateful to have found EasyStore. The multiple sales channels features really helped us grow our business the past few years. We always recommend to all our peers and friends who are planning to open up a business or are facing operational issues to just use EasyStore. It solves a lot of our headache! Without EasyStore, we would not have been able to achieve the growth as we did."
Finalist Winner of Selangor E-Commerce Merchant Award
Sultera has been using EasyStore since 2017, expanding their channels from selling only via online store to social media, marketplaces and getting orders via messaging apps such as WhatsApp, Telegram and Messenger. From selling their own branded line of premium, high quality pillows, they've expanded their product range into bed sheets, pillowcases, mattress protectors and even kitchenware products. The combination of selling on multiple sales channels, producing new range of products, being brand-focussed, optimizing and streamlining business processes, hardwork and dedication proved to be the catalyst for Sultera's business growth year-on-year.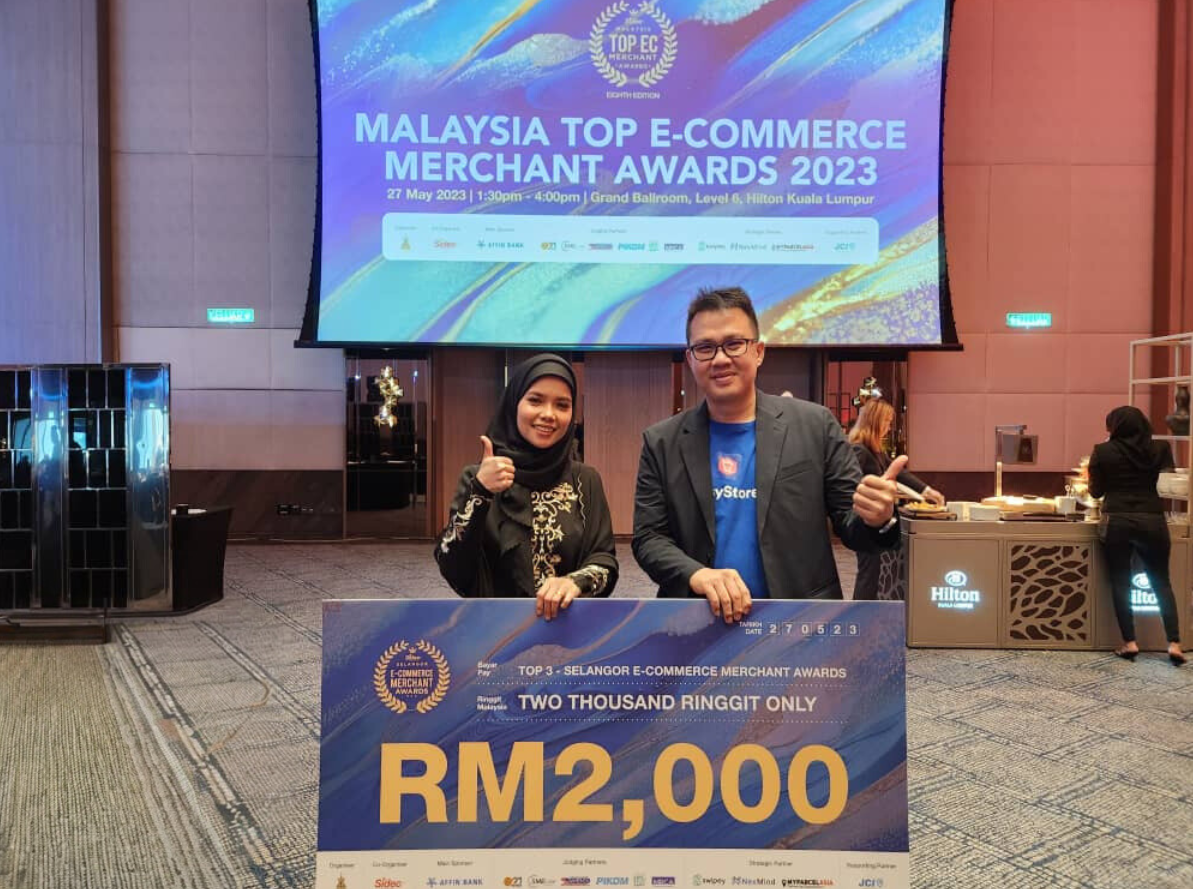 Sultera's founder said, "We love using EasyStore's platform! We did try exploring and using other platforms, but we keep coming back to EasyStore because it is just that easy to use with the right features that we need. The fact that we can easily manage our different sales, orders and inventory from different channels directly just from one dashboard has really helped our business management."
Winner of AFFIN Bank Rising Star Award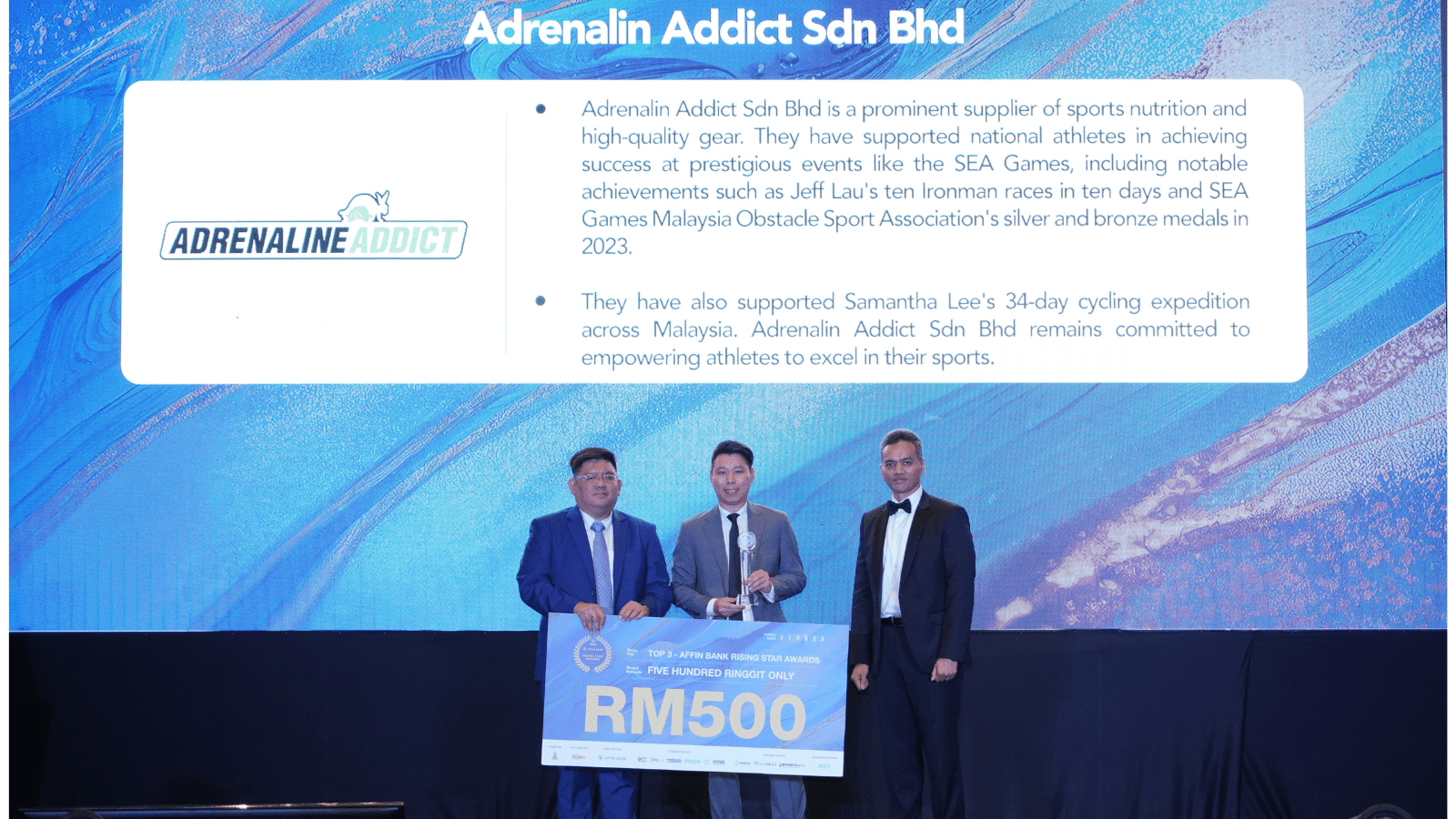 Adrenaline Addict Asia, a young and successful business selling sports goods and high-quality gear was the recipient of AFFIN Bank's Rising Star Award. Already selling via their own branded online store, you can also find their products on marketplaces such as Shopee, Lazada and PrestoMall. Adrenaline Addict is committed to provide high-quality sports products to their customers by creating a seamless shopping experience on all sales channels with great customer service. Customers can reach out to them via WhatsApp, chat via their online store and other messaging apps.
The tools that helped our winners accelerate their business growth:
EasyStore's unified commerce platform has been instrumental in helping the winners of the Malaysia Top E-Commerce Merchant Awards achieve remarkable success and secure their well-deserved accolades. By leveraging EasyStore's unified commerce platform, these businesses were able to expand their reach and maximize their sales potential across various channels.EasyStore enables merchants to:
Seamlessly integrate and manage multiple sales online or retail channels, including their own website, social media platforms, popular marketplaces, messaging apps and their retail outlets.
The broadened presence of being on multiple online and offline sales channels allowed the winners to tap into diverse customer bases and capture new opportunities for growth.
Streamline their operations, efficiently handle orders, and provide exceptional customer experiences through our intuitive interface and powerful features.
Reach a wider audience, drive higher sales, and ultimately stand out among their peers in the competitive e-commerce landscape.
We are proud of all our merchants that won, and even more so that EasyStore's unified commerce platform has played a crucial role in enabling our merchants to thrive, expand, and ultimately claim recognition at prestigious awards both at the state and national level.
If you want to learn more on how our solutions can help your business expand, grow and thrive like our winners, schedule an appointment with any of our experts today.
Connect with our team
Let's begin your unified commerce journey. Complete the form to chat, book a meeting, or connect with our team.