Things To Consider Before Choosing an Online Payment Gateway
By OzoPay · 19th January, 2023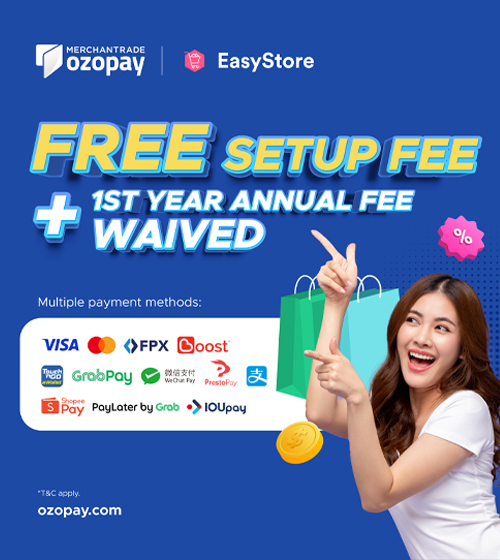 If you're running an online business and are looking for payment methods that accept debit or credit cards, you will be familiar with the term payment gateway.
What exactly is a payment gateway? An online payment gateway is simply a network through which your customers can transfer funds to you. It helps verify your customers' payment details, secure the funds from them, and transfer them to your bank account.
Using an online payment gateway can benefit e-Commerce in many ways. For one, a payment gateway allows your customer to make purchases at any hour of the day, improving your customers' shopping experience, particularly for impulse shoppers. It also offers better security for both your business and customers' money. Using a payment gateway severely reduces the risk of credit card scams on both ends, which is essential in the long run to build trust between you and your customers.
Do a simple search online and you'll see tons of online payment gateways out there. Which one is the best of them all? More importantly, which one is affordable and offers the newest merchant features? Here are a few things you must consider when it comes to choosing an online payment gateway.
#1 Pricing and MDR
All online payment gateway service providers charge a certain percentage of MDR, also known as the merchant discount rate. The MDR is a fee percentage charged directly to the total transaction amount as a payment for the service providers. Typically, the MDR fee is between 1% to 3% for every transaction, so you'd want a payment gateway with the lowest MDR fee to help reduce your cost of operation.
It's also important to make sure that you're not being overcharged by the service providers for setting up the online payment gateway on your e-Commerce, on top of a high percentage of MDR fees every month.
#2 Number of payment methods available in the package
While an online payment gateway is usually integrated into your e-Commerce to receive credit and debit card payments, some even offer additional payment methods such as eWallet and FPX. The more payment modes the service provider can give you, the more convenient it is for your customer to shop!
#3 Offers the newest Buy Now Pay Later feature
Make it more affordable for your customers to purchase larger ticket items online with Buy Now Pay Later. Give them the flexibility to split large online bills into monthly, interest-free, installments with no hidden fees.
#4 Security and safe payments
When it comes to receiving payments online, the security and safety measures of the payment gateway should be of high priority. It's important to make sure that the payment gateway has:
PCI DDS compliance
3D Secure technology to verify their transactions
Bank Negara Malaysia registration
Payment gateways that adhere to the above security standards can often protect your business from fraudulent transactions.
#5 No hidden cost
A lot of the time, businesses may sign a contract with a service provider without knowledge of hidden fees that will be charged into their account either monthly or annually. So, be on the lookout for the monthly or annual fee, chargeback fee, cancellation fee, and more when you're choosing a payment gateway.
#6 Settlement period
Checking the settlement period is just as crucial for your business when choosing a payment gateway. The longer the settlement period, the slower you'll get your hands on the transactions made to your company. This of course includes how quickly the payment gateway may resolve refunds and chargebacks.
#7 A hassle-free and simple integration process
As a business entity, you'll most likely migrate your e-Commerce platforms should a new platform serve your needs better. Hence, it's vital to ensure that the payment gateway of your choice can support most industry-accepted web platforms and be integrated easily.
#8 Good customer service
What's worse than high fees and rates? Bad customer service from your provider's end. Bad customer service that is inefficient in solving transaction issues is more likely to affect your business negatively. Not only would you risk earning less should transactional problems occur, you'll also risk losing potential customers!
#9 After sales service
An excellent online payment gateway service provider often strives to achieve a win-win situation for both you and them. More sales on your end mean more earnings on theirs. Even so, very few service providers are willing to put in the effort to help grow your business.
A good choice for an online payment gateway: OZOPAY
Ozopay is a reliable and secure Malaysian online payment gateway that can generate link payments for your customers within seconds. It is a payment gateway service provided by Merchantrade Asia, one of Malaysia's largest and finest fintech companies that is a premier licensed money services business with over 20 years of experience. Ozopay sets out to provide merchants with flexible, no-frills online payment processing and great support to help your eCommerce grow.
Exclusively for EasyStore merchants:
Enjoy FREE Setup Fee

First year annual fee WAIVED
Register your details here to unlock this offer!
Connect with our team
Let's begin your unified commerce journey. Complete the form to chat, book a meeting, or connect with our team.