Meet the new EasyStore!
By Amirul Mokhtar · 23rd May, 2016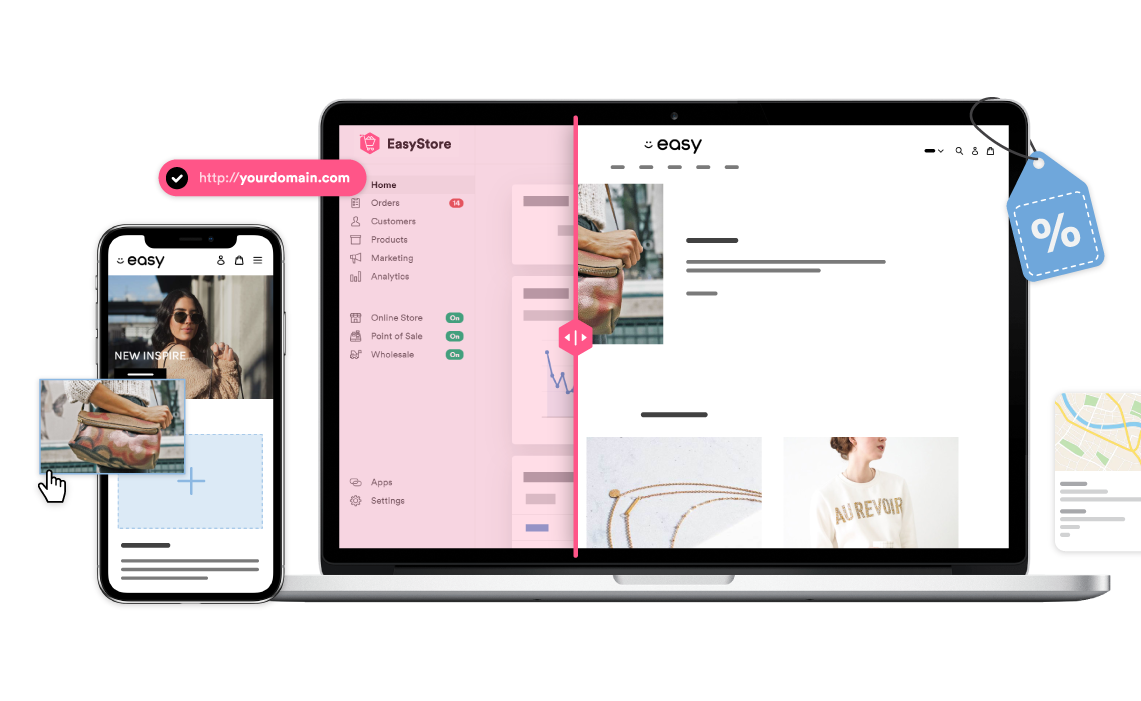 Yes, the new EasyStore is here! You may have noticed the new look and the new EasyStore version 2.0 that have been introduced to new users in May. As a part of the EasyStore community (that's you!), we want you to be the first to know the story behind the transformation. There are 3 significant part of our transformation:
Redesign of logo and keeping it simple
Ok, our logo change may not be as obvious or as cool as the recent Instagram logo change (maybe). But there are some changes to it.
The famous shopping cart is still there but we did change the font of "EasyStore". We liked the idea of being simple yet modern and up to date. This is what we believe in and it is what EasyStore stands for. Our website also went through a complete makeover. Again, we wanted to keep it simple and make sure that you have a better understanding about our product and services. We want to cater to those that want to sell online and need a platform to help them get started. We also made the sign up process simpler. You can start building your online store with just your email.
Lowering barriers for new online sellers
Everyone in EasyStore is committed to lowering down the barrier for anyone to sell online. We believe that in this economic situation and the technology that we have, everyone should start their own online business. That is why we want to make it quick, easy, and affordable for those that are just starting out. Now, new online sellers and small business owners can start your own-brand online store for as low as RM39 /month instead of a full amount yearly payment. We are encouraging everyone to take that first crucial step right away instead of putting your great business idea aside.
Launching the EasyStore version 2.0
So what's new in version 2.0? Performance: One of the major changes in version 2.0 is the whole hardware infrastructure. EasyStore is now running on Cloud infrastructure. Your customers will experience faster speed while shopping in your online store. User Interface: Redesigned user interface provide a better user experience. Especially to those that are totally new to ecommerce. You can also reach out EasyStore's customer service team right inside the control panel.
Themes Store: We received many feedbacks regarding themes from our users. After months of development, we introduce Themes Store - which will roll out new themes continuously to match the look and feel of your business identity. Apps Store: We are also partnering with world-class services and integrating them into EasyStore. We believe integration with these services would keep you up-to-date and in trend, and also enhance your customer's shopping experience in some cases. We also move our focus on mobile. Not only your customers can now navigate your store easily on mobile devices, but you can also manage your store on the go with the new mobile-friendly control panel.
Changes doesn't stop here. This is just the starting point of our continuous improvement. We will keep improving ourselves to provide simplicity, up-to-date technologies, and great service to our customers. We understand that in order to run a great business, you must be on the right platform. Let us be the one.
Start selling with EasyStore
Sell and manage your business all in one place
Connect with our team
Let's begin your unified commerce journey. Complete the form to chat, book a meeting, or connect with our team.