8 Ways to Use Video Content for More Ecommerce Sales
By Kevin Urrutia · 11th March, 2020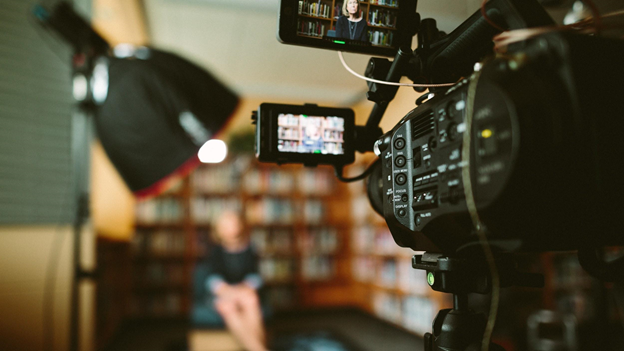 The way people consume content has drastically changed over the years. From relying heavily on television programs and radio frequencies, we now came to a point where we turn to our mobile phones or laptops to get our daily dose of information and entertainment.
And since people's attention span has dwindled down, video contents are a great way to snatch their focus and use it as a way to send a message across.
This is where you can take advantage of this new trend. You can now create video content for the benefit of your eCommerce sales. It is not limited to creating ads, but rather a way to connect to your consumers on a more personal level.
Here are other ways on how you can use this to further your eCommerce gain.
Let your videos evoke emotion
A video is a powerful tool to stir people's emotions. It's a visual feast that could easily sway us, by the way, it's presented to the audience. And because it's a moving picture, it can tell a story in more ways than any image or text ever can.
Now, how do you use this to improve your brand's image? You can tell your brand's story—humble beginnings, struggles, and all that— and try to connect to people's emotions. That's how you can be able to reach them in a more intimate way.
Your video content must be able to inspire them in a way that can also carry your brand's principle, all while delivering your authentic truth.
Invest in quality
Now, you can't just easily whip up video content. You have to make sure it comes out in high quality because, again, it doesn't matter how many videos you produce in a day, if they aren't worthy enough to be watched then it will do no good.
The most important aspect of any video is that it has to have crisp visuals and excellent sound quality. You would want your audience to have a better grasp of what you want to say.
If you have the proper equipment and a compelling storyline, you won't have to worry about not connecting to your audience.
Optimize video content for mobile users
Different generations are usually on their phone for almost everything. From social media updates to news consumption, to entertainment, we've become so dependent on our handy smartphones. And it is for a number of good reasons— convenient and easy to use.
This is why you have to optimize your video content according to what works best for mobile users. You have to consider the aspect ratio and the way it would appear on a smartphone.
You can check it on multiple devices to see how different it would look like on each device. This is one way to ensure that you don't neglect 50% of your audience.
Go live!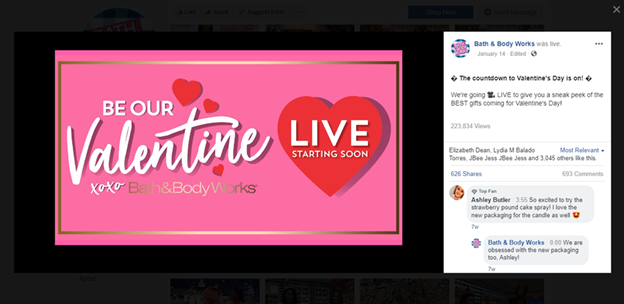 Source: Bath & Body Works
Live Streams have become so popular in the past years, and probably one of the most effective ways to engage with your audience.
Real-time interaction with your viewers gives them the opportunity to connect with you on a personal note. It's also a proactive way to encourage immediate action from your potential customers.
As a matter of fact, 80% of audiences are more likely to watch a live video than read a blog post— and that's saying a lot about this digital generation where people are so addicted to consuming content that interests them.
Produce product demonstration videos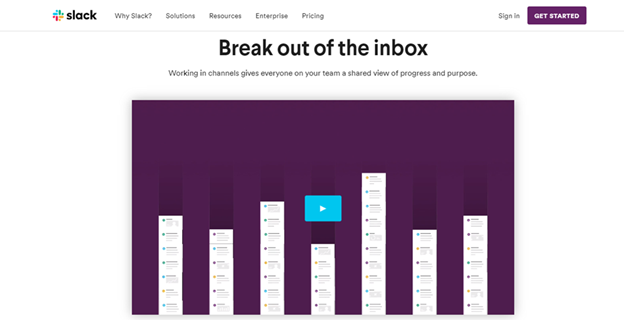 Source: Slack
No matter how simple or complicated the product may be, a product demonstration video is one way to encourage them to purchase your products. This is where you can proudly amplify its benefits that could lead to conversion.
The more information you can provide about your product, the more viewers you can lure in. Pair it up with a piece of written information about the product to really maximize its potential.
Incorporate user reviews
A written testimonial is an effective way to show your eCommerce site's proof of life. But a user review in video form is way better when it comes to convincing other consumers to appreciate your products.
It has power over potential customers because they are meant to be honest and informative, essentially based on what they experienced when they used your product.
Make sure to include a tab of user reviews on your site to drive sales to your business.
Try making interactive video ads
This new advertising trend has slowly become popular among eCommerce sites.
If you've seen a hotel's website featuring an interactive 360-degree tour of the whole place, that's one perfect example of this great eCommerce feature.
Video marketing has been so competitive these past few years, allowing new trends and new gimmicks to rule the cybersphere with creative ideas here and there. That's when you'll realize that you have to up your game and ride the tide.
You can create 3d videos of your products that your site visitors can play around with. You can also use it as a way to give them a 360-degree view of your products without really getting a hold of it.
In no time, we'll be able to see holographic videos, and we can't wait to witness that.
Create endorsement videos with influencers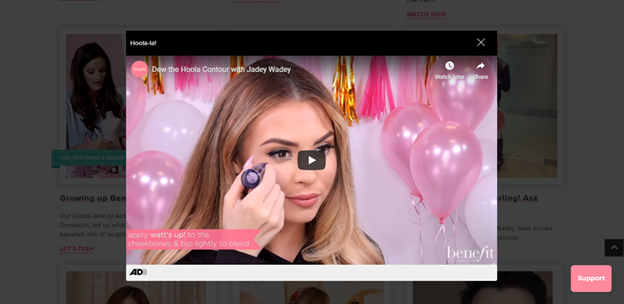 Source: Benefit Cosmetics
Influencers are great partners when it comes to creating interesting content for your brand. Their credibility among their followers has already been established. This means you won't have to worry about whether your brand would make an impact or not.
Just be sure to choose influencers aligned with your brand principle. Get to know your niche audience to get a feel of which influencers to get for collaborations.
The Takeaway
With videos, there are a lot of creative options that you can explore. While it's true that they require more effort to be able to produce one, the magnitude of its effect on your consumers will reflect on your conversion rate— just as long you know what works for your site.
Whether it be an emotionally-stirring video campaign or an interactive video ad, make sure it carries your brand's message well. If you have that, then, your brand and your eCommerce site will soon be the talk of the town.
Besides, if you really want to maximize the potential of your video content, create a digital channel that you could monetize online to allow other means of income to flow in.
About the Author:
Kevin Urrutia is the founder of Voy Media Marketing Agency NYC. Helps businesses maximize the benefits of Facebook Advertising, leading to a dramatic improvement in sales while pushing down costs. Voy Media thoroughly studies each client and comes up with tailor-fit solutions to bring about the best results.
Start selling with EasyStore
Sell and manage your business all in one place
Connect with our team
Let's begin your unified commerce journey. Complete the form to chat, book a meeting, or connect with our team.