12 Ways to Recover Abandoned Carts and Increase E-commerce Sales
By Novochat · 28th October, 2021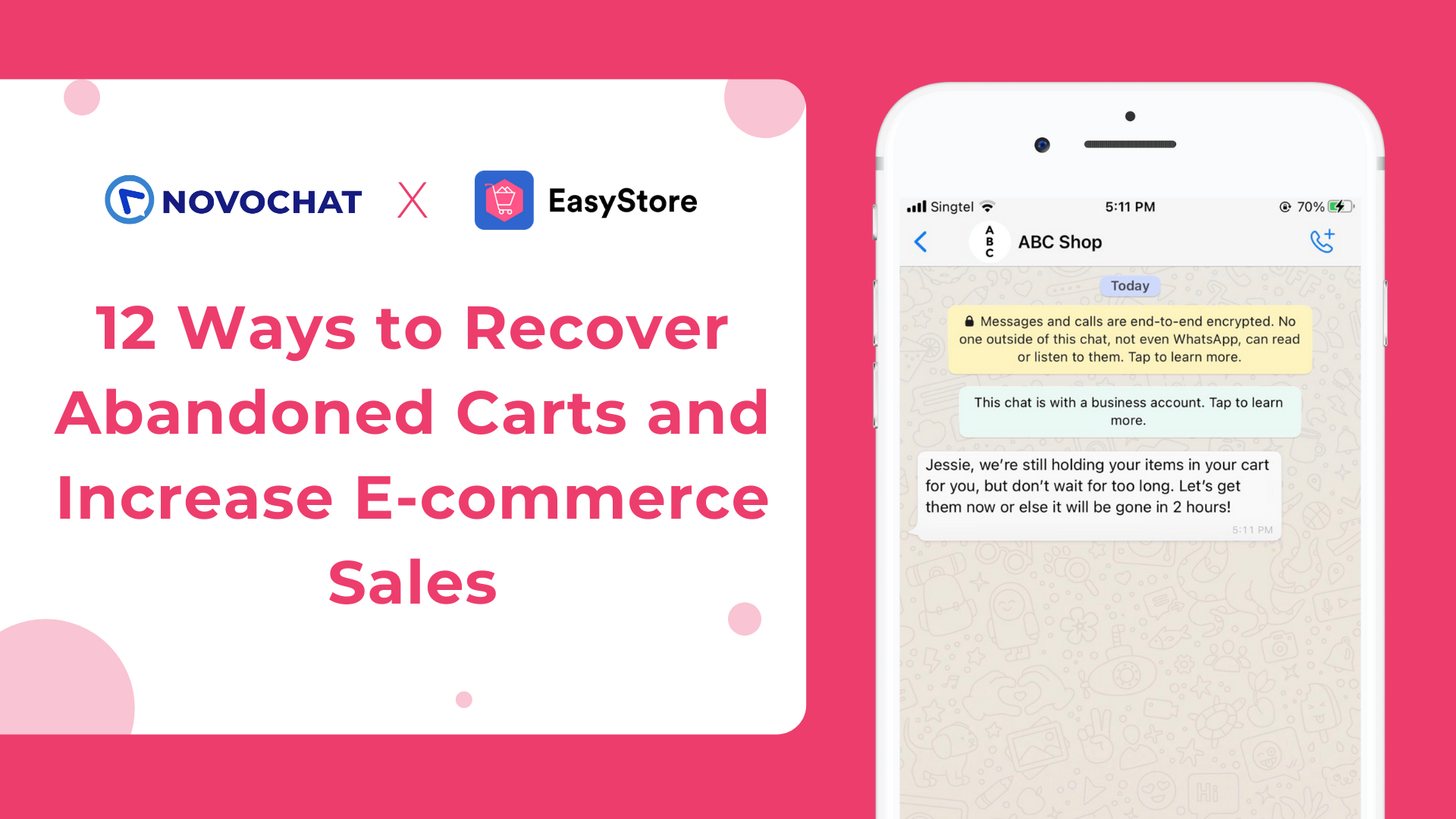 One of the biggest challenges e-commerce businesses face is cart abandonment. Here are 12 ways you can recover abandoned carts and increase e-commerce sales.
In the e-commerce space, even the most successful businesses aren't spared from abandoned carts.
According to a recent study, the average cart abandonment rate across all industries is over 69%. Cart abandonment can be caused by many factors — your customers forgot about it, they got distracted, or they simply weren't ready to buy.
Whatever the case may be, high cart abandonment rates don't imply that your e-commerce store is doomed. While cart abandonment is certainly unavoidable, there are several strategies you can adopt to reduce it.
In this article, we'll look at 12 different ways you can recover abandoned carts to drive more traffic and increase your e-commerce sales. But before we dive deeper, let's go over what abandoned cart recovery is and why it's so important. 👇
What is abandoned cart recovery?
An abandoned cart is when a customer adds a product to their online shopping cart but leaves the page before checking out and completing the purchase.
While there is no single reason why customers abandon their carts, the natural behavior of how people browse e-commerce sites accounts for a big share of cart abandonment. Many people do window shopping, compare prices, and even use their online shopping carts as a 'wishlist'.
These are unavoidable factors that lead to cart abandonment.
As an e-commerce owner, this is where you step in. Abandoned cart recovery is the process in which you aim to resolve cart abandonment issues by reaching out to your customers, convincing them to revisit their cart and complete their purchase.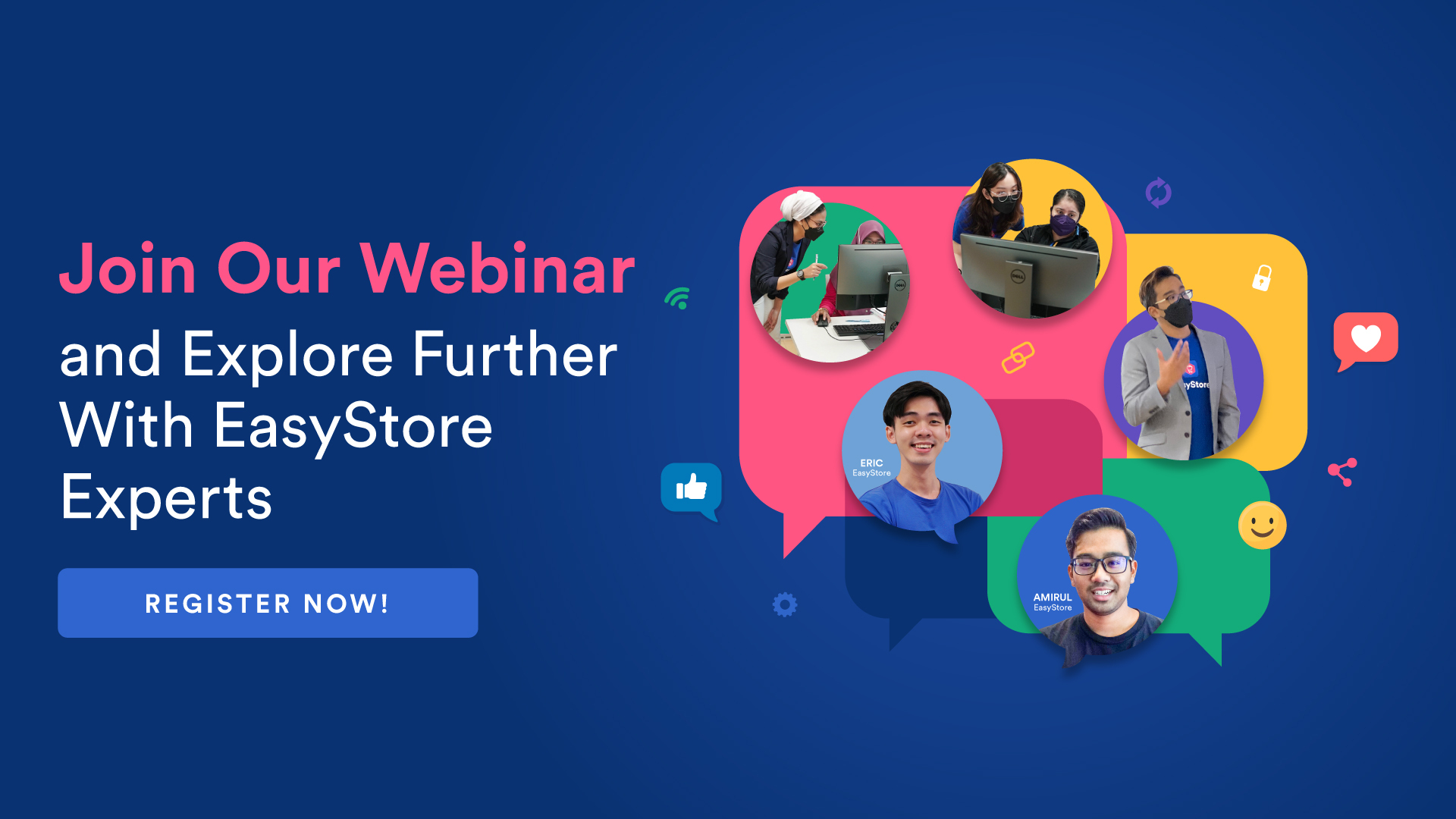 Why should e-commerce owners recover abandoned carts?
With the e-commerce industry expanding rapidly and more businesses are moving online, online shopping is possibly one of the most popular online activities worldwide. After all, e-commerce revenues are expected to grow to 5.4 trillion US dollars in 2022.
And because cart abandonment rates are so high, imagine how much revenue you're losing because you're not taking any action against abandoned carts? 🤔
I think this should be sufficient motivation for you to recover those abandoned carts and boost your sales.
12 ways to recover abandoned carts
1. Use countdown timers
If you have a sale or special event going on, add countdown timers to your website to create a sense of urgency in your website visitor.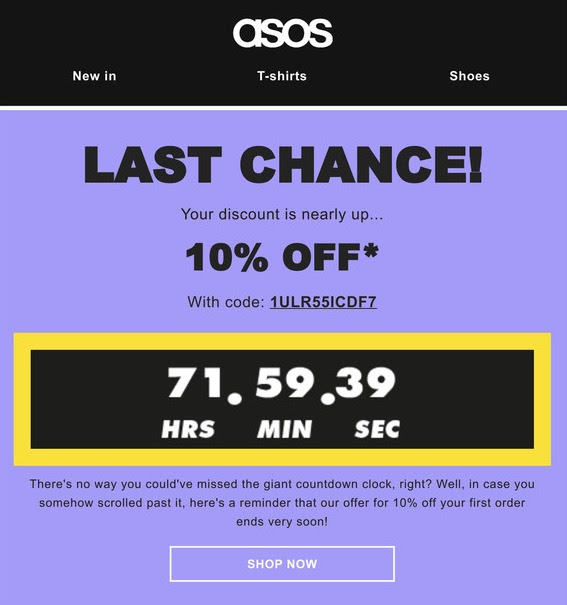 An example of a countdown timer. Source: ASOS
This method leverages the fear of missing out (FOMO) – wanting to be "in the know" or be involved. This pushes your web visitors to take action and make a purchase quickly to not miss out on this great deal.
2. Add social proof and reviews to your website
Adding social proof to your website can be highly influential because it shows that other visitors have made a purchase. This builds your credibility and trustworthiness as a business to your potential customers.
Social proof can come in many forms, such as displaying recent purchases on your site or showing the brands that have purchased from you.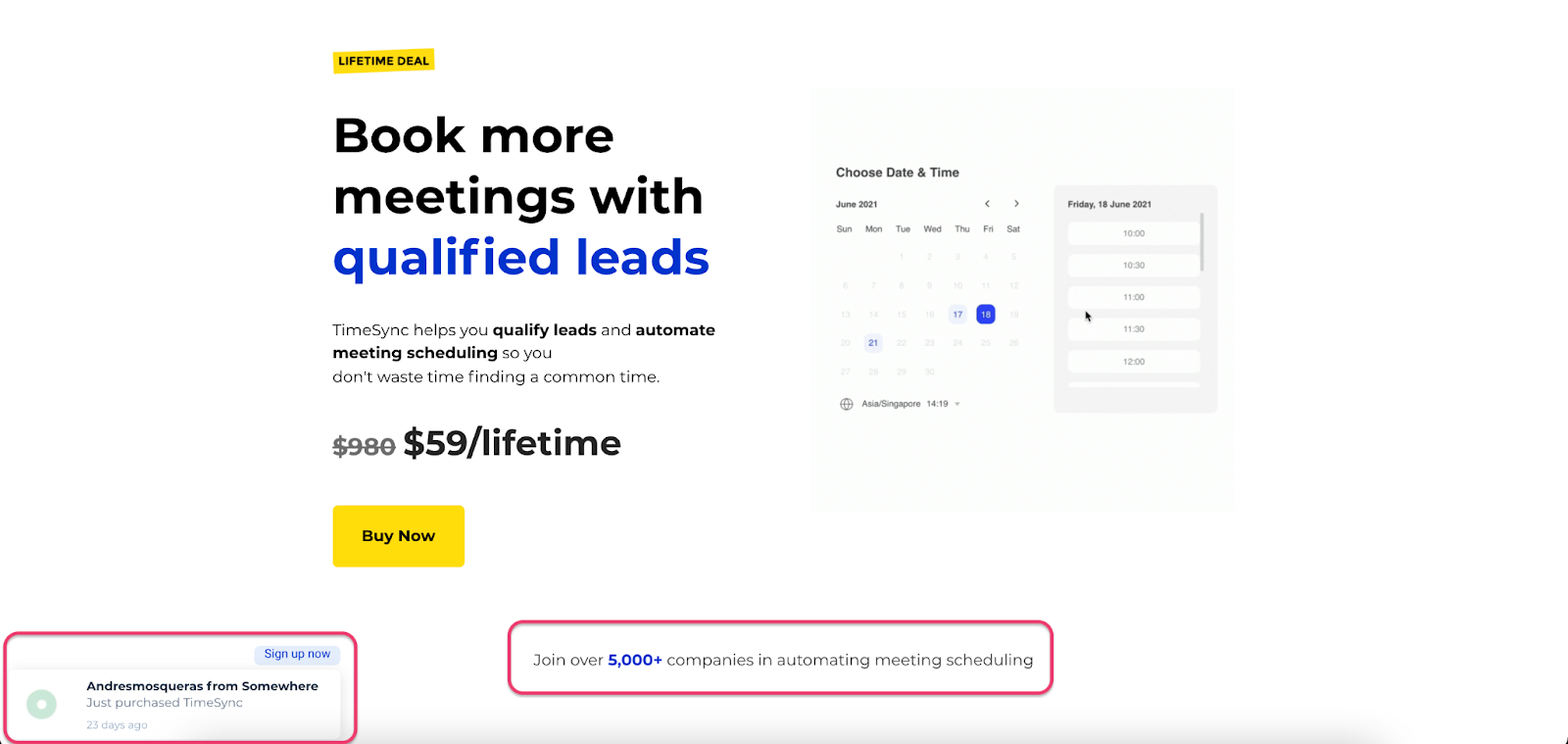 An example of adding social proof to your website. Source: TimeSync
You can also consider adding reviews and testimonials from your happy customers to boost your credibility. After all, a whopping 93% of consumers say that online reviews influenced their purchase decisions.
You can make use of product review apps to easily add reviews to your e-commerce store to reduce cart abandonment.
3. Use web push notifications
A web push notification is a message that gets displayed on the user's desktop or mobile phone in real-time.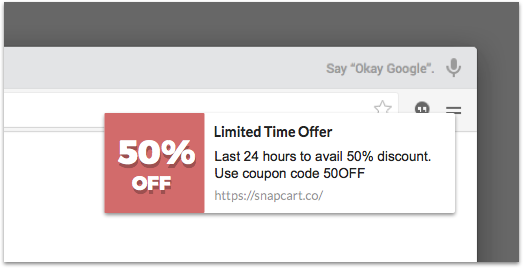 An example of a web push notification. Source: SendX
To start sending push notifications to your customers, they first need to opt-in to receive your notifications. You can display an opt-in notification when they enter your website, after a few minutes of browsing, or when they attempt to exit the page.
Push notifications allow you to deliver personalized messages to customers who have abandoned their shopping carts and encourage them to complete the purchase.
4. Use a chat widget to answer questions
When your customers have any queries, you want to be able to answer their doubts as quickly as possible.
After all, if you're looking for shipping information but can't find it anywhere on the website or don't have anyone to reach out to, chances are you'd abandon that cart.
That said, you should consider adding a chat widget to your website to answer any questions customers may have. A chat widget or button allows website visitors to directly start a chat with you by clicking a button and communicate with your reps in real-time.
This gives your customers an easy and quick way to reach out to you for the answers they need.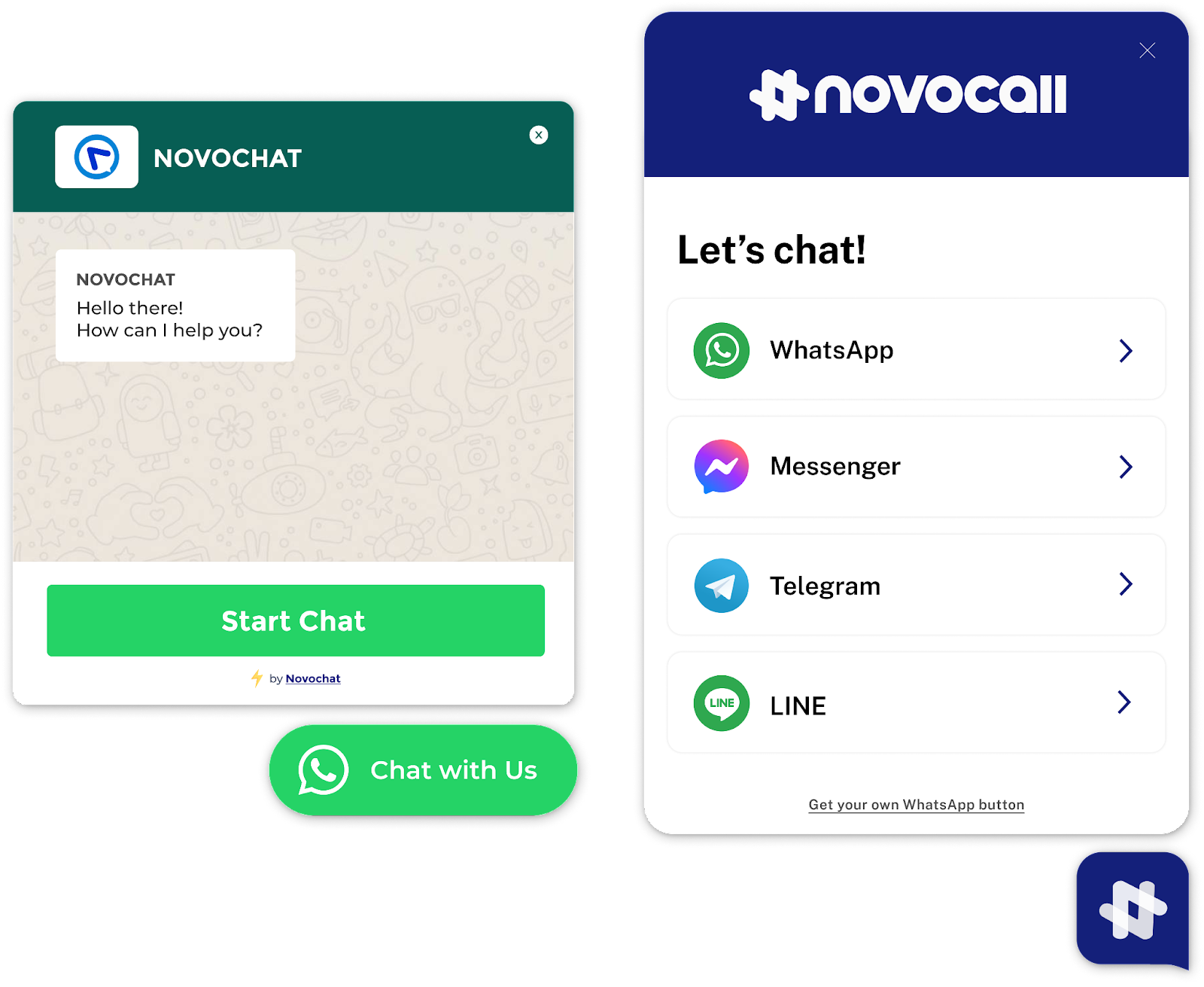 An example of a single chat button and multichannel chat widget. Source: NovoChat
5. Use sticky add-to-cart bars
Sticky add-to-cart refers to a floating add-to-cart bar or button that appears on every page. This gives your customers the ability to instantly and easily add products to their cart without having to constantly scroll up to the Add to Cart button.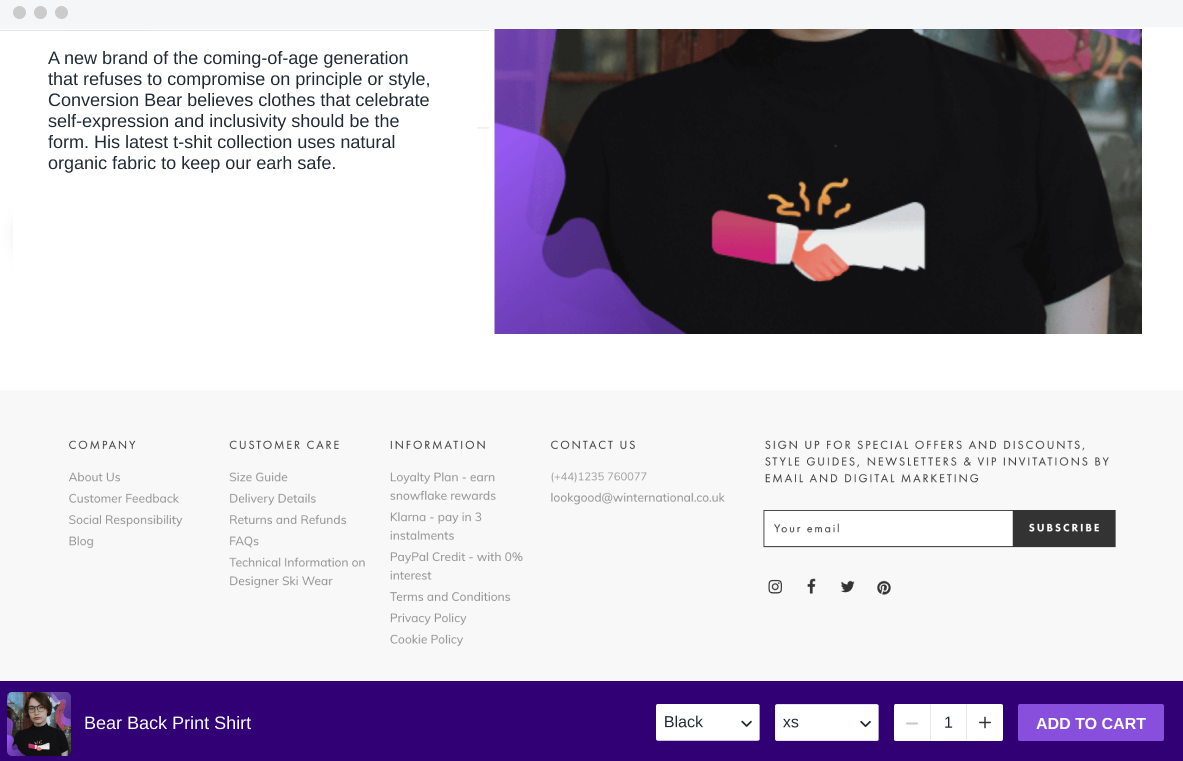 An example of a sticky add-to-cart bar. Source: Conversion Bear
6. Use currency convertors
Having an e-commerce store means you aren't limited geographically. You can sell your products to an international audience and drive more sales.
However, selling your products internationally can pose one major issue in your customer's journey — and that's the prices of your products.
If your international customers shop with a different currency, but your store still reflects your default or local currency, this can confuse and create a frustrating experience for your customers.
You shouldn't expect your customers to convert the pricing on their own or assume the pricing of your products.
Hence, consider using currency converter apps to convert prices automatically based on a customer's location, or simply give customers an option to pick their currency.

An example of providing different currency options: Source: Princess Polly
7. Offer multiple payment options
Ever go to a physical store, realize you don't have cash when you're about to pay, and then leave the store in the end because they don't accept other modes of payments?
This has probably happened to us at least once in our lives, and this is one critical mistake that any business can make.
Fortunately, advancements in technology mean that most physical stores do accept multiple modes of payments now and this should be the same for e-commerce sites.
If possible, don't just offer card payments — provide payments via installments, PayPal, and even through other major payment platforms such as Alipay.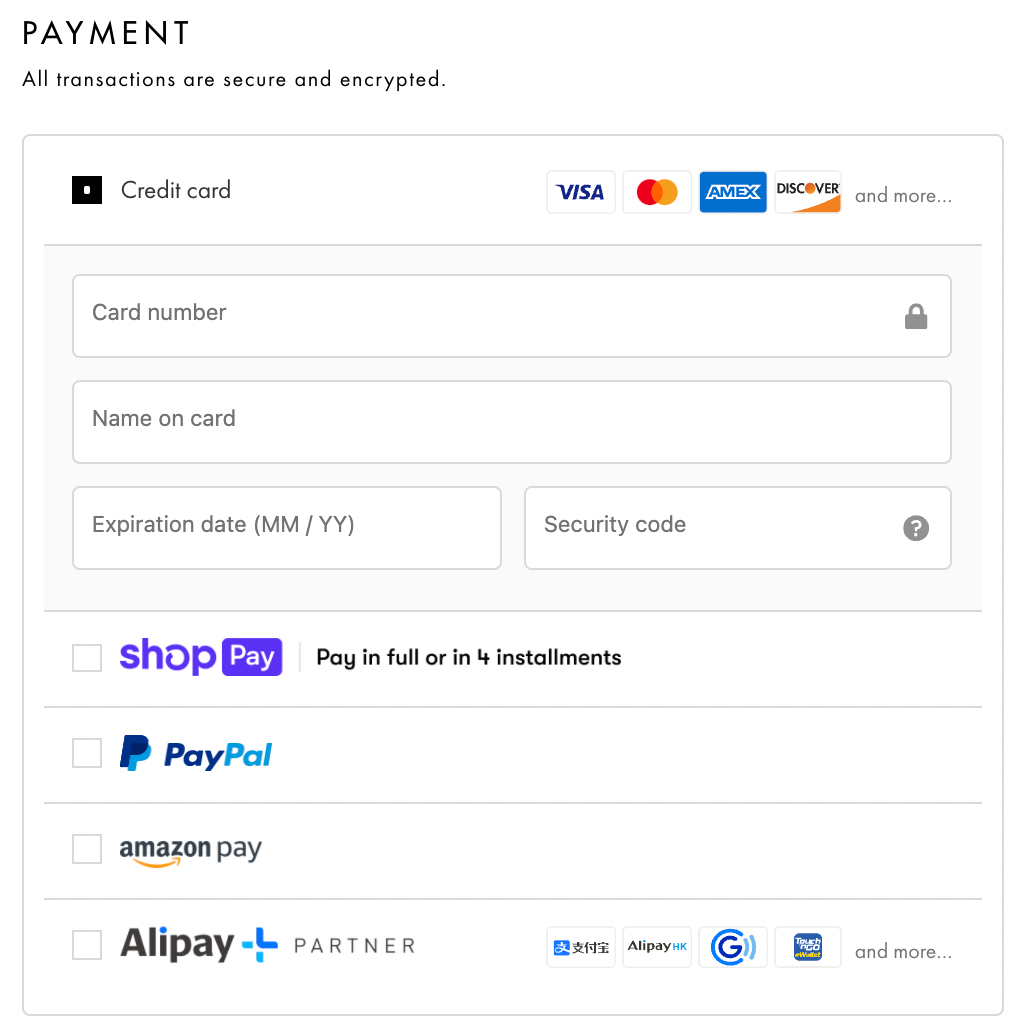 An example of providing multiple payment options. Source: Princess Polly
8. Use exit-intent pop-ups
An exit-intent pop-up uses exit-intent technology to track mouse movements of web visitors and detects when a visitor is about to leave the site without completing any action.
Exit-intent pop-ups are a great way to reduce cart abandonment as it serves as a reminder to customers. Furthermore, if you add a countdown timer to these pop-ups, you can also leverage FOMO to further encourage them to make a purchase or subscribe to your newsletter.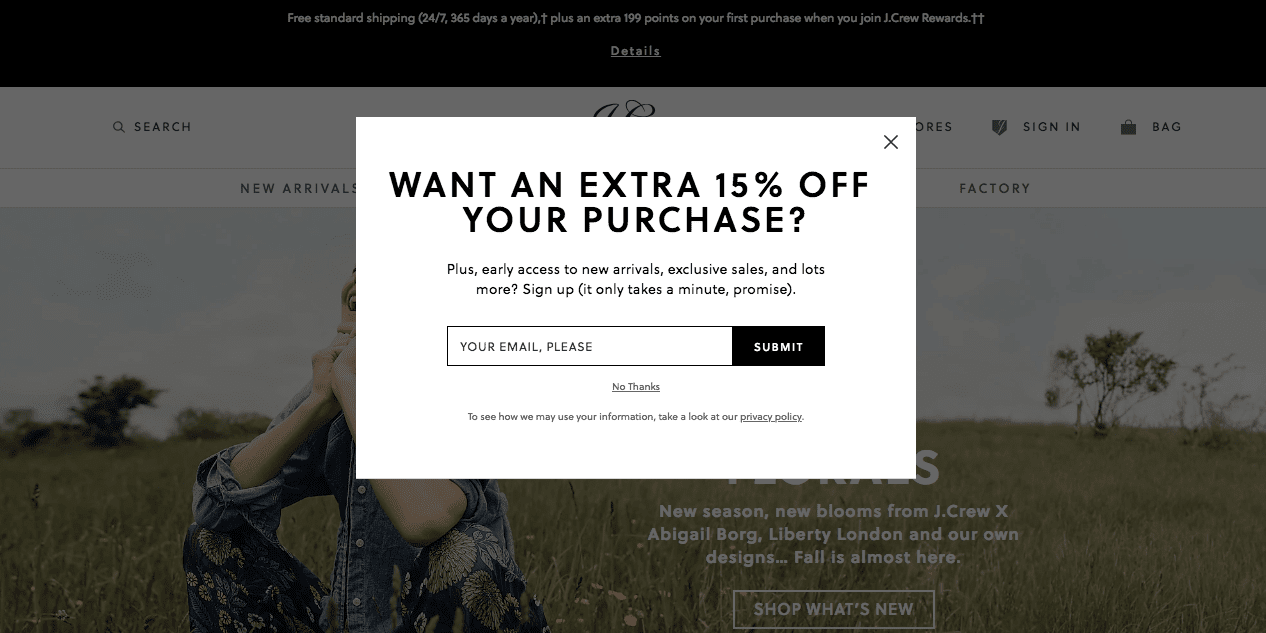 An example of an exit-intent pop-up. Source: Useproof
9. Show security seals at the checkout page
In a study done by Baymard, data shows that 17% of visitors abandon their cart at checkout because they didn't trust a website with their credit card information.
That's because like how social proof and reviews build a customer's trust in your brand as they're browsing, security seals at the checkout page give the final push that customers can trust their payment information with you.
Add a security seal to your checkout page to reassure your customers that all transactions are secure and encrypted.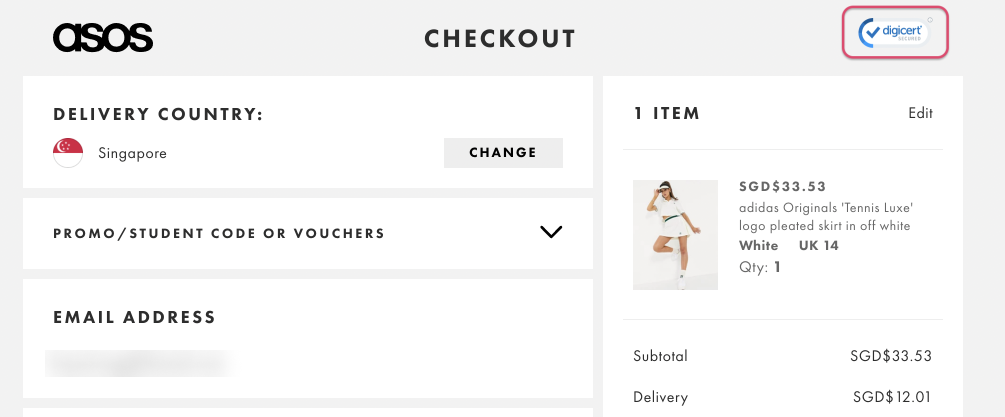 An example of a security seal at the checkout page. Source: ASOS
10. Send automated abandoned cart messages
We've mentioned at the beginning of this article that there are many reasons why a customer abandons their online shopping cart. It doesn't mean that they're uninterested in what you have to offer, they could have simply been caught up with something else or weren't ready to commit just yet.
Thus, one great way to lower cart abandonment rates would be to use chat marketing to send a simple message to your customers to remind them about the items left in their cart, prompting them to make a purchase. This method involves direct 1-on-1 conversations with customers and allows you to deliver more personalized cart recovery messages.
Furthermore, data shows that chat marketing has a 10% conversion rate. This means that there is a much higher chance they'd see your cart abandonment message reminder and ultimately, make a purchase.
You can even offer an exclusive discount code in the message to further encourage them to cart out their items.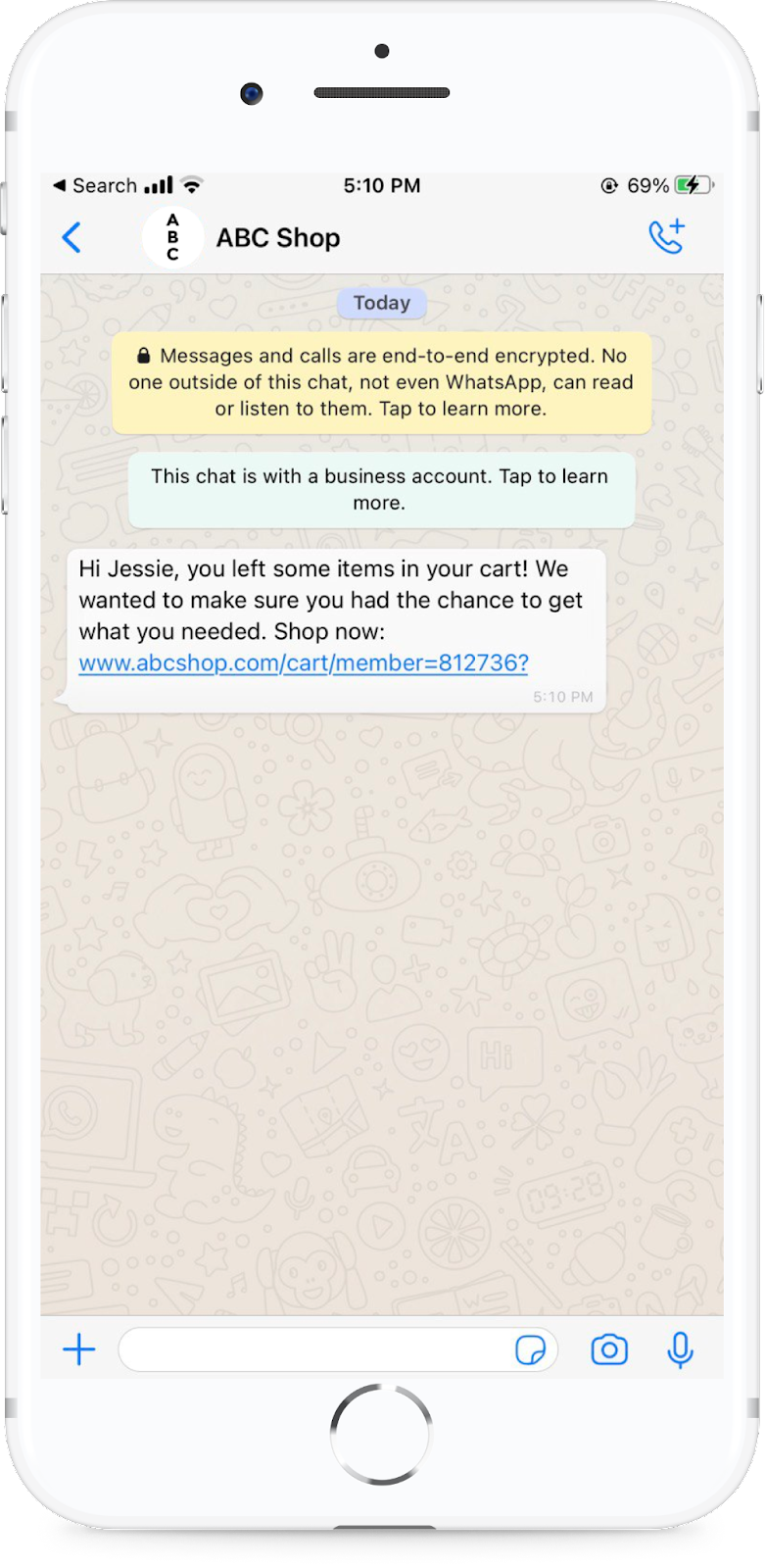 Using a tool like NovoChat can help you create automated abandoned cart recovery WhatsApp messages. You can even use cart abandonment message templates to avoid reinventing the wheel for every customer.
11. Send cart abandonment recovery emails
While chat marketing has a significantly higher open rate than emails, this doesn't mean that you shouldn't consider sending cart recovery emails.
After all, data from Salesforce shows that over 17.6% of shoppers who abandoned their shopping carts returned to make a purchase soon after receiving personalized follow-up emails.
Imagine if you coupled this with cart recovery messages — you could recover most of your lost revenue!
To make sure that your cart recovery emails don't get drowned out by everything else, craft an eye-catching subject line, and preferably one that's personalized with their name or the product they left in their cart.
You should also make sure to do lots of A/B testing to know what works and send follow-up emails to improve the effectiveness of your abandoned cart email strategy.
12. Use retargeting ads
Retargeting refers to the process of targeting web visitors with digital advertising based on their past behavior on your website. This could be the amount of time they spent on your page, the number of pages visited, or in this case, not going through with their purchase.
Studies because of how highly targeted they are, remarketing ads are 76% more likely to be clicked as compared to regular display ads.
That said, you can use retargeting ads to present customers with the exact item (or items) they've abandoned.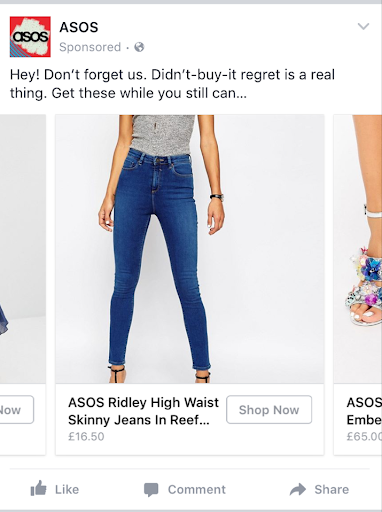 An example of a retargeted ad. Source: RealiseMarketing
Conclusion
Once again, while cart abandonment rates can't be eliminated, they can be reduced.
As an e-commerce owner, it's up to you to find different ways and strategies to recover these abandoned carts and drive more sales. Keeping your cart abandonment rates low also helps to build more sustainable business for your store.
So, are you ready to recover those abandoned carts? Start implementing these methods we mentioned and watch your sales improve!
Additional resources:
Connect with our team
Let's begin your unified commerce journey. Complete the form to chat, book a meeting, or connect with our team.